Corn on the Cob Competes with Hamburgers & Pizza in Havana
Vicente Morin Aguado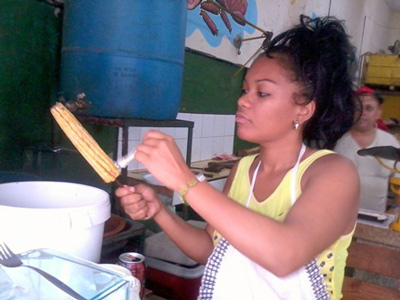 HAVANA TIMES — "If it weren't for the pizzas and the shortbread cookies, Havana's cemetery would extend all the way to Artemisa." I recall people used to say that in my youth, commenting on the popularity of those two basic food products and their essential role in the eating needs of a large city. Then came the hamburgers (sandwiches had always been around)…and corn on the cob has just arrived on the scene.
The cob is boiled and sold spread with butter or mayonnaise (or with no "paint-job" at all). They are sold at five Cuban pesos (0.25 USD) at scattered kiosks. Some vendors offer these next to more traditional offers, without thereby losing any competitiveness.
The photo was taken at the Nguyen Van Troi Credit and Services Union located on Reina Street, between Campanario and Manrique. Based on a busy thoroughfare, the vendor manages to sell over one hundred cobs a day.
The business interest in reaping the greatest benefits from the product is noteworthy: the locale sells corn in small plastic bags and the uncooked cobs, which can cost from 2.50 to 3 pesos each. The success of this enterprise can be gleaned with simple math: the cooperative buys the product in bulk, meaning a lower initial price.
Of course, this new business relies on the larger, more tender specimens of corn. Public acceptance of the product is all but guaranteed when we compare this offer with others with a similar price, such as ham sandwiches, typically containing less than the 80 grams of bread roll advertised (to say nothing of the poor quality and thinness of the cold cut).
In addition to the abovementioned cooperative on Reina Street, corn on the cob can also be purchased at the San Rafael boulevard and at a cafeteria run by self-employed persons, located on Monte Street. Some street vendors also offer the product, particularly within the neighborhood of Centro Habana.
All have proven to be successful independent enterprises, profitable investments by the self-employed or cooperatives that offer a refreshing change to the monotonous menu of State cafeterias.
—–
Vicente Morín Aguado: [email protected]