Cuba and Money Laundering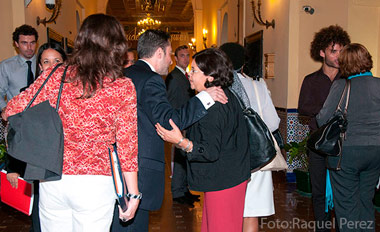 HAVANA TIMES — The Financial Action Task Force (FATF) is currently training Cuban authorities in methods to combat money laundering and the financing of terrorist operations.
Alejandro Montes de Oca, the expert who offered the course, told me they delved into "40 different recommendations in the areas of criminal procedures and the legal classification" of these crimes and in terms of "preventive measures for financial transactions and international cooperation."
"The FATF placed Cuba on a black list, but the reason for this was strictly formal. It had to do with the fact that Cuba wasn't part of any international institution that combats these crimes. Now, it's no longer on the black list. It's on a gray list, an intermediate state before the white list," Montes de Oca explains.
Formal or not, being on a black list involved "the possibility of financial sanctions from institutions and countries. Financial institutions must take special precautions, considering the high risk involved in dealing with such countries and, ultimately, may decide not to conduct transactions with individuals or entities in countries that are on that list."
A high official from Cuba's Central Bank said the country was placed on the black list owing to manipulation and that the training courses haven't taught them anything they didn't know already. "We had been following those recommendations for many years," she stated.
I reminded this official that, not long ago, several US newspapers linked the Cuba branch of an international financial bank to the disappearance of 30 million dollars, connected to the US Medicare scam (1).
The official then asked me not to publish her comments, even though I had identified myself as a journalist from the very beginning. "I am a public official and cannot disclose that kind of information," she said, insisting such a rule "is in place everywhere around the world."
Montes de Oca didn't wish to comment on the official's opinions but acknowledged that, "in Cuba, the authorities are strongly committed to improving their financial systems and to incorporating the country into international networks that combat these crimes in a coordinated fashion."
The expert added that "Cuba is in the process of approving new norms before year's end, decree laws that will extend the scope of those preventive measures and aim at fulfilling the action plan which the government agreed to implement to be removed from the grey list by the FATF."
Some of the measures recommended by the FATF could also prove beneficial to Cuba's struggle against corruption at home, as these demand transparency in financial transactions, both from the individuals involved and in the identification of the final beneficiaries behind companies.
Montes de Oca explains that "we are aiming at having authorities focus particularly on individuals who hold public offices and those close to them." This way, society could have greater and more effective control over those who manage State finances.
Cuba's Peculiarities
In Cuba's case, transparency runs into the problem of international persecution by the United States. Many financial transactions must be conducted almost in secret to avoid sanctions and fines imposed by Washington on banks that have dealings with the island.
In Alejandro Montes de Oca's view, that is a political matter, and "we concern ourselves with technical issues. The Financial Action Task Force of South America (GAFISUD) will evaluate Cuba for a year. It is a mutual evaluation process, conducted between pairs. It is a technical, not a political evaluation, and it will end with a report to be issued in December of next year."
It may not be a technical issue, but it is no trivial detail, particularly if we recall that the Miami press itself reported that the "Obama administration has been particularly tenacious with respect to the policy of sanctions on banks that operate with Cuban assets." (2)
So as to dispel all doubts, they even publish the figures: "Since 2009, more than US $2 billion in fines have been applied for embargo violations in connection with financial transactions involving Cuba, doubling those applied during the Bush administration."
The situation has reached such an extreme that Cuba's diplomatic delegation in Washington has just suspended its consular activities owing to the fact that no bank based in the United States agrees to open an account for them, fearing reprisals from the Treasury Department (3).
At the international level, these new agreements with the FATF will open some doors for Cuba, but it is clear that being placed on a white list will not spare Cuba Washington's sanctions, which also apply to financial institutions that have transactions with the island.
—–
(1) http://www.elnuevoherald.com/2013/11/02/v-print/1605903/estafadores-al-medicare-se-refugian.html
(2) http://cartasdesdecuba.com/eeuu-cooperamos-para-hallar-un-banco-que-asuma-las-operaciones-financieras-de-cuba/
(3) http://cartasdesdecuba.com/cuba-suspende-sus-servicios-consulares-en-eeuu-por-imposibilidad-de-manejar-cuenta-bancaria/
—-
(*) An HT translation of the article first published in Spanish by BBC Mundo.