Cuba-Brazil, 2 Artist's Photos in Havana
Photos and Text by Irina Echarry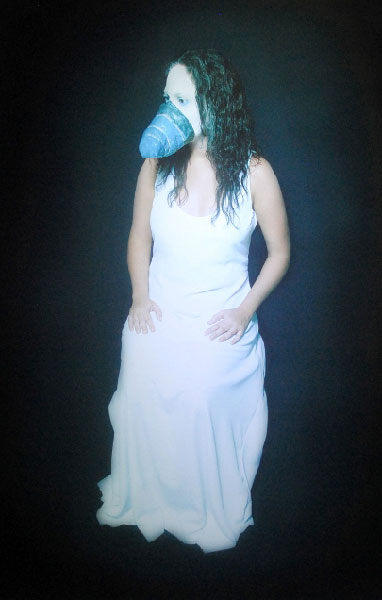 HAVANA TIMES — The interesting and novel works of two artists have been on display at The Reino de Este Mundo gallery, in Havana's Jose Marti National Library, since the beginning of September.
The joint exhibition, titled Ambivalencia del cuerpo imaginario ("The Ambivalence of the Imaginary Body"), features the works of visual artists Cirenaica Moreira (Cuba) and Maira Ortins (Brazil).
Meeting in the gallery space, the works of these two women use the human body as a pretext to explore and recreate moods, feelings and ideas.
In Abissalo, a series of works completed in 2012, Ortins uses self-portraits rendered in black, white and blue to emphasize the emotional dimension.
In the works, she remains unmoving, while a spectator captures her loneliness. The artist invokes the sea and its torments, her surroundings and inner world, to produce visually challenging pieces that afford us an intimate glimpse at her life.
Also on display are Ortins' three-dimensional works, which harmonize with the photographs both conceptually and chromatically.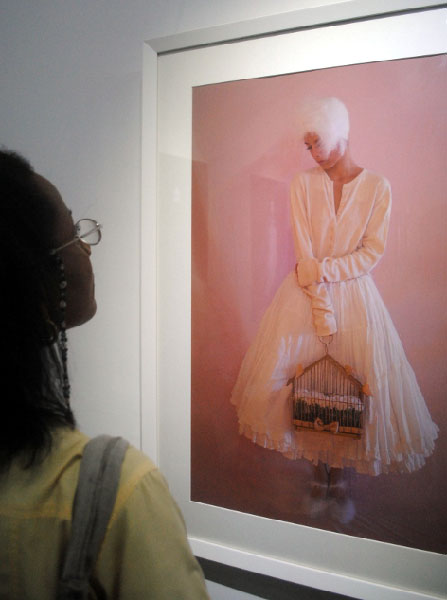 Moreira, on the other hand, surprises us with pieces where she does not appear, as she does in the photographs she frequently exhibits.
In these works, the feminine and the masculine are questioned through the use of color, role-playing and androgynous subjects.
Here, we find women in motion, loaded with things, resigned, a symbol of domestic work. Some carry an iron, others onions or cages.
The men, relaxed, pose for the camera with flowers or birds on their heads.
Moreira's pieces are part of a work in progress, the 2012 series Que tenga carro y me lleve a Varadero ("I Want Someone Who Has a Car and Takes Me to Varadero").
On display until October 4, the two artists' works (25 large-format photographs) are a striking challenge to social stereotypes and an invitation to look inside ourselves, so as to re-construct ourselves socially without thereby renouncing our individuality.

Click on the thumbnails below to view all the photos in this gallery. On your PC or laptop, you can use the directional arrows on the keyboard to move within the gallery. On cell phones use the keys on the screen.