Cuba-China Connection Tightens
By Patricia Grogg
HAVANA TIMES, Sept 3 (IPS) – Cuba and China this week added new stitches to strengthen the diplomatic and commercial relations that have existed between the two nations for close to half a century.  These ties have been described by island officials as strategic and a "model" for what bilateral ties should be in the current international context.
Those bonds are presently at "their best historical moment," contended both Cuban President Raul Castro and Wu Bangguo, president of the Permanent Committee of the current National Popular Assembly of China, whose visit to Havana concluded on Thursday.
The two leaders spoke about tasks being undertaken by their respective countries directed at the "invigoration of socialism based on the characteristics" of each nation.  They also confirmed their present consensus on essential issues having a multilateral and international character.
The Chinese parliamentary leader's presence coincided with the current visit to Beijing by the island's foreign minister, Bruno Rodríguez, who in a press conference described China as a "natural ally of the Third World."
Rodriguez said relations between his country and the Asian giant are "a model of what bilateral ties should be in the difficult world in which we live."  During his three-day stay, Rodríguez met with Vice-president Xin Jinping and with his Chinese counterpart Yang Jiechi, in addition to other officials.
No agreements were signed during Rodriguez's visit to China since these were reserved for the Cuban agenda of Wu Bangguo, a member of the Permanent Committee of the Political Bureau of the Central Committee of the Communist Party of China, who in his tour of this region also foresees traveling to the Bahamas and the United States.
The battery of documents signed by Bangguo and his hosts in Havana included a new no-interest loan granted by China and a preferential line of credit to the China-Caribbean Fund, which will be dedicated to port modernization projects and the development of radio and television operations.
Another of the agreements anticipates the next visit to Havana of a Chinese technical mission to study the installation of a refrigerated cattle and swine slaughterhouse and a vegetable canning plant in Guantánamo Province, in the eastern end of the Cuban archipelago.
Likewise, China committed to provide a credit to Cuba for the acquisition of 10 granary ships, and a loan was made from the Bank of Foreign Commerce for improvements to satellite receivers. Another agreement formalized the donation from China of 70 modern traffic lights.
Ups and Downs over 49 Years
Cuba was the first Latin American country to establish diplomatic relations with China, on September 28, 1960.  Subsequently, they distanced themselves at times due to the postures of their governments over varying directions pursued by members of the socialist camp at that time.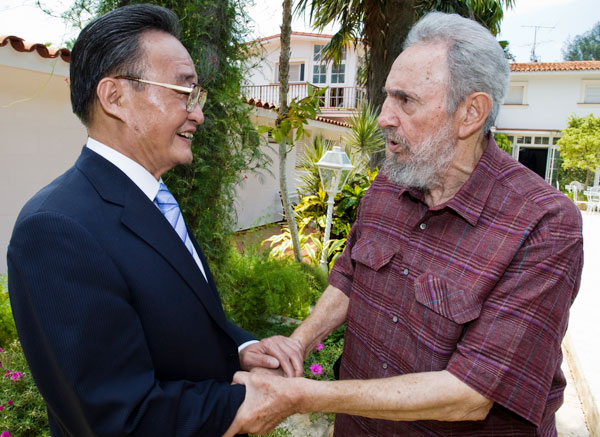 In November of last year, Chinese president Hu Jintao traveled to Cuba to meet with his counterpart Raul Castro and older brother Fidel Castro, who had stepped down from government in 2006 due to serious health problems (from which he now seems to have recovered).
During that trip, Hu Jintao and Raul Castro signed several cooperation and exchange agreements that were added to other ones signed in advance by an intergovernmental commission for the purchase of sugar and nickel, the restoration of seaport infrastructure in Cuba and investments in biotechnology.
Among those agreed to on that occasion included the restructuring of payments on several loans to Cuba from China and a line of credit for 70 million dollars for the repair and reconstruction of the Cuban hospital network.  Diplomatic media sources commented to IPS that those new agreements, along with ones previously signed, are helping to alleviate the island's financial tensions.
Although China continues to be Cuba's second largest trade partner, after Venezuela, Havana has also readjusted its relations with Moscow in the last few years.  Less than 10 days after the visit of Hu Jintao, Russia President Dmitry Medvedev was received in Havana.  That trip was followed, at the beginning of this year, by that of Raul Castro to Moscow.
On that occasion, the two countries advanced their trade relations with the signing of thirty cooperation agreements, estimated by the Russian Ministry of Finance as representing more than $350 million (USD) in credits and aid for the island.
Russia was among the first countries to lend assistance to Cuba following the massive damage caused across the island by three hurricanes in 2008.
Related to this, on his visit to Havana this past July, Russian Vice-president Igor Sechin signed economic agreements that included a new one concerning oil prospecting in Cuban waters in the Gulf of Mexico, where it is thought that significant reserves of crude oil lie.