Cuba Completes WBC Prep, Game 1 Tonight in Fukuoka
Cuba plays Brazil at 10:30 p.m. on Saturday night Cuba time.
Peter C. Bjarkman* (from Fukuoka, Japan)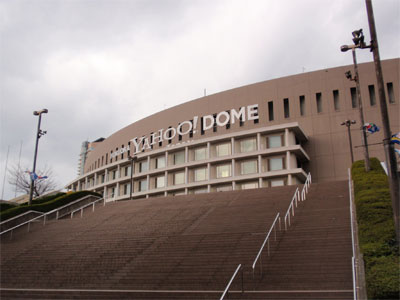 HAVANA TIMES – All the endless preliminaries, over-hyped media build-up, and long-brewing anticipation have now finally come to a welcomed end. Tonight in Fukuoka (Japan) and Taichung (Taiwan) the serious business of World Baseball Classic III commences with a bang when defending champion Japan hosts first-timer Brazil (Fukuoka) in the Group A kickoff, while a pair of contests also launch Group B action in Chinese Taipei.
Announced starting pitchers here in Fukuoka are Mazahiro Tanka for Samurai Japan and Rafael Fernándes for Brazil, a pair of strong right-handers both boasting previous Japanese League professional experience. Tanka labors for the Tohoku Rakuten Golden Eagles (Pacific League) while current Chicago White Sox property Fernándes also hurled briefly for the Yakult Swallows (Central League) during the recent 2012 season.
In the outdoor venue over in Taichung, host Chinese Taipei will count on the big league experience of former New York Yankees and Washington Nationals right-hander Chien-Ming Wang to hold back Australia in an afternoon contest while pool favorites Korea (2009 runner-up) and Holland (2011 IBAF World Champion) later lock horns in the featured nightcap.
Pre-tournament action finally ended here at the Fukuoka Yahoo Dome yesterday as a day-night twin bill witnessed the Pacific Central League Yomiuri Giants coasting to an 8-1 romp over China (directed by former big-league skipper John McLaren, as well as coaches Bruce Hurst and Art Howe) while Team Cuba and Pacific League powerhouse Fukuoka engaged in a classic slugfest that finally ended in a 10-8 Cuban comeback victory.
Cuba fell way behind early (in third frame) when a pair of Mesa middle relievers (Odrisamer Despaigne and Darien Núñez) were victimized by their own wildness (three walks) as well as a costly bases-loaded error by Yulieski Gourriel that resulted in a six-run uprising for the host Japanese pros.
The Cubans nonetheless battled back twice, cutting the lead to 6-4 in the top of the fourth (the big blow was a bases-loaded double by Eriel Sánchez) and then posting a five spot to finally take the lead in the top of the seventh (with José Dariel Abreu, José M. Fernández and replacement Yosvani Peraza stroking the clutch run-producing hits). An insurance run was tacked on in the eighth when Alexei Bell produced his second double of the night and then came home on a sharp single down the right field line off the bat of Freddie Cepeda.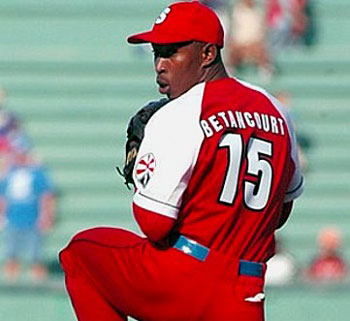 There were both bright sides and downsides to Cuba's final exhibition match here in Fukuoka on Friday evening. Victor Mesa might well have been troubled by the early-game struggles of several of the pitchers he might well have to count on for bullpen support before the week is out. Wilbur Pérez survived the opening two frames but not without leaving four runners in scoring position. Neither Despaigne nor Núñez could consistently find the plate for the second straight outing (both also struggled against the Hanshin Tigers in Osaka on Wednesday).
But there were also some definite bright spots in the Cuban bullpen. After the six-run third Dany Betancourt provided several innings of solid middle relief; and in the late going Racial Iglesias and Diosdani Castillo both got some crucial outs in closing the door on a pair of ultimately futile Fukuoka rallies in the seventh and eighth. The biggest plus on the night, however, was the fact that the Cuban bats consistently came alive against several experience professional Japanese hurlers and fortuitously did so precisely when comeback rallies were most desperately needed.
Tonight's lid-lifters in official tournament play may well give some better insight into the likely front runners in the two highly competitive Asian-sector WBC pools. Holland seems a true dark horse challenger in the Group B field but the Dutch need to hold their own against the talented Koreans who reputably have been offered some major financial incentives on the home front to make the final round in San Francisco. If either the Aussie or Taiwanese are going to produce any mild surprises they will likely need a strong showing on Saturday afternoon in order to launch the needed momentum.
Brazil game is crucial for Cuba
It is important to emphasize how vital the opening game with Brazil actually is for the Cubans. If the Red Machine harbors any hopes of reaching the second round in Tokyo they simply cannot afford an early setback against a pitching-rich but offensively challenged Brazilian squad managed by big league hall of famer Barry Larkin.
The Cubans need a minimum of two victories to be assured of advancing and an expected triumph in the opener (assuming a second victory on Monday over China) could take all the pressure off the Group A climax game versus Japan on Wednesday. An upset loss to Brazil on the other hand would mean that Mesa's club would then have to beat both China and Japan to maintain even the slimmest possibilities of reaching the Asian semifinal round in Tokyo.
After Friday's hard-earned victory Mesa expressed nothing put unbounded optimism and confidence in his post-game news conference.  The volatile Cuban skipper reiterated that his club was planning to move on to United States soil for the final round in San Francisco, but he did caution that his club would have to back up its considerable self-confidence with solid play on the field once Sunday's game-time rolls around.
Asked about the struggles of his bull pen on Friday, Mesa again seemed hardly bothered by any letdowns and repeated that he had "total confidence" in all the pitchers the club had brought on the trip to Asia. "Regarding our pitchers we have no doubts," Mesa repeated. It is only a matter of days now until we see if these words are only an idle boast or indeed truly the warranted expression of a Cuban coaching staff quite possibly holding a potential winning hand.
Cuba Pre-WBC Exhibition Game Series (Final Results)
February 18 (Monday) – Kaohsiung – Chinese Taipei 6, Cuba 5
February 19 (Tuesday) – Taichung – Cuba 5, Australia 3
February 21 (Thursday) – Dou Liou – Cuba versus Korea Dinos (Cancelled)
February 22 (Friday) – Tainan – Cuba 20, Chinese Taipei 11
February 24 (Sunday) – Taichung – Holland 5, Cuba 0
February 27 (Wednesday) – Osaka Kyocera Dome (Japan) – Cuba 3, Hanshin Tigers 2
March 1 (Friday) – Fukuoka Yahoo Dome (Japan) – Cuba 10, Fukuoka Soft Bank Hawks 8
Record: 4 wins, 2 losses (outscored opponents 43 to 35)
(*) Peter Bjarkman is author of A History of Cuban Baseball, 1864-2006 (McFarland, 2007) and is widely recognized as a leading authority on Cuban baseball, past and present. He has reported on Cuban League action and the Cuban national team as senior writer for www.BaseballdeCuba.com during the past six-plus years and is currently writing a book on the history of Cuba's post-revolution national team.