Cuba: Evolution of the Revolution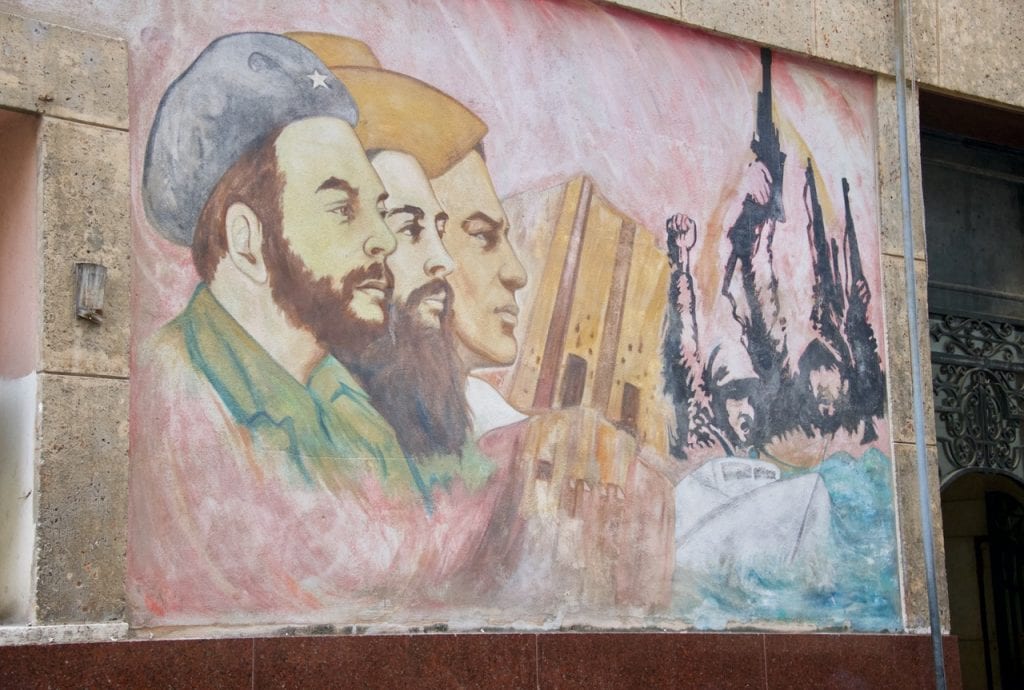 By Trippin Light
HAVANA TIMES – As US travel photographers on our first trip to Cuba, we were enamored with the warm spirit of the people and the vivid visual opportunities. On our most recent trip, we wanted to dive deeply into the culture to see through the 'smoke and mirrors'. We wanted to understand what was really going on in Cuban life.
US tourists might say, "No bread today? I couldn't live that way!", "I want to go there before it changes," "You went to Cuba? I thought you couldn't go there now!", "Why are there two kinds of money"? "How do I login"? "Why don't they speak English"? "Isn't it charming that the beautiful buildings are falling apart"? "Where's a Starbucks"?
Cubans might say, "Hay pan hoy"? "Tienes huevos hoy"? "No hoy"! "We love Americans, we just don't like US policies.", "CUCs please." "Where is the internet cafe"? "Hablas español"? "This building has been under restoration for many years." "What's a Starbucks"?
The Evolution of the Revolution is slow.
In Cuba, time has virtually stopped but the rest of world is moving forward. To survive in Cuba, a creative response to being stuck in the past is required. For example, there may be bike tire patches available but no glue can be found. A tire with its nubs cut off and jammed inside a second one makes one useable tire. Cubans are very resourceful.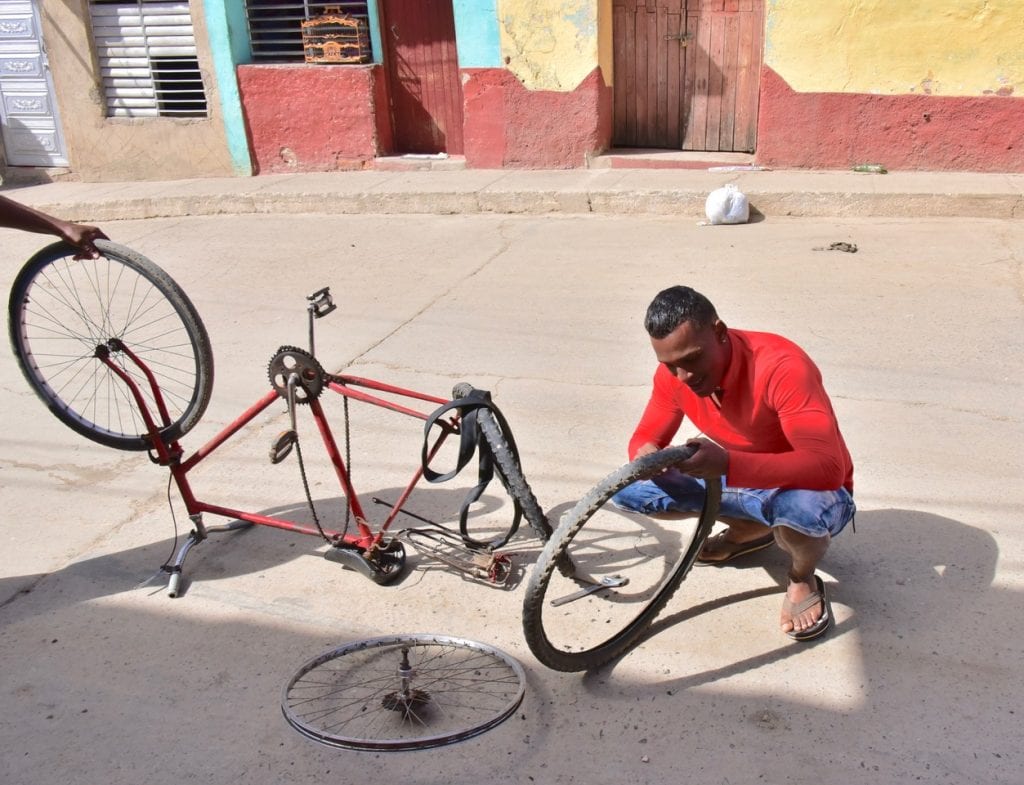 Bread supply was limited in Havana so long lines at the bakeries were seen everyday. We now read in the Havana Times that the shortage was not a simple problem of not having enough bread to go around. The article revealed a systemic problem of no repair parts for the machinery making the flour to make the bread. On top of the deteriorated infrastructure, we were told ironically by our Cuban friends that of all the bread made each day, half might go out front to stock the shelves but half could go out the back to the black market that is usually invisible to foreigners.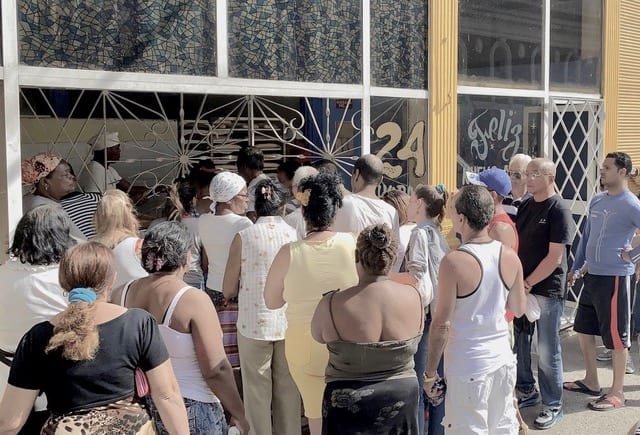 Egg shortages were common, but we saw a lot of shrugging of shoulders when we asked about it. We were told there were no eggs available in Viñales but when we got there, our Airbnb host had eggs for us everyday.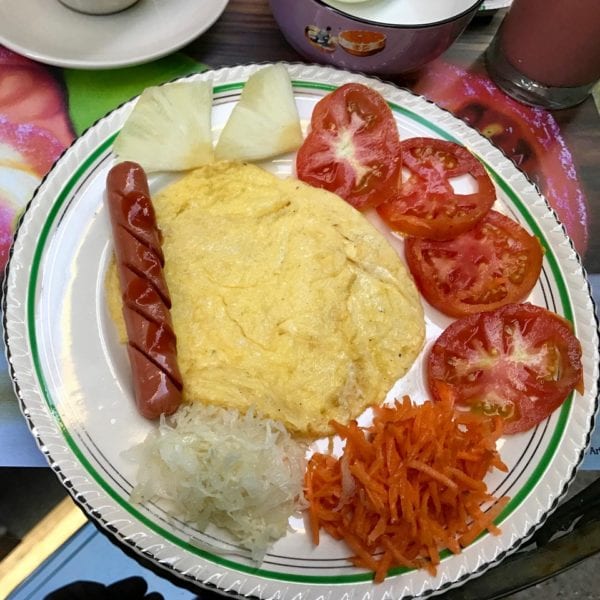 We met a woman in Cienfuegos who was suffering because she could not get a tube of antibiotic cream. Doctors are available but medicines and over-the-counter relief is scarce. An Airbnb host in Old Havana had a room ready to rent but couldn't find a lock to buy for the door. Now we think that these shortages were the result of a supply chain that was full of gaps which included diversions to the black market.
The little hardware shops we saw were limited to a few plumbing parts, buckets and wire that no one was buying. We are embarrassed to imagine taking a Cuban carpenter to The Home Depot to contrast the many services and thousands of available goods.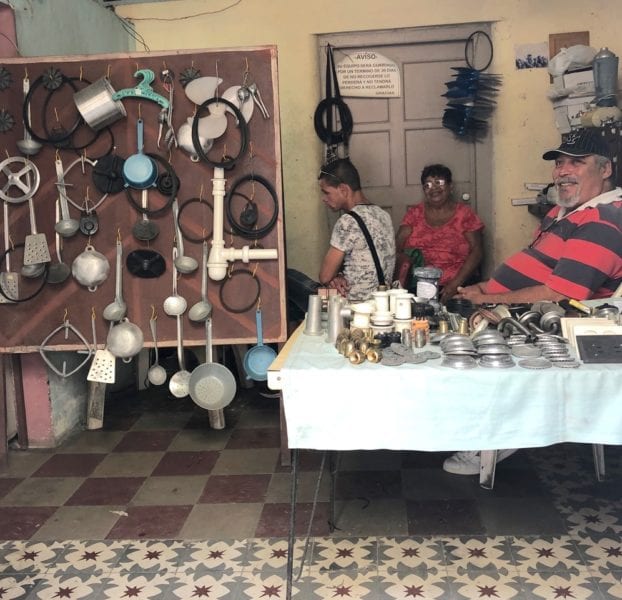 Artistic expression is alive and well as long as the expression follows the directives of the government. An artist looking for paint found that someone had already purchased all the recent supply and was probably selling it on the street at an inflated price. To these 'smoke and mirrors', the refrain most often heard was, "It's Cuba!"
The Evolution of the Revolution is slow.
The US Department of State estimates that the number of Cubans living in the United States is now about the same as the entire population of Havana. We read in the English version of the newspaper Granma that the government is urging people to raise larger families. However, it looked to us like young people had decided not to have many children.
According to UNESCO, Cuban society is ninety nine percent literate, among the highest in the world. People want to work and be successful. Actually, economic realities make it difficult to move forward. Consciousness has evolved so that personal freedom is emerging as a possibility, but the reality of daily life in Cuba often makes it impossible to dream.
Traveling out of Cuba is not easy. Although we were told that permission is possible, the expense is very high. According to Cuba's National office of Statistics, the average wage is about 25 CUC per month, so the cost of a plane ticket is out of reach.
Families that have permits for 'casas particulares' (private rentals) and collective taxis have an additional revenue stream. Their contact with tourists opens up opportunities that others will not have and these small business owners can then cultivate new economic possibilities.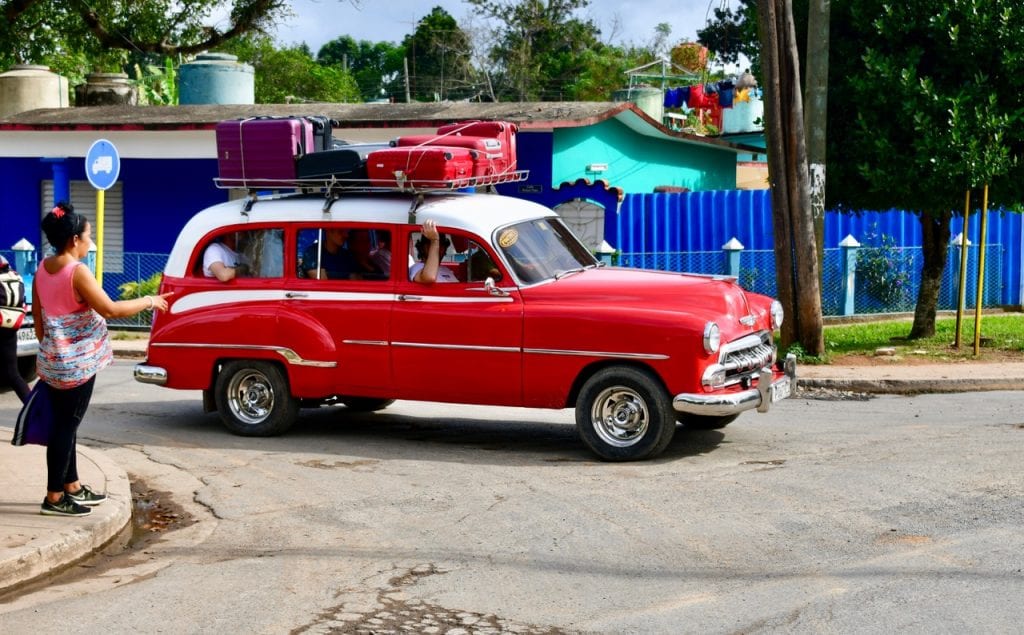 The Evolution of the Revolution is painfully slow.
Although small changes are evident, without infrastructural change, the proposal for small businesses to expand goods and services may take years to implement. We see yearning for opportunities in artistic expression, foreign partnerships and new business with access to necessities for their success.
Is the old guard fossilized in their ways of thinking, trying to 'save face', rather than evolving with a newer economic model? How can people see beyond the impossibilities to believe in a brighter future?
As photographers we have the responsibility and privilege to see more deeply into every culture we visit. The camera gives us a pass into places and events that others might not see. Although our conversations since our return to the US have been rich with memories, the many questions we have may not have answers.
Click on the thumbnails below to view all the photos in this gallery. On your PC or laptop, you can use the directional arrows on the keyboard to move within the gallery. On cell phones use the keys on the screen.