Cuba Fans on Int. Baseball Cup Win
Irina Echarry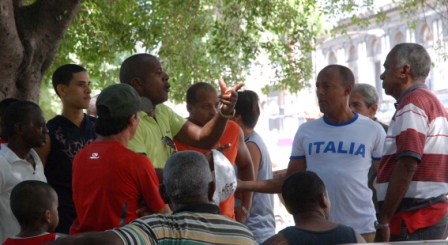 HAVANA TIMES, Nov. 1 — By early Sunday morning the capital's residents were outside beating on pans, yelling and forming spontaneous conga lines that snaked through the streets.  Why, you ask?
The baseball team representing us in the Intercontinental Cup in Taipei China won the final game and the tournament.  As always, the fans gathered at the "hot corner" in Havana's Central Park – where between the joy and the screaming, people could barely hear each other.
Osvaldo, a lifelong fan, commented: "It was no surprise.  The team was playing fantastically.  I'm telling you, it's been a while since I've seen the whole team geared up for victory like this; now look at the results.  When you want to you can.  There are times when some of them play well but others don't.  I don't believe that this is the case now, most looked good.  It's not by chance that five of our players were recognized on the tournament  All Star team."
However "Papito" —a gray-haired gentleman who can only make gestures in the air, since he doesn't have enough of a voice to scream— thinks that: "Yeah, there were some who played better.  If Alexei Bell hadn't hit a homerun with one man on base in the eighth inning… You can see that Holland isn't some lame team.  In the last championship they were also contenders for the gold. Cuba is better, and it demonstrated that, but they had to put in a whole lot of sweat."
A young guy next to him chimed in: "What sweat? The game was ours compadre.  Miguel Alfredo had it under control with his pitching, or is it that you just can't see well?"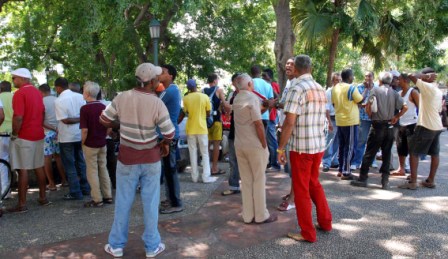 What might have caught one's attention was that there wasn't a single woman on the scene.  This is a discussion solely between men, though when the National Series is played there's no shortage of women in the Latin American Stadium or any of the other stadiums across the country.  Notwithstanding, a woman named Ferrera showed her baseball colors saying, "I'm a Santiago native, and I'm proud that Bell slammed it like he did."
The park area was full of easterners, with the "Santiageros" praising their own Hector Olivera, while those from Granma province exalted their native son Alfredo Duvergel.  Nonetheless, fan Lazaro Valladares was of the opinion that: "Now the players will have to rest for when the National Series begins.  But when Cuba competes in an international tournament, the athletes cease being from provinces and they see themselves as representing the whole country, because the whole country enjoys the victory."
As I walked away the baseball fans continued celebrating, arguing as is usual on this downtown corner of baseballmania.