Cuba Lesbians Demand Fair Health Services
Dalia Acosta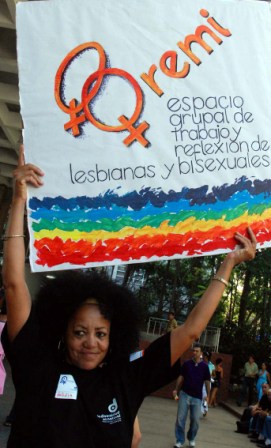 HAVANA TIMES, Nov 25 (IPS) — Lesbian and bisexual women's groups in Cuba, which welcome anyone who wishes to participate "with solidarity and in a respectful, friendly and healthy manner," point to the need to sensitize health personnel to the issue of female sexual diversity.
"We want to be treated as women, and we want to be able to openly tell the doctor who we are, explain to the doctor whether or not we have sex with intercourse, and tell the doctor about our fears," Argelia Felloue, the facilitator of the Oremi group, an initiative supported by the governmental National Centre for Sex Education (CENESEX), told IPS.
The main target of their demand is gynecology, because lesbians and heterosexual women have different needs.
"There are lesbians who have never had sex with penetration," said Nery Lázaro, the coordinator of the Oremi collective, who advocates a transformation in the doctor-patient relationship to ensure that lesbians come in for important procedures, such as Pap smears.
Lázaro, a CENESEX psychologist, said "you don't choose your sexuality, you just have it."
She pointed to the difficulties and discomfort suffered by a woman who has never been penetrated, "when she is told: lay down on the exam table, I'm going to put the speculum in."
Several workshops, carefully designed to have a friendly tone, have been held in the public health and education systems to discuss "the rejection, rudeness and even aggressive attitudes" that lesbians complain about suffering at the hands of health providers, or the vulnerability of women in prison as a result of homophobia on the part of guards and prison authorities.
The Oremi group, founded in 2004 in Havana, was the second initiative of its kind in this Caribbean island nation. The first emerged in the early 1990s in the eastern province of Santiago de Cuba and gradually evolved into the Las Isabelas collective, which is still functioning. And in 2008, a third appeared: Fénix, in the south-central city of Cienfuegos.
"When we go to the doctor, especially the gynecologist, if we tell him or her that we're lesbians, they're sort of taken aback, they tend to treat you differently," Felloue complained.
Many lesbians who do not have sex with penetration avoid preventive health care like pelvic exams and Pap smears, which are the only way to prevent and diagnose cervical cancer.
In Cuba, women tend to take advantage of the free annual Pap smears, with nearly 710,000 women over 25 having one in 2008, out of a total population of 11.2 million, according to the National Statistics Office (ONE).
But fear of the speculum or of insensitivity and discrimination from health care providers can make lesbians especially vulnerable to cervical cancer, because of the resulting reluctance to have regular Pap smears.
"There are lesbians who have never had a Pap smear, and who develop cervical uterine cancer," said Lázaro, who has carried out research in the field of psychology on the broad spectrum of lesbian sexuality.
One 38-year-old woman, who has known she is a lesbian since the age of 14, only had the test done as a sort of indirect result of the HIV epidemic: in the 1990s, a gay friend put her down as a contact, and she had to take the exam, she told IPS.
The woman, who is from the north-central province of Villa Clara and asked to remain anonymous, says the experience made a bad impression on her, that it was strange to have "a foreign body inside me." She says she rejects penetration in her sex life.
But she argued that "No woman likes to have a Pap smear. It has nothing to do with lesbianism."
Lesbians want more sensitive treatment from health providers. "One of the biggest problems is breaking down the hostility that you find in politics and health," said Diarenis Calderón, who has a little girl and lives with her partner Mirna Padrón, also a member of Oremi.
Padrón called for new guidelines for training health personnel on sexual habits of lesbians that can affect their health. For example, with respect to the use of sex toys for penetration, health providers should explain the "limits to that practice," the activist said.
Health providers in Cuba often discriminate against lesbians, and can even be antagonistic, she said.
The work of the women who gather together in Oremi, Fénix and Las Isabelas is aimed at achieving respect for lesbians, not only in the health system but in society as a whole.
Specialized sources say lesbians are subject to double discrimination — they must fight for their rights as women and then for their rights as non-heterosexual women.
"All of the institutions have to make a greater effort with respect to women: lesbians are invisible, they face a great deal of discrimination," said Tania Tocoronte, founder of the Fénix project.
This initiative, taken up by the health authorities in Cienfuegos, has channeled its awareness-raising activities through the governmental Federation of Cuban Women (FMC).
The local lesbian community "is suffering a kind of papilloma, and a solution has not been sought," Tocoronte said.
The human papilloma virus or HPV is the main cause of cervical cancer. In 2008, the National Cancer Control Program found 1,350 cases of uterine cancer among women over 25, according to the ONE.
"Tolerance means looking down on us, and acceptance means looking at us face to face: we want acceptance," Lázaro said.