Cuba: Operation Noah's Ark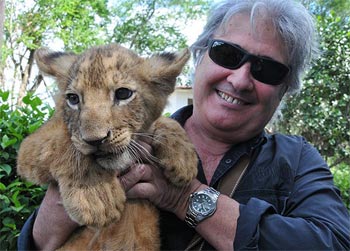 HAVANA TIMES — Operation Noah's Ark isn't about a mass exodus of rafters, nor is it a CIA campaign against Havana or vice versa. This biblical name relates to a gift from Namibia to Cuba: dozens of wild animals that will soon be living in the island's National Zoological Park.
It is a present worth US $30 million, but one that has even greater value. Cuba was moving towards a crisis in terms of its need to renew zoo animals since most of the ones present were born on the island and have blood ties, so it's not recommended to cross them together.
This news of bringing in new animals has aroused the ire of anti-Castrist elements, who say that the animals already in Cubans zoos are starving. In response to these allegations, the zoo's management invited a group of foreign correspondents to verify the quality of their facilities.
The animals run free in open-range facilities, so it's necessary to be careful. We were warned not to get too close to the hippo pond because they're very territorial…and fast. It's said that they kill more people in Africa than lions.
A lovely scene in the park was seeing an elephant running through the meadow in front of a herd of rhinos. They moved everywhere together, functioning like a real family and not seeming to care that they belonged to different species.
Safe inside the bus, we entered the lion's den, an old quarry in which 46 specimens of all ages were lounging around. Our guide told us that this is the largest pride in Latin America and — seemingly in passing — he pointed out to us that all of them are well fed.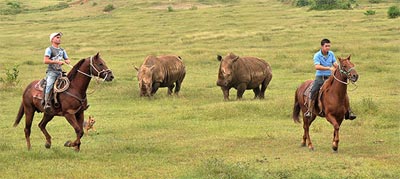 But it was when we were leaving that we found our biggest surprise. We were able to pick up and hold in our arms three precious lion cubs that had recently been born in the park. They displayed their fangs, trying to appear fierce so that we journalists would stop treating them as if they were kittens.
Our guides didn't miss a chance to praise the zoo, explaining how difficult it is to breed wild animals in captivity and adding that when they do it's a clear sign that they feel comfortable in their habitat.
And not only did they feel at home. Days before our visit one of the caregivers died, in his will he asked to be cremated and to have his ashes scattered in the lion's den, where he had worked the last 30 years of his life.
I was traveling on the bus with five people who had spent decades working at the zoo. One of them, Alberto Mora, started out there as an unskilled laborer, but he was encouraged to become a veterinary technician and later graduated as a biologist from the University of Havana.
He fulfilled his ultimate dream when he participated in the capture of animals in the national parks of Namibia. He described the unique experience of "herding" them with giant helicopters into traps, where those animals that were selected were sedated and the rest released.
He told me that in carrying out that operation, the Namibians had excellent and experienced professionals. He added that his only "scare" occurred while tying up one of sedated lions – another Cuban jokingly imitated a roar and grabbed his leg.
Feeling more in confidence, I asked the staff members what is done to ensure that the animals have enough food, to which they responded by saying they have contracts with cooperatives that supply this daily – even horse meat for consumption by carnivores, which are the most expensive to maintain.
Going back in time, I tried to figure out how they managed to keep these animals alive during the crisis of the 1990s, when there wasn't enough food even for people. They smiled and pondered the answer, though I don't know if they were simply trying to remember or whether they were selecting information that would be considered "declassified."
"We did everything," they replied. "We went all the way to Guantanamo Province looking for food," almost 750 miles from Havana. They say those years were exceptionally hard, acknowledging that they lost some of the specimen, though they assured us that most were saved.
Now they don't have feeding problems, but the buses that run through the park are ancient, they're not allowed to organize approaches to self-financing, there are no plans for tourist excursions and there's hardly any public transportation for Cuban families to come and visit.
The zoo is yet another place that's crying out for economic reform. They have animals, assistance from Africa and a well-trained staff. All they lack is for their hands to be untied so that they can cease being dependent on the state budget and move towards self-sustainability.
—–
An authorized HT translation of the original published in Spanish by BBC Mundo.