Cuba Should Consider Contracting Foreign Baseball Players
Vicente Morin Aguado
HAVANA TIMES — I support the exchange of baseball players between Cuba and professional leagues around the world. For the time being, this exchange is impossible with the United States' MLB owing to the well-known trade restrictions currently in place.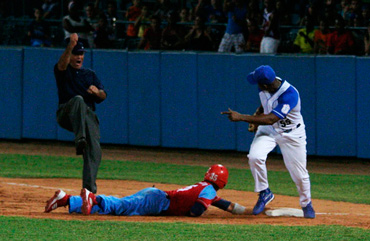 Cuba's official position to date has been to export athletes and to give no thought to the possibility of having players from other nations play in our stadiums. Such reciprocity is needed to improve Cuba's national sport and it is viable from the financial point of view. Reciprocity is something that ought not be ignored in the sphere of international relations.
When I touched on this issue during one of the heated baseball debates commonly held in Old Havana's Parque Central, I noticed a number of incredulous smiles and shocked faces. A sincere fellow even called me crazy.
After reading an article published on the web-page Universo Beisbol ("Baseball Universe") by blogger Reynaldo Cruz, I think I can safely say I've found another aficionado who is as crazy as I am. Cruz even went further and proposed an even exchange of baseball players.
I think his proposal is just as mathematically sound as mine, something indispensable when financial calculations are involved. However, as we are dealing with a change in mentality and the ways of the economy, whose reforms are making slow and shy progress, I also think it would be advisable to begin with a balance in favor of Cubadeportes, the entity that represents our athletes.
Some months ago, a Council of Ministers decree silenced all doubts regarding the nature of salaries earned by Cuban athletes, particularly baseball players, establishing monthly payments, individual and team awards and additional incentives based on medals received – in short, it put an end to the avowed amateurism proclaimed by the Cuban government for decades.
Now, baseball players can also be exported (as the merchandise of Cubadeportes). Cuban authorities, however, must understand that international trade is a two-way street that ought to involve importation. The balance must turn out positive, true, but this is entirely feasible in Cuba.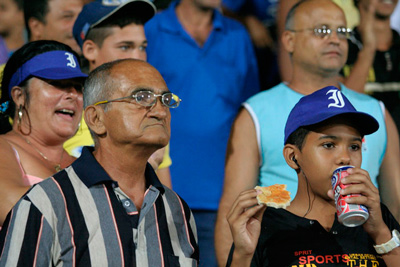 Recently, Cubadeportes contracted out outfielder Frederich Cepeda to Japan's Yomiuri Giants for 1.5 million dollars. Experts are speaking of other potential agreements involving other Cuban players. By contrast, Alfredo Despaigne, who holds Cuba's home-run record, will be playing a second season with the Piratas de Campeche ("Campeche Pirates"), in Mexico, where, last year, he received 80 percent of his ten-thousand-dollar contract.
There are no notable differences between the two players in terms of performance. The difference is strictly commercial: that between the Japanese market and its Mexican counterpart. If we look at what others have to offer, we see that, from the commercial standpoint, there are opportunities to sell and buy players that ultimately favor us.
In addition, there is no shortage of new and veteran players eager to play baseball in Cuba, players who can contribute their spirit and experiences to the sport and make it more dynamic. Cuban baseball is in dear need of renewal, exchange, variety and real competition.
Cuba has many talented baseball players – a historical legacy furthered by the social policies of the revolution. Renewing our provincial teams and sending players with at least ten years of experience in domestic series abroad would increase the competitiveness of the sport.
Skeptics should know that Japan applies similar policies to protect its players, the domestic market and its most popular sporting event. Let us also recall that the Dutch and Panamanian selections, which became our executioners at several international sporting events, were able to defeat us without resorting to the million-dollar players they have in their countries.
We can trade baseball players who are capable of improving our league without the need to pay what would be considered a large sum of money in the sport. The obstacle is purely mental. It is to be found in the bureaucratic tendency of doing bad business, seeking to get everything in exchange for nothing.
Another important issue in the context of our socialist project is the redistribution of incomes on the basis of social precepts such as equity and the direct participation of players in all decisions that involve them.
Though Cuba's current president, Raul Castro, repeatedly calls on us to change our mentality, I worry about the bureaucracy's impulse to protect its privileges, its fear of any change, its readiness to applaud while mumbling "I obey your orders, but do not fulfill them."
Cuba is in a position to enter the modern world through baseball, the island's national sport and emblem. The words of Pope John Paul II before leaving Havana sixteen years ago come to mind: "May Cuba open up to the world, and the world open up to Cuba."
—–
Vicente Morin Aguado: [email protected]