Cuba Shuts Itself Off to US Businesspeople
The Castro government has blocked plans to build the first US factory in Cuba since 1959.
HAVANA TIMES — It was always more hope than an example, however, news about building the first US factory in Cuba since 1959 became headline news. Now it's nothing more than a cloud of smoke. After over a year of courting, the Cuban government has told two US businessmen to abandon their plans of manufacturing tractors in Cuba, without giving them any kind of explanation, AP reports.
"Manufacturing tractors in Mariel wasn't going to happen," said Saul Berenthal on Monday. Berenthal and Horace Clemmons, two retired IT program businessmen, became the business face of the thawing of relations between Washington and Havana.
Berenthal is a figure who for a short time managed to symbolize the possibility of a new path for Cuba, at least in the country's limited economic landscape. Even though his surname doesn't give it away, Berenthal was born in Cuba in 1944 and moved to the US in 1960. His wife is Cuban. After leaving the island when he was 16 years old, he has always maintained a close affectionate tie to his birth country and has kept up to date on its progress. For years, he tried to convince his partner Clemmons about the possibility of starting up a business in Cuba, after having observed how economic changes were developing in the country.
Somebody who didn't live in Miami and who didn't have any connection to the traditional Cuban exile community, seemed to symbolize a new time, where political differences were also put aside, although not forgotten.
"However, more than the political side of things – which is a very important subject for all of us – [my partner Horace and I) are very proud because it's a way for us to see how we can unite our two people once again. It's with trade that people and communities receive mutual benefits that result in a good commercial, social and political relationship," Berenthal told the online newspaper.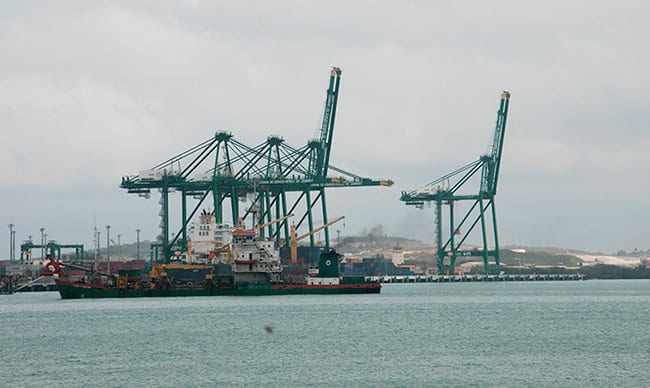 There was also another symbolic detail, media in Miami and the US, on the whole, hadn't picked up on this piece of news.
Berenthal and Clemmons had previously played an important role in Spain's transition to democracy, from a business viewpoint. In the 1970s, the Cuban-American traveled to Madrid, as an IT expert, along with his current partner, as members of IBM, to install the first "retail outlets" or cash registers at El Corte Ingles department store. Dictator Francisco Franco had just died and Spain was in the dawn of its transition to a democracy.
Adding to any possible similarities, El Corte Ingles' founder, Ramon Areces, had begun his career in Havana, at the El Encanto department store. The commercial concept that he brought to Spain had begun in this famous Cuban store. Berenthal won over Spanish businessmen, for the most part, because of the Cuban past they shared.
After his retirement from the IT world, Berenthal began to go to Cuba, in 2007, and it was still seven years before Barack Obama would announce his intention to reestablish trade relations with Cuba. However, the businessman began to travel to Cuba in the early days, "trying to see what had been done in Cuba", according to elespañol.
The opportunity to open up a factory on the Island was saluted with this headline by Granma newspaper, the Cuban Communist Party's official media platform: "US tractors push back against the blockade".
Moverover, the tractors that would be manufactured in Cuba were ideal for developing Cuba's private agricultural sector and its name, "Oggun", was taken from Afrocuban religion or santeria, it was fitting with the new times of change. Oggun is the deity of metallurgy. Warrior and protector.
With its simple design, a resistant tubular frame, simple and open construction, the Oggun tractor is perfect for Cuba.  It's based on a model of the original design, although it is greatly inspired by the Allis-Chalmers G Model, which was one of the foundations for the agricultural boom in the US in post-war years, during the late 1940s and early 1950s. The driver sits up on top so he can have greater visibility; the motor is on the back, bolted to the frame between its back wheels. Its chassis can hold a petrol or diesel motor with between 18 and 25 in horsepower, and isn't exclusively "American". Cleber has seven American, Japanese, British, German or Italian manufacturers who can supply a compatible motor, which makes a more versatile option, which is more effective in achieving what it needs.
With extendable axles at the front and on the back, Oggun is perfectly versatile when it comes to planting crops in rows, driving along narrow paths, or transporting the tow tractor or the back part of a truck.
However, in spite of all of these advantages, Oggun will not be built in Cuba.
A month and a half ago, the first lot of tractors began to come off of the assembly line… but in the town of Fyffe, Alabama, where there are around 1000 inhabitants.
Cleber's investment meant that the Cuban Government would have to take too many ideological risks, said John Kavulich, the director of the US-Cuba Trade and Economic Council. Accepting this project "would be seen as the country accepting the US' current statutes, laws and policies. That it had given in," said Kavulich according to Miami's El Nuevo Herald.
"They feel confident that with the existing subsidies, loans and debt restructuring, projects focusing on energy and the revenue from US visitors and visitors from other countries, the government will be able to remain firm in its resistance against any significant commercial and economic commitments with companies based in the US," he added, according to the Miami newspaper.
Spirits were low at the Havana International Fair among US companies exhibiting their products and services at the greatest trade fair of public interest on the island. While Cuba announced the new agreements reached with Russia and Japan with a lot of fanfare, US corporate representatives who had their exhibition stands in the pavilion, which they shared with Puerto Rico, said that they saw very few opportunities to do business in Cuba in the short-term,  AP reported.
"We know that we have to be here, to show our willingness to be here," said Diego Alduante, the Latin American director of Rust-Oleum Paints, with its headquarters in Illinois.
Alduante and a colleague, Oscar Rubio, stated that they were waiting for possible clients in the small cooperative sector which belongs to Cuban workers to stop at their exhibition stand, but nobody had come by mid-afternoon.
The Cuban government continues to hold a monopoly on imports and exports and on practically all of the sales of products within the country, which makes state bureaucracy the last negotiator in business deals that are made.
"The difficult thing for us is that the Government is the distributor here and we don't know how things will work," said Rubio, according to AP.
Obama has implemented six series of regulations that make some holes in the trade embargo that the US imposed on Cuba since half a century ago, which now allow imports and exports, sales to the socialist government and limited US investment on the island. Cuba has authorized Starwood hotels, the apartment rental service Airbnb and ten US airlines to operate within the country.
Cuban authorities blame the embargo's remaining clauses in effect as the real obstacle to greater trade with the US, and continue to constantly criticize what they call "the blockade".
"The blockade remains in force due to the absurd trade and financial restrictions," claimed Rodrigo Malmierca, the Trade Secretary, at the Fair's opening ceremony on Monday. "This has caused great harm to the Cuban people and is the main obstacle that we face in the process to normalizing relations between Cuba and the US."
Some see the standstill in government trade with the US as the Cuban government's conscious decision to limit trade to a few bites of a high-profile apple while directing the majority of business to European and Asian companies. This, to keep the US business community hungry and wanting more, so they will put pressure on US Congress to finally put an end to the embargo.
"The Cuban government is using US companies' interest as bait to attract companies from other countries," Kavulich said.
"The Cuban government is saying: 'Let's not give US companies anything more than what's absolutely necessary, so that they continue to drool while they wait for potential, but imaginary, opportunities. There's more hope and aspiration than there is reality," he added.
The use of this strategy could be sensed in the newspiece published by Granma about the possibility of manufacturing Oggun tractors in Cuba.
"Without even touching Cuban soil, tractors from the US company, Cleber LlC are already plowing through international public opinion and relations between Washington and Havana," wrote Granma newspaper when reporting the news item.
The relevant question now is whether this was only an economic tactic or, on the contrary, a political principle was being strengthened behind it: the Cuban government refuses to give up a "siege mentality", even though this standpoint, objectively speaking, isn't based on facts but rather on ideological rigidity.
Revolution Square is giving more and more signs that it is closing its doors out of the fear that an economic opening, although limited, might lead to a public questioning, more or less open, about the government's political postulates.
However, what the government of Havana is stubborn to protect as their basic postulates for their political survival, goes against giving them any kind of hope, even a little bit, that the island's economic situation will improve. And this repeats the age-old mechanism of always trusting in repression as the best safeguard for the regime. And it leaves the everlasting question unanswered again: until when?