Cuba Tormented by Unstable Food Supplies
By Ivet Gonzalez (IPS-Cuba)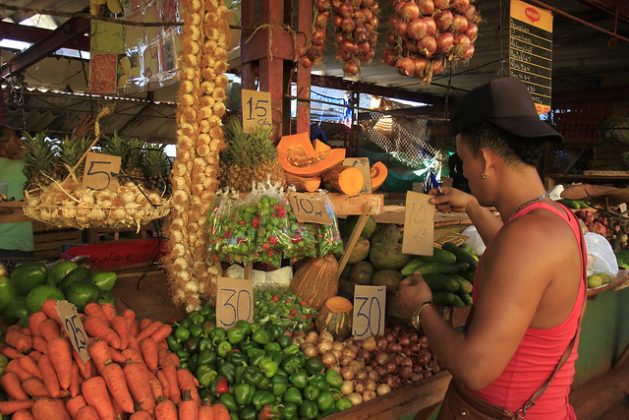 HAVANA TIMES – "Food is scarce: you have to go to different places to find everything you need," pensioner Rita Lina Pintado explained to IPS, referring to the main obstacle she faces to compliment her food rations that the Cuban State distributes at a low price every month.
"Some products are almost always available, then it's the price that's a problem, others fluctuate: sometimes they become stable and others disappear. The problem lies in the instability of the food supplies," this elderly consumer continued. She lives in the capital's Plaza de la Revolucion municipality (there are 15 in total in Havana).
Limited and unstable supplies have been a mainstay for decades in Cuba, which the government says imports between 1.8 and 2 billion USD worth of food per year. However, the problem became a lot worse this year when the US imposed stricter sanctions on the Caribbean country and its ally, Venezuela.
With a basic quota per person of essentially rice, sugar, salt, a small quality of beans, coffee, some meat and eggs, the rations booklet covers up to a third of a family's needs in the month, but then they have to buy everything else at hard-currency stores and agro-markets.
Economists calculate that a family needs an average income of 2800 Cuban pesos (112 USD) per month just to be able to cover their dietary requirements. Yet, average salaries in the public sector in this country of 11.2 million inhabitants was only the equivalent of 30 USD at the end of 2018.
It is expected that salaries increase this year as pay-rises were implemented in the public sector in July, however, wages are still lagging far behind if we compare them to economists' estimates to fill the food basket.
Consumers face problems in access to food items in their search for items to make up for the rest of the month, especially items that figure in a healthy diet, which is what experts and international organizations have stressed as a priority on October 16th, World Food Day.
While the fight to achieve zero hunger in the world continues, the United Nations Food and Agriculture Organization (FAO) and the UN World Food Programme (WFP) emphasize healthy eating, which represents other challenges for countries and means they have to revise their food systems and policies bearing nutritional value in mind.
These issues and support for local food production because of a great dependence on foreign supply, as well as improving access to food, were highlighted on Cuba's program to celebrate World Food Day with a range of activities, especially community-led ones, which were organized by Cuban authorities and FAO and WFP, which began on October 2nd and ended on Saturday 19th.
"I always have to leave my municipality and travel to large shopping malls in order to find food," Zoe Diaz shared, who is a local from another Havana municipality, Diez de Octubre, exposing the supply gaps between more central and suburban areas.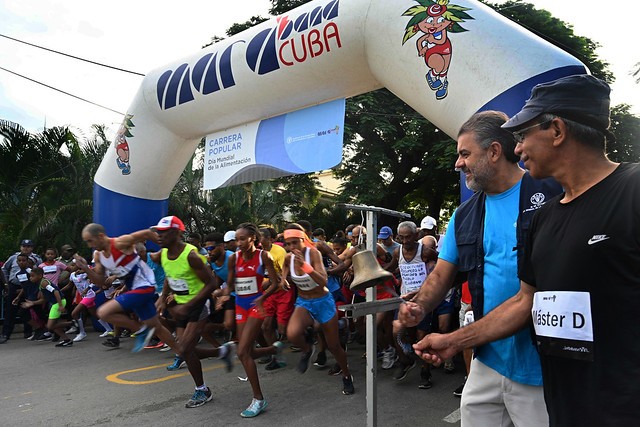 "All kinds of meat are the hardest thing to buy (because they are so expensive and availability is scarce); as well as butter, cheese and yoghurt (for the same reasons); imported rice (availability) and biscuits in small packets and cheap for school snacks (due to availability)," Diaz listed.
"There have been better and more critical times. There has never been a time when all basic food items were available at the same time," she weighed in, during a year marked by shortages of products such as chicken and vegetable oil, which led to authorities limiting sales and prices at privately-run agro-markets.
"Something is always missing," Diaz pointed out, who describes the complex Cuban situation in this way, where state subsidies, support for vulnerable groups and school diners, ensure a basic diet that keeps levels of chronic malnutrition and hunger low, which the FAO also recognized in 2018.
"There is a less visible problem in Latin America: food insecurity," Juan Carlos Garcia Cebolla, the director of FAO's The Right to Food department, explained from the organization's global office in Rome. "It isn't a chronic problem, but families go through times of shortages throughout the year and they have to take action to manage it," he pointed out in a conversation with IPS.
With different national realities across the region, Garcia Cebolla said that "this affects 8% of the population." "Dealing with shortages starts off by eliminating the most expensive food products, which are normally fruit, vegetables or meat and dairy products, then people reduce quantities, and finally frequency," he explained.
The expert also highlighted the strong movement within the region to "introduce the right to food in Constitutions." He gave Brazil and Mexico as examples, who stipulated this right in their fundamental laws when they were amended in 2011, and the Cuban Constitution, which came into force in April this year.
Government authorities recognize nutritional problems in Cuba such as anemia and obesity, which are the result of the poor quality of national diets and reaffirm other debts along the road to ensuring food security, a concept which ranges from availability, stable supply to the proper consumption of food.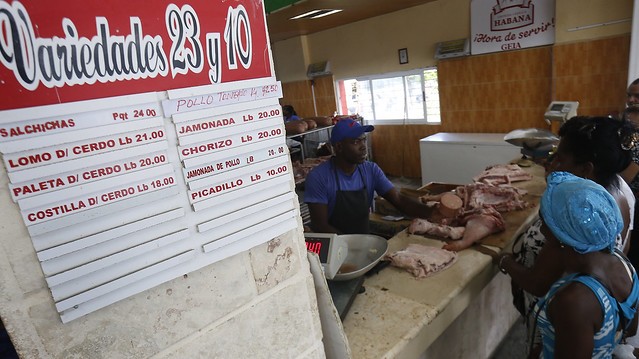 "Vegetables and fruit have been missing," retired Andres Dovale told IPS, who says it is hard work to find these products, except for avocados and plantains. Meanwhile, Lupe Gonzalez said that "healthy foods: organic fruit, vegetables and white meat" are the hardest to buy.
In July, state media revealed that 42% of the Cuban population is overweight and that this problem affected women more and increased their chances of cardiovascular disease and high blood pressure, to name a few. However, the most alarming thing was that 13% of this figure were children.
The Program to tackle anemia in vulnerable groups indicates that 50% of suckling infants between 6 and 11 months and 30% of children between 6-23 months old suffer from anemia. Caused by iron deficits in blood, anemia affects 30% of fertile women and 24% of pregnant women.
This is due to a combination of both restricted access to certain foods as well as poor dietary habits.
"Every family's financial situation has an influence: those with greater purchasing power, whether that's because of their own incomes or family remittances, have greater access to food throughout the year," art critic and journalist Joaquin Borges Triana, a resident in the Centro Habana municipality, shared.
In his opinion, "the hardest food products to buy are those that are imported by the State."
Insecurity is on the rise because of the island's great dependency on food imports at a time when the Trump administration has announced more restrictive measures against Cuba because of its support of Venezuelan president Nicolas Maduro's government. The sanctions in turn limit the government's purchasing power abroad, access to credit and oil shipments from its ally.
The Cuban government has even classified food production as a matter of national security, when the country is running on 80% of the fuel it needs and has enforced energy-saving measures in September, such as greater use of animal traction in farming.