Cuba: Yasiel Puig's Amazing Debut in MLB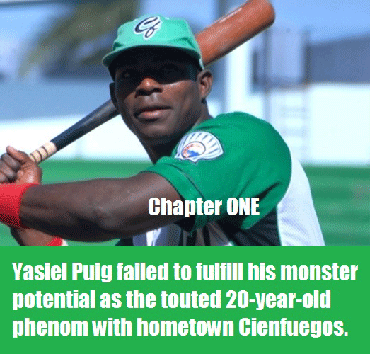 HAVANA TIMES — It has now been little more than two weeks since the latest refugee from Cuban baseball settled into the big leagues and Puigmania has now apparently taken full root in the City of the Angels (appropriately enough, since LA was also erstwhile home to a phenomenon known as Fernandomania more than three full decades in the past).
Former Cienfuegos outfielder Yasiel Puig became Cuban big-leaguer number 171 (and counting) on June 3 with a considerable splash and already speculations have mounted concerning whether this latest five-tool athlete is perhaps the most talented Cuban-born prospect ever to hit the big time.
There is little question in this camp that Puig is indeed a genuine prospect and also one of the better talents to come off the baseball-crazy island in years – perhaps even best since the free flow of Cuban ballplayers to professional baseball stopped in the early-1960s aftermath of Fidel Castro's socialist revolution. But one or two weeks does not make a full-fledged major league star and it is well to remember that there have been other phenomenal debuts over the decades that have quickly transformed into fast-fading comets or sad paragons of quickly lost promise.
One thing is certain. None among the previous 170 Cuban-bred major leaguers ever enjoyed a debut that can come close to matching Puig's first curtain call with the Los Angeles Dodgers. Céspedes drew raves in Oakland last April by homering in his second big league contest and rode his early momentum through a solid rookie campaign that produced 23 dingers and a respectable .293 batting mark; but Céspedes was largely overshadowed by the sensational rookie campaigns of Mike Trout in Los Angeles and Bryce Harper in Washington.
Aroldis Chapman was the "talk of the town" in the spring of 2010 with his $30 million rookie paycheck but yet didn't actually start proving his worth until last summer when he found a true home with 38 saves out of the Cincinnati bullpen.
Six decades ago a flashy prospect named Orestes Miñoso made history as the first big leaguer of African roots to don a uniform in the Windy City of Chicago (stealing the headlines that day from another promising prospect named Mickey Mantle, who also belted his first home run on that same May 1951 afternoon); but at the time of his historic Comiskey Park splash Miñoso was already two years beyond his original big league debut with Bill Veeck's Cleveland Indians.
Certainly neither the recent "Cuban Missile" (Chapman) nor the original "Cuban Comet" (Miñoso) produced initial fireworks anything like the ones resulting from Puig's recent coming-out party at Dodger Stadium.
After tearing up spring training in March with a .517 BA and numerous eye-popping power displays, Puig was nonetheless dispatched to Double-A Chattanooga (where he slugged at a .328 clip) by Dodgers front office brass perhaps overly cautious about rushing the nascent career of their number one franchise prospect.
But when the injury-riddle LA club (with starting outfielders Carl Crawford and Matt Kemp both relegated to the DL) issued the call in early June, Puig was more than ready. He singled in his first big league plate appearance Monday night (June 3) against San Diego (impressive enough) and then capped his head-turning inaugural outing with an overall two-for-four night at the plate plus a sensational game-saving throw unleashed from deep right field to double up the potential tying run at first base.
If that was not enough for a truly stunning curtain-lifter, in Game 2 the new "Cuban Cannonball" (I am certain something like that will catch on with the LA media soon enough) homered twice, collecting three hits and a game-high five RBIs to become the first Dodger since Spider Jorgensen back in 1947 to turn that trick (knocking home five runners in his first two outings).
Puig's first shot (439 feet to left center) came off lefty starter Clayton Richard to knot the game in the fifth; his second was a two-run opposite field blast the following inning struck off righty Tyson Ross.
After being shut out in his third outing (and struck out twice) Puig renewed the onslaught a night later with home run number three, this one a grand slam that punctuated a resounding victory over the Atlanta Braves. But it wasn't over.
In his fifth appearance in a Dodger uniform at the end of the week the rookie sensation launched home run number five, a game-tying solo "moon shot" into the left field pavilion off Braves starter Paul Maholm that was one for the record books.
Ten RBIs in the first five career games was enough to tie the existing big league standard in that department held jointly by Danny Espinosa (2010 Washington Nationals) and Jack Merson (1951 Pittsburgh Pirates). For a further bit of historical perspective, the only other major leaguer with four homers in his first five games is Mike Jacobs (2005 New York Mets).
But now it is time to pause for a collective breath. Atlanta pitcher Maholm had some perspective to shed on the explosive start in a post-game press briefing following Puig home run number five. "On the home run, to be honest I missed by about three feet … I wasn't even trying to throw it anywhere near the zone … it was supposed to be bounced two feet in front of the plate to set up another pitch."
Maholm reminded the press that he had fooled Puig easily during the first two at-bats and that although the rookie was both "talented and considerably hot" he was also a free swinger who was going to have to make some adjustments to survive against big leaguer hurlers who will soon enough begin exploiting  his weaknesses.
And to add perhaps a further dose of raw reality to the sensational start, one only has to remember that the names Danny Espinosa, Jack Merson, and Mike Jacobs (fellow rookie headliner grabbers) were all rather quickly relegated to the dust bin of baseball's voluminous historical trivia.
Take heed here. I am not claiming that Yasiel Puig is not an immense physical talent with a large potential for future big league stardom. I am only cautioning that the road between Cienfuegos and Cooperstown is indeed a lengthy one, riddled with numerous pit falls and even potentially insurmountable mountains.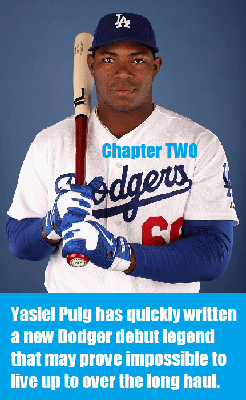 Puig also started fast in Cienfuegos, surviving an injury-plagued rookie campaign to enjoy a bust-out third season (including a clutch home run in the league all-star game) as a mere 20-year-old.
But then overnight he largely self-destructed, never made the top Cuban national team, and missed a full league winter due to sanctions for disciplinary infractions (penalties that had nothing to do with any attempt to flee the island as often erroneous reported). By age 22 was already seeking his promised future outside of his native homeland.
Puig's brief ball-playing history in Cuba was something of a checkered one. Despite loads of early promise and one rather sensational breakout season, he never found a slot with the top Cuban national team and he definitely was not yet ready to do so at the time of his surprising banishment from Cuban League action.
He did make one notable appearance on the Cuba B squad that reached the finals of the 2011 Rotterdam World Port Tournament only to drop a heart-breaking "Schiller Rule" extra-inning match to Chinese Taipei.
Given a shot in Rotterdam Puig did not fail to impress the big league scouting corps; in the gold medal 5-4 11-inning defeat Yasiel Puig was the Cuban batting hero with a single, double and triple in five plate appearances. He also socked his team's only four bagger of the tournament to decide a one-run Game 4 victory over spunky Germany. But of course it was also on that same Rotterdam trip that the young prospect unfortunately got involved in the scrapes that eventually led to his league suspension.
Puig was also a genuine star on the Cuban national 16-18 junior team a half-dozen years back and was widely touted as a future "can't-miss phenomenon" when he broke into the senior-level Cuban League (as a 18 year old) for the 2008-09 season.
He enjoyed a solid but not eye-popping rookie season with one of the league's better ball clubs (70 Games, 174 ABs, 42 Runs, 48 Hits, 5 HR, 26 RBI, .276 BA), and if he didn't immediately meet soaring expectations that was partially due to a series of nagging injuries (shoulder and leg) that would cause him to miss the entire 2009-10 campaign.
When he next returned for the 2010-11 National Series (now age 20) he did post a more impressive breakout year (89 Games, 327 ABs, 78 Runs, 108 Hits, 17 HR, 47 RBI, .330 BA). He also made the league All-Star Game, but it should be pointed out that his .330 BA was only the fourth best mark on his own Cienfuegos team and only 37th best in the entire offense-heavy league.
Those are hardly numbers that might support any overstretching claim about being one of the best prospects Cuba has ever produced. It should also be noted that among top young talents on his own club (Cienfuegos) he was easily outshone by league batting champion (and near Triple Crown winner) José Dariel Abreu (three years older) and current flashy national team shortstop Bárbaro Arruebarruena (same age).
It was Puig's strong showing during the 2011 domestic-league season that earned his roster spot on the Cuba B World Port Tournament club, and on that team laced with top Cuban national team hopefuls he did indeed lead the way (9 Games, 33 AB, 8 Runs, 12 Hits, 1 HR, 4 RBI, and .364 BA).
He was in fact arguably the third most impressive prospect on that 2011 team, but he definitely took something of a back seat to another pair of up-and-coming young Cuban stars – slick-fielding Cienfuegos teammate Arruebarruena (who would emerge that fall as the starting national team shortstop at the World Cup matches in Panama) and Ciego de Avila outfielder Rusney Castillo (who also starred in Panama as the top Cuban newcomer and not only made the World Cup all-star squad but also led the entire IBAF tournament field in batting with a .500-plus BA).
But the other shoe was waiting to drop – quite literally in this case. It was in Rotterdam that Puig got himself into considerable hot water, being apprehended by Dutch authorities for shoplifting (tennis shoes!) while the Cuban team was on an organized team shopping tour.
The Dutch officials quietly turned the youngster over to Cuban team authorities and made no official announcement of the unfortunate incident; manager Roger Machado allowed his left fielder to play in the finale a day later (the game where Puig came up a home run short of hitting for the cycle).
But the Cuban Federation bosses who definitely take such disciplinary infractions very seriously suspended Puig from the league when the team returned home. It was that banishment from league play for at least the 2011-12 campaign (no limit for the ban was ever made public) that led to Puig's eventual hurried departure from Cuba.
I am quite certain that even had the suspension not occurred Puig would not have been on the Cuban national team that first went to Panama for the IBAF World Cup and then journeyed on to Mexico for the Pan American Games in October 2011. League home run champion and record holder Alfredo Despaigne was already anchored in left field, the rather superior newcomer Rusney Castillo was slated to man center, and veteran Alexei Bell was still a fixture in right.
A backup fourth outfielder (and DH) was the entrenched team captain Freddie Cepeda, easily Cuba's most talented and effective international slugger. There simply was no opening for the future Los Angeles Dodger.
While Puig might have eventually found his way onto the Cuban national team, it was certainly no lock that he would ever have made it, especially given the plethora of raw young island outfield talent that now also includes switch-hitting Guillermo Heredia from Matanzas and WBC sensation Yasmani Tomás from Industriales.
It must also be noted that Yasiel Puig was no Yoenis Céspedes back in Cuba. Céspedes produced mightily for the Cuban national team (he joined Cepeda as a tournament all-star selection at the 2009 MLB Classic) and was at the front of the pack among top sluggers for several seasons in the domestic league. While Puig was an exceedingly bright but unfulfilled newcomer, Céspedes was an established National Series headliner.
A closer parallel might be Dayan Viciedo who was also heavily touted as a "future can't-miss" during a handful of seasons while playing third base in Villa Clara. Viciedo like Puig never reached widely expected national team status. Viciedo was plagued with similar off-the-field problems (the most prominent being a notable personality clash with his manager, the charismatic Victor Mesa) that may have slowed his own development.
But even Viciedo had a longer and larger Cuban League track record than did Yasiel Puig. Evidence for such comparisons can be readily drawn from the composite league stats for the three headlining "defectors" provided below.
Yasiel Puig Cuban League Stats
Born: December 7, 1990; Age at Time of MLB Debut: 22 yrs., 6 mos.
National Series                        G         BA       AB       R          H          HR       RBI      TB        SLG
2008-09 (NS#48)                       70        .276      174       42        48        5          26        74        .425
2009-10 (NS#49)                       Season missed due to injury
2010-11 (NS#50)                       89        .333      327       78        108       17        47        190       .581
2011-12 (NS#51)                       Suspended for Disciplinary Infractions
Post-Season Play (included in career totals for Cuban players)
2011 (NS#50)                              11        .370      46        9          17        2          6          31        .674
CAREER TOTALS                    170       .316      547       129       173       24        79        295       .539     
Yoenis Céspedes Cuban League Stats
Born: October 18, 1985; Age at Time of MLB Debut: 26 yrs., 5 mos.
National Series                        G         BA       AB       R          H          HR       RBI      TB        SLG
2003-04 (NS#43)                       84        .301      289       50        87        9          42        145       .502
2004-05 (NS#44)                       89        .313      339       69        106       15        51        183       .540
2005-06 (NS#45)                       88        .351      339       89        119       23        78        220       .649
2006-07 (NS#46)                       89        .303      340       79        103       17        66        184       .541
2007-08 (NS#47)                       89        .284      366       82        104       26        78        202       .552
2008-09 (NS#48)                       85        .323      328       83        106       24        76        197       .601
2009-10 (NS#49)                       87        .345      342       87        118       22        67        211       1.043
2010-11 (NS#50)                       90        .333      354       89        118       33        99        236       1.091
Boldface=League Leader
Post-Season Play (included in career totals for Cuban players)
2004 (NS#43)                               3          .083      12        1          1          0          0          1          .083
2005 (NS#44)                               3          .273      11        2          3          1          1          7          .636
2006 (NS#45)                               9          .167      36        5          6          1          4          11        .306
2011 (NS#50)                              13        .222      54        10        12        21        8          11        .712
CAREER TOTALS                   769       .311      2959     667       921       177       586       1673     .565     
Dayan Viciedo Cuban League Stats
Born: March 10, 1989; Age at Time of MLB Debut: 21 yrs., 3 mos.
National Series                        G         BA       AB       R          H          HR       RBI      TB        SLG
2004-05 (NS#44)                       72        .237      186       14        44        1          16        60        .323
2005-06 (NS#45)                       86        .337      323       45        69        14        58        175       .542
2006-07 (NS#46)                       90        .252      301       39        76        8          35        120       .399
2007-08 (NS#47)                       57        .294      177       41        52        10        38        89        .503
Post-Season Play (included in career totals for Cuban players)
2005 (NS#44)                                5          .000      5          0          0          0          0          0          .000
2006 (NS#45)                                5          .471      17        4          8          1          5          13        .765
2007 (NS#46)                               12        .306      36        6          11        2          10        19        .528
2008 (NS#47)                                11        .121      33        3          4          2          6          11        .333
CAREER TOTALS                       338       .282      1078     161       304       38        168       487       .452     
Have no doubts about it, Puig has several things going for him. He is a definite five tool player and if he doesn't have quite the raw power of Céspedes or Viciedo he nonetheless can outrun and out throw both. Because of the injury problems and other distractions in Cuba he cannot be measured solely but the numerical records compiled in his homeland.
But three seasons in Cuba may tell us equally as much as two or three weeks in the big leagues. He may yet be the best Cuban big leaguer of the post-revolution era. At the same time he was definitely not the best slugger on the island when he left, any more than Aroldis Chapman was Cuba's best pitcher at the time of his own departure.
The above comparisons reveal that Puig's brief Cuban legacy does not match those of either Viciedo or Céspedes, likely his too closest parallels. And he certainly does not stand comparison with such current island sluggers as José Dariel Abreu and Alfredo Despaigne (if you have doubts about that, check in with the many MLB scouts taking notes at the Japan venues of the recent WBC).
My own assessment is that another young Cuban outfielder of the same age (22) named Yasmani Tomás is an even more promising five-tool player – more power, less free swinging, equal foot speed, and an identical arm. For those who didn't catch a glimpse of Tomás in Japan, you should definitely monitor his talents when they again go on international display next month in Rotterdam.
The future is indeed bright for Puig. But let's not get too excited after a single torrid week. Just recall Bod "Hurricane" Hazle (who hit .473 and smashed 5 of his 9 career homers over mere a three-week torrid debut stretch with the 1957 Milwaukee Braves), or Clyde Vollmer (two grand slams, 13 homers, and 30 RBI during a single month with the 1951 Boston Red Sox, and then mere oblivion), or the aforementioned Jack Merson and Mike Jacobs. Let's wait a bit and merely watch the dust settle.
NOTE: There is one most interesting side note attached to the Yasiel Puig saga and that involves the World Port Tournament in Rotterdam. Those national team players that have left the island in recent years have rarely done so while accompanying a Cuban squad abroad. Yet all three recent instances of such disloyalty to teammates have all taken place in The Netherlands.
At the 2009 WPT Rotterdam affair Aroldis Chapman abandoned his teammates before the first pitch was ever thrown; similarly, 2011 National Series rookie-of-the-year Geraldo Concepción (Industriales) repeated the same scenario in Rotterdam two years later. Puig never left the Cuban squad on the road, but his Cuban demise was triggered by the events that occurred in Rotterdam during the very same tournament that witnessed Concepción's flight.
The fourth case was infielder Aledmis Diaz who jumped ship in Haarlem last summer and is now toiling in the AAA Mexican League and still without a big league contract offer.
The loss of Geraldo Concepción was hardly a major blow for the Cuban forces: the undersized lefty was anything but impressive in the A-level Midwest League (Chicago Cubs) last summer (7.39 ERA over 12 games and more free passes issued than strikeouts recorded).
Although Chapman has now emerged as a big league bullpen star, his history in Cuba before departing suggests that he would likely never have developed into a frontline pitching star back on the island. Puig was also likely headed for obscurity in his homeland after his fateful run-in with Cuban authorities.
But given the brief history of young Cuban prospects playing on the road in Rotterdam, there has to be at least mild concern surrounding the top-level Cuban contingent which will again take the field next month at the showcase World Port Tournament event.
(*) Peter Bjarkman is author of A History of Cuban Baseball, 1864-2006 (McFarland, 2007) and is widely recognized as a leading authority on Cuban baseball, past and present. He has reported on Cuban League action and the Cuban national team as senior writer for www.BaseballdeCuba.com during the past six-plus years and is currently writing a book on the history of Cuba's post-revolution national team.