Cuba Youth: Hanging Out at the Book Fair
Photo Feature by Irina Echarry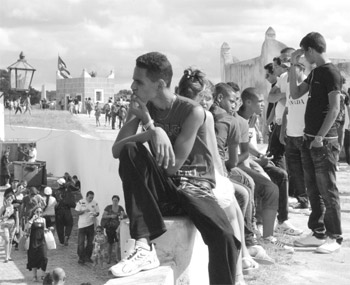 HAVANA TIMES, Feb 29 — "He told me that it was great that people here were getting together for something cultural, unlike in the United States where they only get together for baseball or partying. Then he called me to the side and said to me in an extremely serious manner: 'Don't you ever leave Cuba, because this is a beautiful country'."
That was what a girl said about her conversation with a foreigner at the International Book Fair held recently at the old colonial Cabaña fortress. Anyone would have thought she hadn't understood any of the words he said to her, but then we immediately started to also think that the foreigner had an overly idealized vision of the matter.
It's not that it's false, but it's very biased, just like how the truth never emerges about the book fair in the national television news – all they give are oversimplified statistics.
To find out how the book fair is much more than the number of visitors or how many book presentations were made in the La Cabana over the weekend, you have to walk in the hot sun, wait patiently for your turn to go inside one of book sales areas, observe people covering themselves from the sun with umbrellas or even hats, listen to their complaints, try to eat something in one of the endless queues, and then struggle with the buses to try to get back home.
It requires more than a romantic look at the event.
The range and varieties of food stands attract many people. "There are more bread lines than lines to get into buy books," said one man who was surprised by the file of people waiting for ham sandwiches. At the same time, the same girl asked, "Do people come here to eat or to read?"
These expressions aren't exaggerated, since all the lines seem endless. The avalanche of kids, teens and young adults, some with their families, make a visit to the Cabaña for the fair turn into something unreal.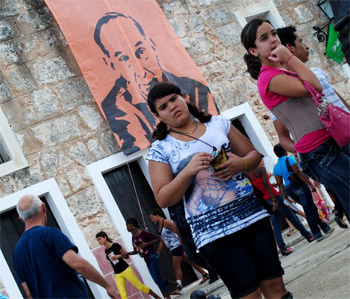 You can hardly walk with there being so many people. The cries of joy or scolding (these latter coming from parents) serve to confound anyone over 35.
Nevertheless, despite so many people in attendance, the rooms in which the books are launched are typically sparsely attended. The few numbers of people who talk with the authors give the impression that most people aren't interested.
Although the book stands that sell in national currency continue to have long and exhausting lines, people come out with very few books. Who knows if this is because of the prices (they've increased) or because they come simply to look at what's being offered, but find things not to their liking.
A large percentage of the adolescents and younger adults visiting the Havana Book Fair are motivated not by reading but by socializing.
La Cabaña becomes place for meeting, a place for laughing, talking, being together and showing off their new clothes, so — since they're there anyway — they might buy a book or magazine.
It's common to see groups sitting in tiny patch of shade or right out in the sun, telling stories, bragging, making fun of others, eating junk food or drinking alcohol – simply enjoying the moment.
All that's fine, but it demonstrates that the fact of attending the book fair doesn't mean much in terms of "culturally enrichment," as they want to make it seem on the news by presenting numbers that "speak for themselves."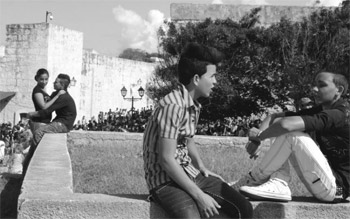 Perhaps more could be done with young people, seeing how eager they are for new experiences here.
It would be a good time to show them the other side of the world that they are losing out on (which almost all of us lose out on at those ages) though some of their contemporaries are trying to discover it.
It's that magical part that's experienced with characters in a well-crafted story, tales that allow us to enjoy never seen landscapes, people we don't know and cultures vastly different from our own.
Perhaps this requires doing something that really encourages reading, even if it isn't so massive but serves to awaken a real interest in books. I imagine that then there wouldn't be anyone at the entrance of the Cabaña saying, "Damn, what a line, and just for this shit!"
—–
Note: The Cuba International Book Fair concluded its phase in the capital on February 19 but is continuing on to the island's major cities and will end on March 4 in Santiago de Cuba.
Click on the thumbnails below to view all the photos in this gallery. On your PC or laptop, you can use the directional arrows on the keyboard to move within the gallery. On cell phones use the keys on the screen.