Cuban Artists Request a Public Debate over Decree 349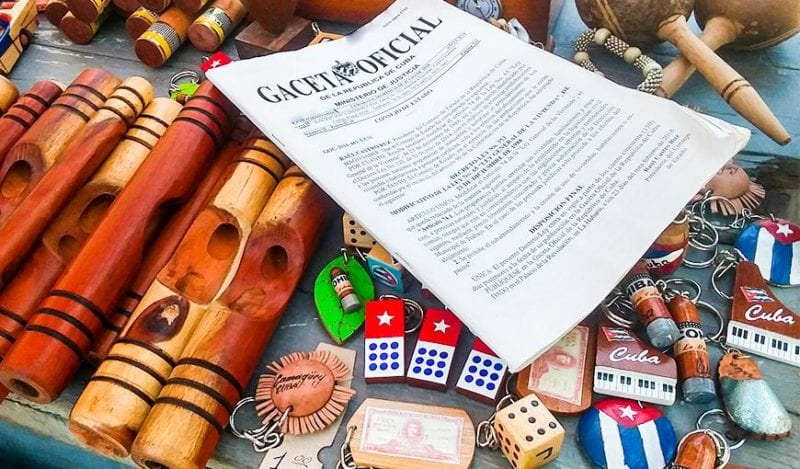 HAVANA TIMES – Even though Decree 349 was ushered in like many things are in the Official Gazette, it has created intense debates in different spaces for being a document that seeks to regulate the country's cultural policy in an explicit way.
Since November 20th 2018, a group of artists and creators have been sending a dossier around by email which summarizes their actions to hold a public debate about the new law and the messages that have been sent to the country's main authorities.
The dossier includes the names and signatures of artists such as Daniela Munoz Barroso (filmmaker), Jose Luis Aparicio (filmmaker), Rafael Almanza (writer and art critic), Hamlet Lavastida (artist), Gabriela Burdsall (dancer), Carlos Quintela (filmmaker), Ivan de la Nuez (writer and curator), Carlos Lechuga (filmmaker), Claudia Calvino (producer), and Raul Valdez "Raupa" (fashion designer).
In the report that they have made about the events/pieces of this jigsaw puzzle, they have pointed out:
"On September 14th 2018, a group of artists, curators and other members of the Cuban visual arts community, sent a letter to the Ministry of Culture and to the president of the National Council of Visual Arts. We shared a series of concerns and disagreements relating to Decree-349, which was issued by the Council of Ministers on July 10th of this year.
"Our last demand in this letter is to put the Decree up to a public debate as we don't believe that the opinions of the majority of Cuba's artists and intellectuals were taken into account when it was drafted."
The authors said that as a result of sending this letter, they were summoned to a meeting with the National Council of Visual Arts on September 27th, in which they expressed their opinions about the decree before officials from the Ministry of Culture and other cultural institutions.
The meeting was chaired by Fernando Rojas, Vice-Minister of Culture and the President of the National Council of Performing Arts, and not by the Ministry, like they had asked.
"Around 30 of us who are mostly linked to the visual arts attended. We waited for their response about holding the public debate we had requested before October 12th, bearing in mind that the Decree will come into effect in early December," the message continued, which became a chain mail sent initially from email address [email protected]
Not receiving any new responses from the Ministry of Culture, they sent a note addressed to the Ministry again on October 19th, which gave an update on their position and reaffirmed the letter's demands about the following points: the need to organize a public debate and for the Decree to not be put into effect, as it has been conceived, in nature and text.
This note was accompanied by the same letter, with even more signatures.
Download the document (in Spanish) that has been sent around here: Dossier_Sin 349
People who have signed the dossier aren't the only ones who agree that a public debate needs to be held.
At the place where the Aire de Luz literary group meets, hosted by writer Basilia Papastamatiu, she herself said that it would be a good idea to create a space for discussion when an unexpected debate about the Decree took place in which the El Toque team were present.
To back up her point, she mentioned the fact that they were also debating the Constitution: "it might be the case that those who wrote it up had the best intentions, but we have to see whether it was written up in the most fitting way; it would be a good idea for institutions to sit down with the public and discuss it. However, we don't need to go looking for what isn't there either: sometimes we believe that we are being censored because we aren't published; but there are lots of factors that come into play and some people aren't published because they are bad writers and they defend themselves saying that they have been censored," she weighed in.
Edel Morales, director of the Loynaz center and a member of this literary group, said that the Decree attempts to structure what intellectuals have been demanding: that people aren't hired privately, that tourism centers hire artists who basically belong to an institution, that there are organized and legal contracts and that artists are paid what they are due and that artists aren't privately hired by companies (or other institutions of power), outside of the law; or that money is received in hand and not have people who don't have a place in the artistic hierarchy perform in important public spots.
However, other writers and visual artist Yornel Martinez from the literary group complained that the Decree leaves room for misinterpretation, which can be abused and filled with censorship and coercion.