Cuban Explosion Ends Taiwan Series
After two pitching duels the final exhibition game went 14-7 in favor of Cuba
Peter C. Bjarkman*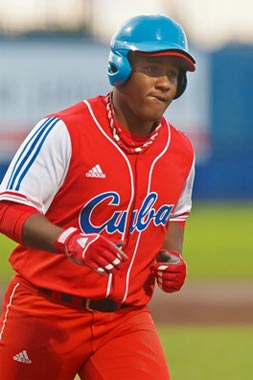 HAVANA TIMES — Normally hefty Cuban bats have often underperformed in recent international events, causing a good deal of frustration and some widespread carping among loyal Antillean fans back home in the baseball-mad Caribbean nation.
The first two games of the current Taiwan-Cuba exhibition matches seemed to be no exception, with the Cuban League all-stars being held to a mere pair of runs in the first two outings and largely stymied by a talented corps of polished CPBL professional pitchers.
Yet all that changed quite suddenly on Tuesday evening at Taichung's Intercontinental Stadium as the so-far rather tame "Thunder Series" finally lived up to its advanced billing.
Before the dust had settled, the two clubs had combined for 28 base hits and a total of 21 runs during an offensive outburst that was not only highly entertaining but also totally uncharacteristic of so many recent face-offs between this pair of long-time international rivals.
Cuban sluggers did most of the damage, abusing eight CPBL hurlers for 16 safeties that included a trio of homers, three doubles and a lone triple. The final 14-7 scoreboard count gave the visiting Cubans not only the deciding rubber match but also an overall 16 to 9 margin in runs plated during the series.
Tuesday's surprising slugfest was actually close through six innings with the hosts actually holding a 6-5 edge entering the seventh frame. But Cuba rang up two scores in both the seventh and eighth and then five more tallies in the visitor's ninth to eventually turn a tense nail biter into a clear-cut one-sided rout.
Industriales right-hander Odrisamer Despaigne worked the first four frames and struggled with control as 31 of his 69 total pitches fell outside the strike zone; Cuba's Despaigne eventually left the scene with his club trailing 3-2.
After token relief appearances by Yoanni Yera, Norberto González and Pablo Fernández, southpaw Leandro Martínez entered in the sixth inning to finally squelch a further three-run Taipei uprising; Martínez then worked the seventh and benefitted from the first of Cuba's three late-inning rallies to earn the rubber match victory.
Vladimir García and Darien Núñez split the final two-inning pitching chores for the victors.
Cuban manager Victor Mesa opened the series finale with a revamped offensive lineup and would eventually utilize his entire bench of position players with the lone exceptions of regular catcher Ariel Pestano and star designated hitter Frederich Cepeda.
The shakeup batting order included Yordan Manduley at shortstop, Yurisbel Gracial in center field, Alexander Malleta at first base, Yasmani Torres in right field, Yulexis La Rosa behind the plate, José Miguel Fernández at second, and veteran Michel Enríquez inheriting the designated hitter assignment.
Lefty-swinging Malleta responded with one of Cuba's three long balls, and second sacker Fernández contributed a pair of hits and also a pair of RBIs.
Entering the game as Gracial's center field replacement at the midpoint, Rusney Castillo also smacked out a couple of safeties, including a two-run homer in the ninth.
But the big blow was Alfredo Despaigne's three-run shot off Liao Wen Yang in the fifth frame, the Granma stallion's second round tripper of the series. Cuban League home run record holder Despaigne would account for six runs batted home before the night was over.
Cuba now moves on to Japan for a pair of games with the Japanese League All-Stars in Sapporo (Friday) and Fukuoka (Sunday) that should provide a far greater challenge for Cuban sluggers.
Manager Mesa and technical director Jorge Fuentes have to be fairly satisfied with the overall results in Taiwan, especially the staff pitching that yielded only two runs (both in the same inning) across the first two contests. Cuba played errorless ball in the pair of tight opening contests but did commit three boots (by Odrisamer Despaigne, Gracial and Malleta) during the lopsided finale.
Alfredo Despaigne was awarded an MVP prize by the host press in each of the final two contests and was clearly the star performer of the short series. Pitching is always difficult to assess when managers take advantage of "friendly series" tune-up games to test the majority of their hurlers in each of three straight outings for one inning or less.
In the entire series Cuba's Freddy Asiel Alvarez (game two) was the only hurler to log a normal starting assignment of six-plus innings. Nonetheless, the Cuban bullpen did a most effective job off closing down the opposition in the late innings when all three games were still very much on the line.
It will be most interesting to see if this same pattern will now be maintained against the more seasoned and savvy batsmen comprising the Japanese starting lineup.
—–
(*) Peter Bjarkman is author of A History of Cuban Baseball, 1864-2006 (McFarland, 2007) and is widely recognized as a leading authority on Cuban baseball, past and present. He has reported on Cuban League action and the Cuban national team as senior writer for www.BaseballdeCuba.com during the past five-plus years and is currently writing a book on the history of Cuba's post-revolution national team.