Cuban Farm Balances Finances and Environmentalism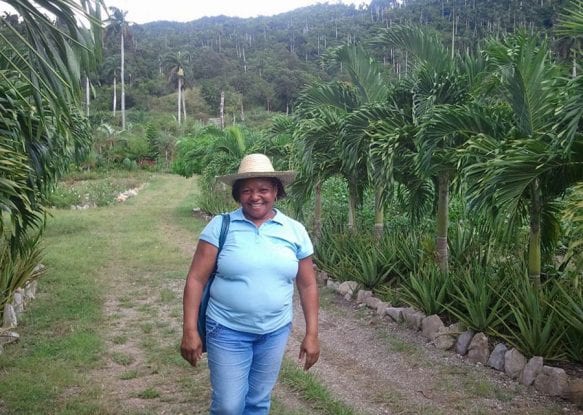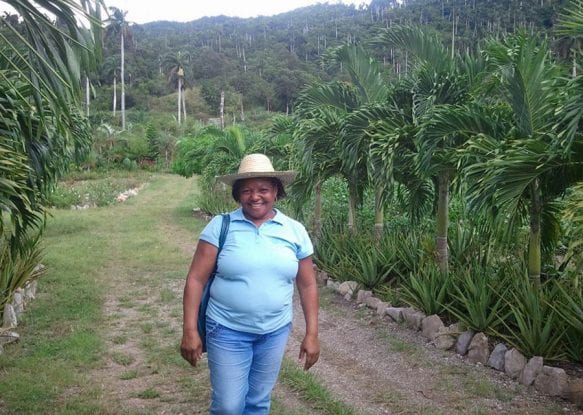 It forms part of an environmental conservation project that involves mountainous regions across nine Cuban provinces and 30 municipalities.
HAVANA TIMES – When farmer Eloisa Bocourt requested the lease on the hill that had been used as a quarry to build a highway, it had already been invaded by marabu bush weeds. After five years of hard work, she now has an enviable farm full of medicinal plants, fruit trees and flowers.
Bocourt is a teacher who left the classroom to farm a destitute piece of land and to share her knowledge by giving workshops to children from the community near the La Caridad campsite in Soroa, a place known for its botanical orchid garden in the Artemisa province.
This farmer receives some financial support from the Conectando paisajes project which was founded with international funding, and focuses on conserving biodiversity.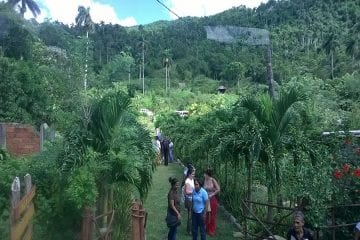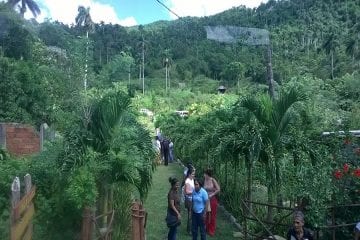 "As a woman, it was hard for me to convince people that I could farm this piece of land that nobody else wanted, alone with my son and family. I proved that we women are strong and determined to farm land," Bocourt said.
"The community, who at first rejected me, also helped, but then found a mirror in me where they too could shine," the 50-year-old entrepreneur continued, who is the daughter of farmers and a descendant of African slaves who passed down their knowledge about medicinal plants to her.
The farmer points out that one of the satisfactions that the farm known as La Calendula or La Excelencia has given her, is being able to prove that you can also make a living off working land. "My family have a dignified job, and we have a pleasant quality of life as a result and we are happy here, with a landscape that gets you out of bed every morning," she shared.
Calendula, chamomile, ginger, passion flower and hibiscus flowers can all be found on the farm, although sometimes Bocourt runs into obstacles collecting the dry mass and transporting it to the lab, in spite of the need for herbal medicines given national medicine shortages in pharmacies.
"Calendula is used to make cough syrups, skin cream for children mostly, and is very important for baths to fight skin infections, while the hibiscus flower has antibacterial properties and is very good for making teas and sweets," she pointed out.
Connecting landscapes
The project's complete name is "Landscape focus to conserve endangered eco-systems in mountainous areas" and it seeks to conserve biodiversity in mountainous eco-systems, says Guadalupe Bidon, Conectando paisajes head of communications, clarified.
"It promotes a new model in the conservation of diversity and management of protected areas, placing special emphasis on landscapes, where conservation corridors are implemented to promote integration of protected areas with their surrounding environment, where communities live and farm," she explained.
Funded by the Global Environment Fund and implemented by the United Nations Development Program and Cuba's National Institute of Ecology and Strategy, the project involves mountainous regions in Guaniguanico, Guamuhaya, Bamburanao and Nipe-Sagua-Baracoa.
Conectando paisajes covers nine provinces, 30 municipalities, a large area of forestland and water basins, seeking to find a balance between economic interests and conservationist interests in a compatible way.
This is how they are actively trying to "reduce biodiversity losses and to increase the capacity of eco-systems to create more environmental produce and services that lead to better community life, lifestyle and adapting to climate change for people who live in these mountains," Bidon said.
Lazara Sotolongo, the project's general director, says conserving biodiversity in the face of current and future threats is paramount.
"These projects have given rural women a sense of worth, we feel honored, it helps us to become independent," said Bocourt.
The farmer also explained the positive impact Conectando paisajes has had on the local town's identity.
"We didn't know how important the place we live in was, and now we have to conserve and protect our landscapes above everything else because it's the future of our country, Nature, the environment and the planet," she concluded.