Cuban Farming Makes Adjustments in Response to Fuel Shortages
Animal traction and grazing to reduce the use of pasture grass cutting machinery, are some of the measures being implemented by Cuba's agricultural sector.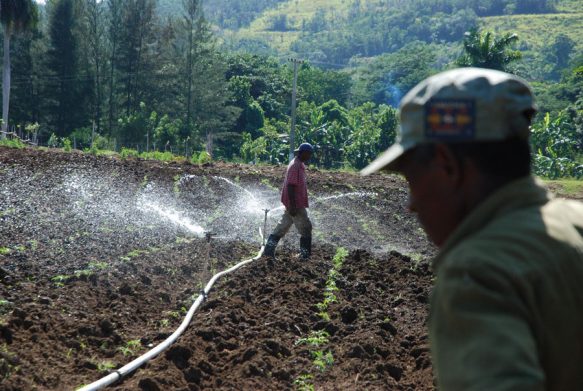 HAVANA TIMES – Picking up traditional practices that have no need for fuel: yokes of oxen to prepare the land and carts to transport products and organic matter, are measures that the Cuban agricultural sector is adopting in order to navigate national fuel shortages.
Given the importance of this sector in a country which spends almost 2 billion USD in food imports, the government has advised energy cuts that don't jeopardize harvests, especially the sowing of vegetables and sugar cane in the winter farming season.
Measures implemented nationwide include irrigation schedules out of peak hours of energy consumption, reducing the use of machinery to cut pasture grass and increasing animal grazing instead, as well as the optimal use of vital transport equipment.
The current situation could affect farm production and result in lower yields of the country's main crops, at a time when the Cuban government is promoting the exact opposite and wanting to reduce imports and encourage exports, including agricultural products.
Measures taken

In Havana, the use of 981 yokes of oxen, which were once systematically used to prepare fields for sowing, has been reinforced especially for short-cycle crops, according to sources from the provincial agricultural board.
Today, we have 1,739 hectares of land in rotation for sowing mixed crops and 1,049 of these can be prepared by oxen," Esmeregildo Martinez, a sector representative, told local press.
In Havana's stockbreeding industry, 162 carts are transporting hay and forage to avoid using mechanical equipment. However, vehicles transporting water and fooder are still running for now.
Another measure involves encouraging the work of small canning industries, which play an important role today as large industry is pretty much paralyzed with the energy cuts.
With different experiences all over the country, the western province of Matanzas has hiked up the production of charcoal for popular use, without affecting export targets.
According to provincial representative Ricardo Menendez, a total of 27 production units are producing 11,000 sacks of this fuel, while the manufacture of coal and wood-fired ovens has also been reinforced.
In Sancti Spiritus, in Cuba's interior, "crops that are ready for harvest now are a priority: they need to be collected and transported to retail establishments across the country, and animal traction is needed for this," according to Juan Jose Gonzalez, the head of agriculture in this province.
While in the central province of Villa Clara, irrigation schedules have been moved to off-peak hours for energy consumption and construction work of the Hector Rodriguez biomass power plant has been sped up, so sugar harvest preparations and food production aren't affected.
The sector is giving priority to better loads and compaction. "Instead of taking three of four animals to the slaughterhouse, we wait until we can fill a truck," an employee tells us, which reveals just how inefficient transport and fuel use is generally-speaking.
Cuban president, Miguel Diaz Canel, is personally assessing the measures being adopted in each province, in the farming sector too, on his tour of the country's different provinces.
The crisis
Even though restrictions only became more serious two weeks ago, the Cuban economy has been affected by successive cuts in fuel supplies to the public sector, the year through. The effects can be felt in Cuba's countryside.
According to agricultural representative Victor Fidel Hernandez when speaking to local press, restrictions in Pinar del Rio have led to serious problems in preparing fields and seedbeds for the winter farming season.
Dairy supplies and the number of pigs sent to the slaughterhouse have been hit the hardest, as well as investments that require fuel, and are on standby until further notice.
Cuban authorities announced that the most critical period of the energy crisis came in September because they were unable to receive the fuel that had been agreed, in the face of US threats to tanker ships carrying oil to the island.
They said that October shipments were guaranteed, although measures being implemented today appear to be medium and long-term solutions.
Experts believe that most of the measures adopted in the face of this contingency should remain as good practices in the farming sector in its quest for sustainability, as they represent a rational use of fuel and resources.