Cuban Feminists Replicate "A Rapist in your Path"
Once edited, the film about the Cuban version of the viral performance will be shared on social media.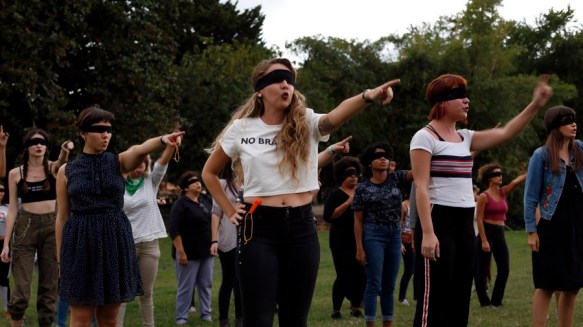 HAVANA TIMES – After many rehearsals, some very young and not-so-young Cuban feminists starred in their version of the "You are the rapist" performance, which was performed in Chile for the first time, on November 25th, and was then repeated in many other countries as an anti-macho violence protest.
The Chilean group Las Tesis' artistic protest has become an anthem for feminist movements across the world, and this trend has also reached Cuba, which is now taking part in global phenomena thanks to greater Internet access.
At a terrace on the University of Arts (ISA) grounds, with authorization from the university dean, some thirty students, designers, journalists and lawyers, who were aware of the women's movement in Chile and the protest against gender-based violence, performed the choreography with their eyes blindfolded.
"A lot of work went into planning this event," which was filmed, one of the project organizers noted.
Like other forms of activism, they made the most of social media to call upon people who wanted to join, within the context of the 16 Days of Activism against Gender-Based Violence, between November 25th and December 10th.
"The girls from La Manada (a group of female artists) created a Facebook group and spoke a little bit about their idea, and because they were already familiar with Las Tesis' experience, I was immediately hooked," 28-year-old playwright Martha Luisa Hernandez said, who is better known as Martica Minipunto.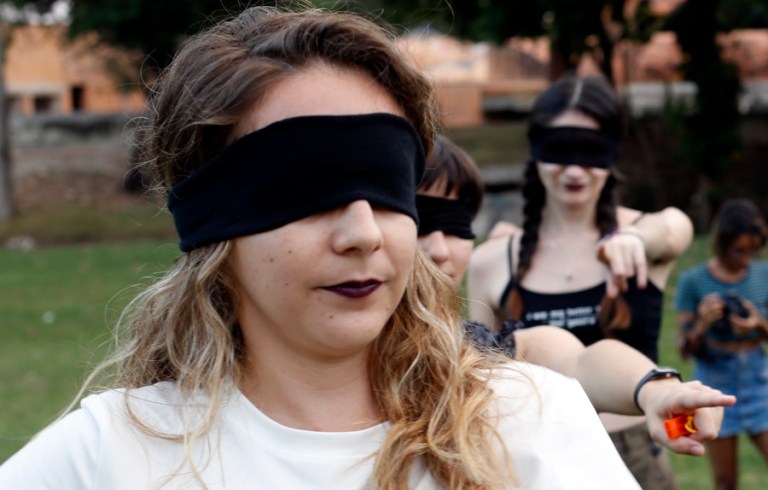 Even though the performance of this piece would be unthinkable out in a Cuban public space, it seemed possible within a place like ISA and "I immediately joined" said Hernandez.
"It makes perfect sense in my eyes, because it isn't only about us joining a global campaign or the repercussions of this anthem, but to also show from Cuba a strong feminist platform, against any kind of discrimination, she pointed out.
Maria, a 22-year-old designer, said that they first thought the song needed to be changed and adapted to Cuban reality, like it has been in other countries, so they can sing and dance along to it as they choose.
"As it's an anthem, it can't be amended, so we thought it would be best to leave it as it is, because it is their fight, even though the struggle is ours.
"I think it's really incredible to be here in Cuba doing this, because it takes a great deal or work to get people mobilized," 50-year-old Katja, a lawyer, weighed in.
"This performance is just a grain of sand in the fight against gender-based violence," the lawyer said, who is one of the people to sign an petition to include "the necessary comprehensive law against violence against women," in the Cuban criminal code.
Lisandra Castro, a 27-year-old philologist, pointed out that "ever since the protest was held [in Chile] on November 25th, by Las Tesis, there has been a great impact and many cities have followed suit, including Berlin, Istanbul, Bogota and Mexico City."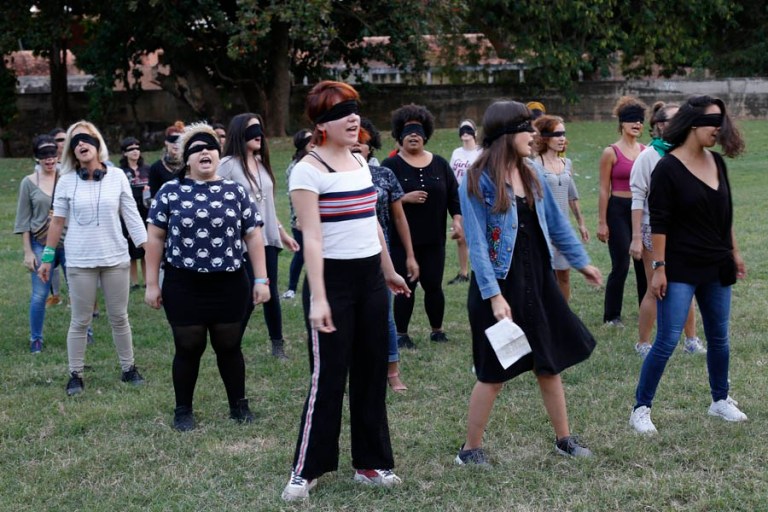 "We feel it is our responsibility as Latin Americans, women and human beings to stand by this cause and support it," said Lisandra. The group decided on a place where they could get official authorization to perform.
"These are very important issues for Cuba… people believe that (feminism) is the antithesis of machismo, when it is an inclusive ideology, that tries to give a minority group their rights, those who don't have a voice, and shatter imposed stereotypes," she argued.
Twenty-five-year-old Berta, a Spanish woman who has been living in the capital for two years now because she is studying a Masters at Havana University, says that she had been longing to take part in a feminist act.
"It's something that is missing in Cuba, I believe that women all over the world are beginning to wake up and organize, overcoming borders," she said. "This event was extremely necessary in Cuba and I'm very happy to have taken part," she added.
Once edited, the film about the Cuban version of the viral performance will be shared on social media.