Cuban League Wraps Up First Half of 2013-2014 Season
Peter C. Bjarkman*
HAVANA TIMES — For the second straight winter the Cuban League is hosting an odd "divided" season that involves the traditional 16 provincial teams fighting through a first-half 45 game slate to qualify for a 42-game championship round involving only the top eight qualifying clubs.
First half play wrapped up on Sunday with the eight qualifiers now officially determined, but also with a handful of suspended contests still to be completed. The make-up games (scheduled to be played during the weekend of January 4-7) will not alter the list of championship qualifiers but will likely impact on the precise order of finish between the top five or six ball clubs.
Those final standings hold considerable significance since they will determine the selection order when the second-round teams select five reinforcement players each from the league's eliminated also-rans, a selection process scheduled for national television on Thursday, January 9, eve of the league's All-Star Game Weekend.
Cuba's novel split-season format has not been without its share of controversy since it seems to have alleviated one long-standing league weakness while at the same time striking a severe blow against one of the circuit's traditional boasting points.
There is little doubt anywhere that concentration of the league's top stars on a smaller contingent of clubs has strengthened the quality of league play during the second "etapa" 42-game run to the championship.
At the same time, elimination of eight teams at mid-season (and also the transfer of some of the island's top stars from those losing outfits over to the contenders) has left half the country without local games and without a rooting interest for much of the year.
It is a system that now undercuts the longstanding concept of a true national sport and also undermines a unique format featuring local stars playing only for hometown teams throughout an entire career.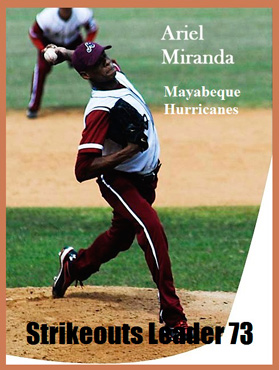 This year's first-half qualifying round remained extremely tight during the two months of league action with less than five games ultimately separating the eight qualifiers and with the final two positions in the top-half standings not determined until the final day of play. Artemisa, Santiago and Ciego de Avila limped to the wire with identical 24-21 ledgers, but the Ciego Tigers where the odd-team out as a result of dropping the head-to-head season series to both Artemisa and Santiago (the latter club also gaining the seventh slot by virtue of its head-to-head superiority over Artemisa).
Early-season elimination play provided a number of small surprises, topped by the strong performances of normal also-rans Isla de la Juventud and Artemisa, the latter club having occupied the league basement in its recent maiden two seasons of league play.
Perhaps equally unexpected were the rather dramatic slides experienced by two of the league's perennial powers, Sancti Spiritus and Ciego de Avila. The SSP Gallos fell into an early tailspin with the pre-season loss of the three Gourriel brothers (especially star third sacker Yulieski, long-time national team stalwart); all three were transferred to Industriales in late August in a highly controversial move related to the health and relocation of father and former league star Lourdes Gourriel.
Ciego (under manager Roger Machado) had captured the league title only two years back and with a strong pitching corps headed by national team luminaries Vladimir García, Yander Guevara and Yadir Rabi had been originally tabbed by most savvy prognosticators as a top pennant challenger.
Final First Half-Season Standings (Minus Suspended Games)
1)     Industriales                27-15 —
2)     Villa Clara                   26-16  1.0
3)     Matanzas                     27-17  1.0
4)     Isla de la Juventud   27-18  1.5
5)     Pinar del Rio              26-18  2.0
6)     Holguin                        25-20  3.5
7)     Santiago de Cuba     24-21  4.5
8)     Artemisa                      24-21  4.5
Eliminated Teams
9)    Ciego de Avila             24-21  4.5
10)  Las Tunas                    21-22  6.5
11)  Mayabeque                  20-24  8.0
12)  Granma                        19-25  9.0
13)  Cienfuegos                  18-27  10.5
14)  Camaguey                   17-28  11.5
15)  Guantanamo                15-30  13.5
16)  Sancti Spiritus              14-31  14.5
Suspended games pending: Industriales 3 (vs. Las Tunas (2), Granma), Villa Clara 3 (vs. Pinar del Río, Matanzas, Mayabeque), Matanzas 1 (vs. Villa Clara), Pinar del Río 1 (vs. Villa Clara)
A number of noteworthy achievements and eye-popping collapses on the individual front also marked the first half of the current National Series schedule.
On the penultimate day of play in Havana's Latin American Stadium Yulieski Gourriel equaled the career home run total (247) established two decades earlier by his legendary father Lourdes; one day later teammate Alexander Malleta (now playing in his 16th National Series season) crossed a milestone of his own by becoming only the 36th player in league annals to reach the 200 career home run plateau.
Early-season action was highlighted by the circuit's 53rd no-hit, no-run game (matching precisely the number of years of league play) tossed by Villa Clara ace Freddy Asiel Alvarez. The Alvarez masterpiece took the form of a 1-0 whitewashing of Sancti Spíritus on home turf at César Sandino Stadium.
Also on the pitching front, the current season saw Sancti Spíritus ace Ismel Jiménez suffer through a dismal career-worst 2-6 campaign (largely the result of non-existent offensive support from his dispirited teammates). Less than a year ago Jiménez had briefly edged ahead of long-departed El Duque Hernández to briefly claim the league all-time career winning percentage standard.
Additional noteworthy performances over the past two months have been Maikel Caceres's breakout leading-leading .400 batting mark for Holguín and the surprising resurrection of one-time Industriales ace Frank Montieth, who paced the circuit in ERA (1.17) and also posted an unblemished 4-0 winning mark as the league's most effective starter.
Home runs were down across the entire league and some of the league's top sluggers posted surprisingly slim numbers: especially Alfredo Despaigne (7), Yulieski Gourriel (5), and Yosvany Peraza (4).
First-Half Season Batting/Pitching Leaders (Minus Suspended Games)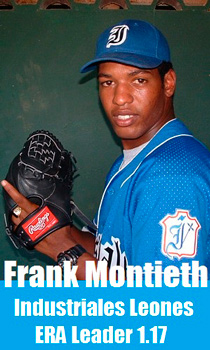 Batting
Average: Maikel Caceres (Holguín) .400
Hits: Maikel Caceres (Holguín) 70
Runs: Héctor Hernández (Camagüey) 37
Home Runs: Dary Bartolome (Camagüey) 8
RBI: Yadiel Hernández (Matanzas) 38
Steals: Luis la O (Santiago) 17
Slugging: Ariel Sánchez (Matanzas) .538
Pitching
ERA: Frank Montieth (Industriales) 1.17 (46.0 Innings)
Percentage: Frank Montieth (Industriales) 4-0 (1.000)
Wins: Yosvani Torres (Pinar del Río) 7
Strikeouts: Ariel Miranda (Mayabeque) 73
Saves: José Angel García (Artemisa) 15
Innings: Norge Luis Ruiz (Camagüey) 79.0
Appearances: Yadir Rabi (Ciego de Avila) 24
The league now enjoys a brief hiatus (with the exception of the half-dozen make-up games) before championship-round games are launched on January 14. The second-half schedule (matching each team against all seven rivals in three-game home and away series) will continue through mid-March, with a two-week suspension of play (January 25-February 11) to accommodate the visit of 2013 league champion Villa Clara to this year's Caribbean Series winter league professional championships in Venezuela.
Mid-season holidays will also feature the league All-Star contest on January 12, staged for the first time in Isla's Cristobal Labra Stadium (Nueva Gerona).
Given the tight competition witnessed during the season's first half, this year's supplemental player draft (January 9) will likely be highly significant in tipping the second-half balance of power between the contending ball clubs.
Available during the draft will be such hitting stalwarts as Alfredo Despaigne (Granma), Freddy Cepeda (Sancti Spíritus), and first-half home run leader Dany Bartolome (Camagüey).
More important still will be the reassignment of some of the league's top pitching talent represented by southpaw strikeout leader Ariel Miranda (Mayabeque) and workhorse reliever Yadir Rabi (Ciego de Avila), as well as Norge Luis Ruiz (Camagüey), Valdimir García and Yander Guevara (Ciego de Avila), and Noelvis Entenza (Cienfuegos).
For some if not most surviving ball clubs, supplemental draft day in early January may well prove to be the most crucial date of this year's entire league campaign.
—–
(*) Peter Bjarkman is author of A History of Cuban Baseball, 1864-2006 (McFarland, 2007) and is widely recognized as a leading authority on Cuban baseball, past and present. He has reported on Cuban League action and the Cuban national team as senior writer for www.BaseballdeCuba.com during the past half-dozen years and is currently writing a groundbreaking book ("The Yanqui in the Cuban Dugout") on his two decades of travel throughout Cuba and his adventures covering the Cuban national team abroad.