Cuban Reggae & Jamaica to Toronto
By Irina Echarry (Photos: Caridad)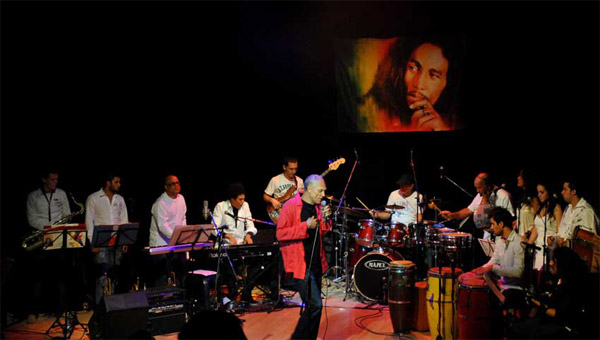 HAVANA TIMES, October 27 — At five o'clock in the afternoon, people had already formed a line. The smell cigarette smoke and alcohol flooded the entrance of the Theater of Fine Arts.  The public waited anxiously for the tickets to start being sold.
It was Saturday, October 22, and the musicians from La Academia had joined members of the Canadian project "Jamaica to Toronto" to pay tribute to Bob Marley.  Once everyone was seated, what broke the ice was a shout that rung out from the audience: "Viva Bob Marley, damn it," and then the organizers began projecting images of the legendary singer on the screen.
La Academia, headed by drummer Ruy Lopez-Nussa, is characterized by merging different rhythms of Cuban music with jazz.  For the more knowledgeable members of the audience, it wasn't surprising to see him on stage combining bembe with reggae, or to hear his guaguanco version of "No Woman No Cry."
However some Rastas couldn't take the mixing, they simply left the hall.  Others, less pleasant, tried to hold a "shouting match" with the band, yelling things like "Play reggae, my brother, not cumbia!" or "I want reggae."  Meanwhile Paul Everton continued singing his chachacha-style version of "Exodus," followed by guitarist David West's solo on guitar.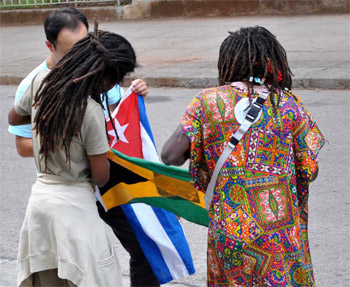 For some religious believers this treatment of Rasta music was considered sacrilegious.  According to them, it is an essential music that must remain pure, unmixed with other rhythms.  Yet another part of the audience applauded the manner in which the song "One Love" combined reggae with "palo" (an Afro-Cuban music variation).
Nevertheless the situation became uncomfortable as the shouting didn't stop.  The musicians finally began to respond, saying: "Those who don't want to hear Cuban music can leave."  Despite that, their efforts to remain calm and their good energy were as commendable as the execution of each of the songs.
This was a great initiative by the Canadian project and an excellent concert by La Academia, which proved that music goes beyond religion, fanaticism or rigid thinking.
Ruy Lopez-Nussa added that "this is about uniting, not separating."  It's a shame that this world premiere was misunderstood by some people who thought "the spirit wasn't there," referring to Bob Marley, to which someone replied "his spirit is in the Caribbean."
In any case, nothing could overshadow the work of the musicians or the delight of others present in the theater who laughed along with a girl who took to the stage to dance to "It's love" and moved her shoulders to "I Shot the Sheriff" played to the rhythm of Cuban timba.

Click on the thumbnails below to view all the photos in this gallery. On your PC or laptop, you can use the directional arrows on the keyboard to move within the gallery. On cell phones use the keys on the screen.