Cuban Youth: Love & Sex, Fewer Constraints
Ivet González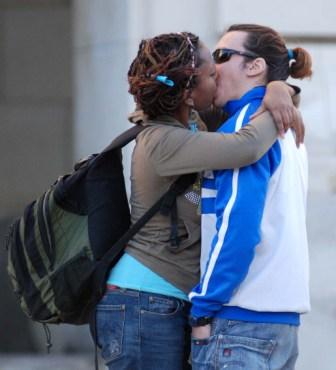 HAVANA TIMES, April 22 (IPS) — Cuba's young people today feel they have more freedom to navigate the waters of romantic feelings in an uncomplicated way.
With disarming candor, 20-year-old Laura Torres tells IPS that "a girl does not necessarily have to fall in love with every guy." A glassworks employee, Torres adds, "Nowadays you have more choices than before, and relationships can work out better."
Since the 1990s, research has found this population group has adopted new and different values in the field of love and sexuality. According to the book "Cuba: jóvenes en los 90" (Cuba: Young People in the 90s) by the Centre for Youth Studies (CESJ), a think tank for the Young Communist League (UJC), the myths of virginal abstinence until marriage and sexual activity only within marriage have long since been discarded.
All over the world the pace of life is accelerating, and along with it, the turnover of sexual and romantic liaisons. "Relationships can come into being more suddenly or end more quickly, but within that shorter space of time, love still exists," Alejandro Menéndez, a 23-year-old university student, told IPS.
Without a moment's hesitation, Ray Denis Matamoros says he is in love. A 26-year-old grocery store assistant, he says he has only ever once spoken of love, to a person who was really worth the risk of overcoming the humdrum routine of everyday life. However, in his view, "Most young people do not fall in love."
In an interview with IPS, Natividad Guerrero, the head of CESJ, said young people often talk about "the other person" who is incapable of loving, although she said a substantial proportion of this age group does in fact fall in love. "Values are so diverse, and there is so much variety in people's behavior and actions in terms of their sexuality, that all kinds of situations exist," she said.
A survey carried out in 2009 by the National Statistics Office (ONE), interviewing a sample of 28,000 people between the ages of 12 and 49 across Cuba, found that most respondents preferred to be in a stable relationship, whether heterosexual or homosexual.
But more women than men preferred long-lasting, committed relationships. The survey found that of those interviewed, 67.5 percent of women aged 20-24 and 73.8 percent of those aged 25-29 said they preferred to share their lives with the same partner for long periods of time.
According to ONE, the average age of sexual initiation in Cuba is 16. For men it is 15, while for women and men who have sex with men (MSM) it is 16.
Data from the United Nations Population Fund (UNFPA) in 2010 found that the average global age of first sexual experience for men was 16, while for women it was 18.
But after many sexual prejudices have been broken down by the generation of their parents, and while teenage marriages are on the rise, sexual debut is happening at increasingly younger ages and even among children. In some Latin American countries, a sub-group of boys reported sexual initiation as young as 10, and of girls as young as 14, according to expert sources.
Opportunities for women have expanded in Cuba since the 1960s, a process that in time came to be known as "the revolution within the Revolution." During this period, young people characteristically engaged in "more open and participative" relationships, according to sociologist María Isabel Dominguez.
Nevertheless, after more than 40 years, while university-educated women are choosing partners largely for their intelligence and values, men of the equivalent background are still looking, in the first place, for physical beauty in women, Dominguez, the head of the state Centre for Psychological and Sociological Research (CIPS), told IPS.
The most recent change began in the 1990s with the opening of a public debate on the question of homophobia. The changes were consolidated in the 2000s with the organization of a fully-fledged public campaign for freedom of sexual orientation and the emergence of informal groups centered on these rights.
"Fortunately, diversity is much more public now, but denigrating comments are still very common," said Guerrero, adding that in her perception, "young people nowadays are more open" to the question of diversity of sexual orientation than previous generations.
In spite of the remaining stigma attached to "difference," biologist Isbel Díaz's view is that lesbian, gay, bisexual and transgender people (LGBT) are now more likely to identify themselves as such in the bright light of day, and at an earlier age. Díaz himself "came out of the closet" when he was a 20-year-old university student, he said.
"It's not that there is greater respect, but tolerance has increased in Cuban society, above all because there has been more exposure of the issue in the media," he said. In Díaz's view, this is linked with sexual freedom, a cause defended by young people whatever their orientation.
Twenty-two-year-old Ana Lorena Bermudez is taking the plunge of living with a man – Menendez – for the first time. They are both studying at university and they share similar views on relationships. In her opinion, "a couple need not necessarily be two people; they can be a threesome if that feels right for them and it works."
In another day and age, a young man like Menendez would blush at the idea, or would never even mention the possibility of such unconventional relationships. But he simply said, calmly, "Another man or another woman can join in, so long as their participation has been defined and thought out within the couple's own boundaries – that is, if the couple wants to set boundaries."