Cubans, Destination Ecuador and Beyond
By José Jasán Nieves Cárdenas (Progreso Weekly)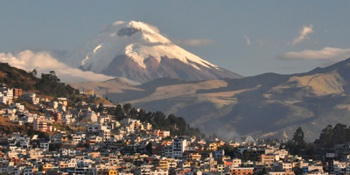 HAVANA TIMES — "The objective is getting there to go beyond," confess Mario and Ismaray, a couple of young Cubans who plan to travel to Ecuador on the first leg of a journey to the United States.
"We have investigated various means, with various prices according to the risk, the length of the route and the number of functionaries that need to be bribed. Since we don't have all the money here, we plan to work there [Ecuador] until we make enough," Ismaray explains.
"Although it's likely that the plans will change," adds Mario, who says he'll try his luck with his degree as a computer specialist in Ecuador, where he might find the material and professional satisfaction that he can't find in Cuba.
After demanding for more than a year a letter of invitation as a prerequisite to allow the arrival of Cubans, the Ecuadorean government on April 1, 2014, again allowed 90-day tourism stays without the need for visas.
The measure has created much expectation among those who seek a way to emigrate from Cuba but has also introduced new dynamics in the relationship of the growing Cuban community (some 40,000 émigrés) with their host nation.
Passing through the filter
These young people were told that, with $3,000 each, they could demonstrate solvency at the Ecuadorean airport, "but no one can confirm that amount," says Gonzalo Bermúdez, a Cuban art director who has spent the past eight years in Amazonia promoting community projects.
"The reopening of the policy could become a double-edged sword for those who think that entering Ecuador is a cinch. Upon arrival, Cubans are subjected to a rigorous evaluation typical of a courtroom, where they even have to show the money they've brought to 'do tourism' in the country," the artist says.
"The immigration filter for the Cubans is psychological," says a young journalist who asked for anonymity. "I asked an immigration official and that's the adjective he used. 'Even while they stand in line we can tell them apart,' he told me. I don't think that the law should permit profiling, least of all the immigration laws," the reporter says.
Alice, another young woman from Santa Clara, changed plans after arriving in Ecuador expecting to go on to Miami. For the past several months, she has lived in Quito and says she is satisfied with her current status.
"At this time, I have no interest in going to the United States, even though I've gone through a lot of paperwork to settle here," she says.
For Orlando, another young Cuban who arrived as a post-graduate student and hopes to settle here with his wife, gaining resident status is not so difficult.
"You arrive as a tourist, get your 12-9 visa as a businessman, which lasts a maximum of six months, and as soon as you get it you record your degree at the National Secretariat for Higher Education, Science, Technology and Innovation (SENESCYT), which gives you about two months. These actions are done jointly and, once they've recognized your degree, they give you your professional visa in barely 10 days," he says.
Mistrust is an issue
Although many in Cuba see a departure to Ecuador with optimism, in that Andean nation mistrust toward Cubans seems to be high. All the interviewees say they detected xenophobia in their treatment.
"During the immigration boom in 2009, when Ecuador waived the invitation letter for the first time, a lot of Cubans came here who committed fraud and shady deals and created trouble everywhere, so there is a precedent. That phrase 'the sins of few are paid by the many,' I have lived that," says Braylin García, a university professor at Israel Technological University in Quito.
"For example, when you phone to rent a home, as soon as they hear your accent they tell you 'it's already rented,' or simply 'we don't want Cubans.' If you deal with someone who's talkative, he might tell you that the problem lies with some compatriots of ours who left for the United States and didn't pay the last two months' rent, or they sold the bed, and stuff like that. Imagine!"
Ecuadoreans have labeled the stereotype "el cubaneo" — "acting Cuban."
"I live in the La Florida barrio [of Quito], where today we see few low-class Cubans, whereas in the past they were a plague. Still, you see them all over, on the streets, in barbershops, bars and restaurants, always talking loudly and using foul language," Orlando says.
To make matters worse, in 2011 the Ecuadorean authorities broke up a gang of Cubans who robbed their own compatriots who traveled to Quito to buy clothing for the flourishing black market in Cuba.
The participation of Cubans in the falsification of documents, the bribing of officials and the faking of marriages to gain permanent residence caused in 2012 the restoration of the letter of invitation. It also predisposed many Ecuadoreans — and even Cubans — to view newcomers as troublemakers.
"I think that, far from falling victims to mafias, the Cubans have created them," Braylin says. To others, like the nameless journalist, Ecuador's media also have magnified the negative perception of Cubans.
"I have seen on the news that an interviewee says 'the drug trafficker was one of those Cubans.' Others talk about prostitution raids and say that 'eight Cubans' were involved. Talking about a murder in Guayaquil, a witness said that the suspect 'looked Cuban.' They build a picture of Cubans that creates fear, a hard impression — even we're not all the same," the young reporter says.
Settle or move on?
The reporter avoids being categorical about Ecuadorean society's view of Cubans as undesirable.
"I have friends here who view the newcomers as unwanted competition, but I also see others who welcome them with open arms. I have no basis to say that [Ecuadoreans] hate us or like us," he says.
"Ecuador offers opportunities to those who come in good faith, willing to work honestly. But what's ideal is to have someone inside who can welcome you and put you on the right track," says Gonzalo, who hopes to return to Amazonia.
Meanwhile, in Cienfuegos, Mario and Ismaray are going ahead with their paperwork. They certify degrees, sign the divorce papers (in case they need to marry in Ecuador) and sell their personal effects to collect money.
"We know that there are risks, but we have contacts and people who have promised to help us," they say. "We'll see what develops."