Cuba's Boris Larramendi: "It's Not My Fault"
A musical bridge from Cuba (*)
By Osmel Almaguer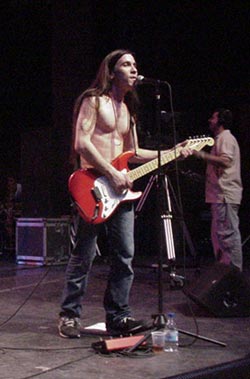 HAVANA TIMES, August 25 — Among that group of Cuban singer-songwriters that hit the headlines around the end of the 1980s, one was Boris Larramendi.
He's known for those incursions with his today-celebrated performances at 13th and 8th avenue in Havana's Vedado district, for his subsequent work with the groups Debajo and Habana Abierto, and for an increasingly successful career as a soloist who has now released a CD.
In his music, two predominant veins can be easily identified: One of a rocker, who diverges into other rhythmic elements of Anglo origin; and another of a Latin artist, within which circulates those sounds that define him as Cuban.  Irony, irreverence, subtlety and depth characterize the lyrics of his compositions.
Boris Larramendi was born in Havana, sheltered by a father who played everything on the guitar from "Los Panchos to Silvio Rodriguez, going by the Beatles and El Trio Matamoros."  Moreover, according to Boris: "My Uncle Luis danced in the comparsa (a carnival procession) for the university, while my Uncle Armando used to listen to Barry White and Led Zeppelin.  My Uncle Carlos taught me to read, my mom gave my "La familia Mumin" by Tove Jansson, and my grandmother Ines gave me my first guitar, which my father taught me how to play."
In 1995 he played with the group Debajo in the recording of Habana Oculta (an anthology of young Cuban singer-songwriters released by the Spanish label Nube Negra).  In 1998, with Habana Abierto, he recorded the first of the group's three CDs: Habana Abierta.  Later would come 24 Horas and Boomerang.
His debut, Yo no tengo la culpa, is his most recent solo work.
He has participated festivals that have included: the Doctor Music Festival, Festival Bilbao Tropical, Festival BAM, Festival ETNOSUR, Festival Valle de Ainsa, Festival La Mar de Musicas, Festival Womad de Canarias, and the Amnesty International Festival.  He has collaborated with some of the big names in the music world, among them Ana Belen, Lucrecia, Raimundo Amador, Chavela Vargas, Las Hijas del Sol and Kelvis Ochoa.
"Silvia knows" from the CD Yo no tengo la culpa
On this bench we won't burn out / light up a joint, nobody's gonna stop us / Do you know what's happening? / Everything's getting lighter, more subtle / something's spinning, It's not me but it's in me /   
 Do you know what's happening? / In a park, in the city, / there's always a place that doesn't reject you.  / We laugh so much now, / look at me Silvia, you know what's happening.  / The doors are opening, everything is here again / the night hangs on me from the sky /
Do you know what's happening? / your light floods me from the center, I'm going a thousand / and I'm so free now, my love, I'm so happy /
Do you know what's happening? / In a park, in the city, / there's always a place that doesn't reject you.  / We laugh so much now, / look at me Silvia, you know what's happening / Kiss me, Silvia, you know what's happening. /  
This is a very Cuban song, despite not reflecting a feeling usually thought of as "Cuban style."  It has to do with some "frikis" (punksters) in a park smoking marijuana.  Maybe they're not your average Cubans, but it's something that many people here have experienced.
Adolescence is a rebellious stage, and this song was probably composed in an epoch when the situation in the country was exceedingly difficult.  Therefore, to escape by means of a joint to someplace that would make you laugh wasn't a bad alternative to such a hard life.
The words denote the poetry that Boris' songs always possess.  Despite their simplicity, they are able to suggest many things; they're capable of being very subtle.  The song laughs when it wants to speak of tears and it cries to release its happiness.
Though the story is simple, it evokes a spirit almost in extinction in today's Cuban society, one so permeated with reggaeton singers and independent "superchicas."
There is a relationship of complicity between Boris and Silvia, but so too is there one between the author and the listener.  Read it people, so you'll know what's happening.  Let's all listen to Boris, so we'll all know "what's happening."
—
(*) A Musical Bridge from Cuba: This is an effort to find new bridges that promote communication between peoples of the diverse regions of the planet.     I will be using simple narration in a series of articles to connect with those who are interested in the messages transmitted by Cuban songs, which due to their limited commercial potential and the difficulties posed by their translation, languish in a state of communicational stagnation – despite their being true jewels of Cuban culture.