Cuba's Japan Games Leave Sour Taste
Peter C. Bjarkman*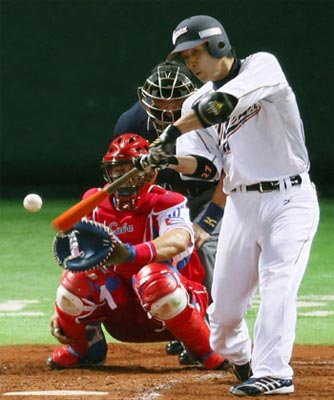 HAVANA TIMES — Team Cuba just can't seem to get over the hump against top-level Japanese hurlers. That fact was driven home on Sunday afternoon in Sapporo by a second straight nail-biting defeat (this time by a 3-1 count) at the hands of the pitching-rich Samurai squad.
The dual losses on Japanese soil left Cuba's brief Asian tour with a final ledger of two up and three down. It has also seemingly provided plenty of negatives to fuel the fires of Cuba's always heated street-corner baseball debates.
Fans in Havana and everywhere else across the island will now once again likely have a true field day lamenting the failures of the once-invincible national team. And there will also inevitably be another cascade of press prognostications projecting still more disasters looming on the horizon once the Red Machine returns to Fukuoka's Yahoo Dome in early March for the opening round of Major League Baseball's much-anticipated World Baseball Classic III.
But also not to be overlooked or entirely discounted are some rather noteworthy plusses for the Cuban side that also transpired during a world wind tour in which Victor Mesa's "pre-selection" team captured two of three matches from an equally talented squad of Taiwanese pro league all-stars and then battling the defending WBC champion Japanese straight to the wire in two contests that were simply too close to offer very many easy assessments.
There didn't seem to be any outcome here that would automatically tip the scales in favor of the Nippon squad for the more vital upcoming matches next spring. It is still far too early to count the Cubans entirely out of the next edition of baseball's only true World Series.
Both contests in the Japan-Cuba series were extremely tight and either game in the end might have had a far different outcome with only a slightly different bounce of the ball. While the Cubans managed only a trio of harmless singles in the opener (a 2-0 defeat) they did hang in the game until the very end, thanks mainly to some solid relief hurling by Leandro Martínez, Ismel Jiménez and Norberto González. The only earned run in that opener came on the solo homer struck off Yadir Pedroso by catcher Ginjiro Sumitani.
Game 2 marched through seven full frames as a scoreless deadlock before the Japanese eventually parleyed a pair of clutch triples struck off Ismel Jiménez (Shota Dohbayashi in the eighth) and off Odrismer Despaigne (Takahiro Okada in the ninth) into their narrow winning margin. The only three Samurai scores in the nightcap were brought home by a sacrifice fly, a wild pitch (gifted by Despaigne in the eighth) and Katsuya Kukunaka's ninth-inning infield roller.
The brightest spot of Japanese series for the Cubans – indeed the true "plus side" of the entire Asian tour – was the solid pitching of an often maligned Cuban mound staff that was hit hard only once in five games – and that one apparent lapse quite fortuitously came during the 14-7 lopsided victory that marked the final Taiwan match.
Ace starter Freddie Asiel Alvarez was especially impressive with two straight six-inning shutout stints, and Leandro Martínez  (3 Games, 5.1 IP, 23 Batters Faces, 6 Hits, 1 Run, 0 ER, 6 Ks, 0 BB, 0.00 ERA) may well have emerged as the new southpaw bullpen weapon (and thus as a much-needed reinforcement for aging Norberto González).
Of course it might be a bit hard to get a true line on the Cuban pitching, given manager Mesa's irksome penchant in these exhibition games for changing his bullpen replacements nearly every inning and on a few occasions after almost every batter. In the Sunday finale Mesa used eight hurlers over the final three frames, five in the two-run eighth-inning uprising alone.
No one wants to argue that the Japanese did not make a resounding statement by again twice shutting down the potent Cuban batting order. But neither of these games were blowouts and the margin of difference between the squads was hardly overwhelming.
Yes, the Japanese owned the composite scoreboard by a 5-1 count after the games this weekend in Fukuoka and Sapporo. But Cuba did outhit the hosts in Game 2 and the overall batting average margin for the set of games was only .220 (Japan) to .187 (Cuba) in the pitching-dominated series.
Obviously Japan did in the end hold a decisive 9-3 edge in extra base knocks, and admittedly Cuba was only able to muster a single tally thanks to Yulieski Gourriel's eleventh-hour homer. But the real difference in this series did not lie in the fact that Japanese pitchers held widely superior numbers to those of the Cubans (actually they did not). Japan also did not outslug the visitors by any decisive margin.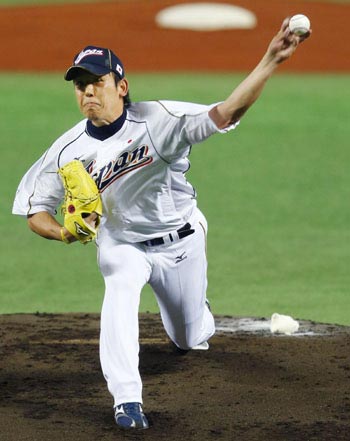 The main difference instead was simply that the Japanese managed to bunch clutch hits together once their handful of genuine scoring opportunities arose. The Cubans – continuing a disturbing pattern seen in recent international outings, such as in the 2011 World Cup finals versus the Dutch – simply could not produce the one or two necessary big blows that might have easily turned the series completely around in their favor.
In Game 2 in Sapporo Victor Mesa's club outhit the victorious Japanese by a pair of safeties but at the same time rang up eleven strikeouts against the savvy host hurlers. In the final frame a double by José Dariel Abreu brought the tying run to the plate yet was wasted when pinch hitters Ariel Pestano and Yurisbel Gracial went down hacking harmlessly against closer Shun Yamaguchi (owner of 108 saves in the last four Japanese Central League seasons).
It is hardly a positive development that each of the top eight starters in the Cuban lineup struck out at least once during the final crucial game; nor is it encouraging that the Cuban artillery only awoke impressively on a single occasion (Game 3 in Taiwan) during the entire Asian junket. But perhaps this was more the simple result of psychological preparation and lack of seasoning than it was a matter of raw talent.
I have argued repeatedly that much of the problem lies in the difficulty that top Cuban hitters have adjusting to the better international pitching talent during short series – especially after facing mediocre Cuban hurlers all season long in the domestic league back home.
It might be a difficult problem for Mesa to solve between now and March; but it only takes one clutch WBC performance by several frontline Cuban veterans (e.g., remember Freddie Cepeda against Venezuela in 2006 or against Mexico in 2009) for the story to suddenly change rather dramatically.
At this point the Cuba-Japan series across recent seasons has to be put in a somewhat better perspective than some in the Cuban press will likely now want to give. The series of late has not exactly been the one-sided affair that some might make it out to be.
In an excellent analysis penned after the Samurai Series opener, my colleague Ray Otero called attention to the apparent fact that top-level Japanese pitches had recently run up a string of 31 straight scoreless innings against the Cuban lineup – a string that would be run to 38 frames before Gourriel's solo shot off Japanese reliever Hideaki Wakui.
What Ray used for his calculation were the final four innings of the August 13, 2008 preliminary round game at the Beijing Olympics, the pair of 6-0 and 5-0 shutouts in Petco Park (March 2009) that eliminated Team Cuba from the second round of WBC II, and the Fukuoka Dome whitewashing last Friday.
Certainly the pair of WBC shutdowns at the hands of top Japanese aces Daisuke Matsuzaka and Hisashi Iwakuma (along with several adept relievers) was a distinct embarrassment. Nonetheless, the string of which Ray writes is something of a distortion since it narrowly assumes what might be considered as Cuba's games against "top level pitchers" – it is all a matter here of which games one might chose to include in the list.
First of all, remember that in the first game of the string that Ray cites, the opener at the Beijing Olympics, Cuba was actually the winner (by a 4-2 count) and not the loser of that contest. Sure enough the Cubans didn't score in the final four frames versus the tandem of Tanaka, Naruse and Fujikawa; but they did ring up four tallies against Japan phenom Yu Darvish, now an ace hurler with the American League Texas Rangers and arguably Japan's best arm in Beijing.
And then between the two disastrous WBC II matches in San Diego and the current series there were also two all-too-easily forgotten games played between a Cuba B squad (featuring such regulars as Alexei Bell, Rudy Reyes and Eriel Sánchez) and a Japanese club at the July 2010 Haarlem Baseball Week.
In the first match Cuba dominated 6-0, tallying all the runs (5 of them earned) against starter Yudai Ohno who lasted a full 7.1 innings. Freddy Alvarez (with one inning of relief from Norberto González) hurled the shutout. The second meeting between the same clubs in Haarlem featured a rematch between Ohno and Alvarez and this time the Japanese ace came out on top 4-2; but again Cuba plated two runs and banged 7 hits against right-hander starter Yudai Ohno.
Now granted, this was a Cuba B team playing a somewhat less-potent Japanese lineup in a second-level tournament. So why do I say that the Haarlem results seem to disqualify Ray's claim of a 38-inning shutout streak?
I can make the claim simply because the Cubans (with a lineup that had current team members Bell and catcher Yulexis La Rosa in the batting order) scored eight times in two games against Chunichi Dragons star Yudai Ohno, also a current member of the pitching staff that just faced Cuba on the present tour.
If Ohno (who pitched two-thirds of an inning in Friday's opener) is one of Japan's front line pitchers at the moment, he also was one of their best young arms two summers ago in Haarlem. It is also worth mentioning here that the disappointing Japanese team at the 2011 World Cup in Panama won only two games and did not make it into the second round (and thus did not face the Cubans).
Admittedly that team didn't feature any of the pitchers on this week's roster; put the hurlers in Panama were apparently of high enough quality for Japan's brain trust  to use them during the final World Cup event. One wonders how effective those Japanese pitchers might have been against a Cuban club that made it into the Gold Medal Game in Panama City.
I am certainly not disputing Ray's well-taken point that the Cubans have not performed exceptionally well against the best Japanese arms in recent years. Without a shadow of a doubt there must be some solid improvement in clutch hitting on the part of Despaigne, Cepeda, Gourriel and company before the crucial March rematches in Fukuoka (WBC Round I) and perhaps Tokyo (WBC Round II).
My only point here is that the difference between these teams (especially regarding Cuban batters versus Japan's pitchers) may not be quite as wide as any claim about a 38-inning scoreless streak might suggest.
Victor Mesa and his staff now have their work cut out for them. But if this recent Asian tour admittedly did prove once again what we have long known – that the Cubans are no longer invincible or even perhaps world tournament frontrunners – it certainly also may have demonstrated that Team Cuba nonetheless remains highly competitive.
A series victory over talented Taiwanese pro all-stars and a pair of agonizingly close losses to the two-time World Classic champions is far from any reason for pushing the panic button.
—–
(*) Peter Bjarkman is author of A History of Cuban Baseball, 1864-2006 (McFarland, 2007) and is widely recognized as a leading authority on Cuban baseball, past and present. He has reported on Cuban League action and the Cuban national team as senior writer for www.BaseballdeCuba.com during the past five-plus years and is currently writing a book on the history of Cuba's post-revolution national team.