Cuba's Patron Saint in Havana's Cerro
Photo Feature by Elio Delgado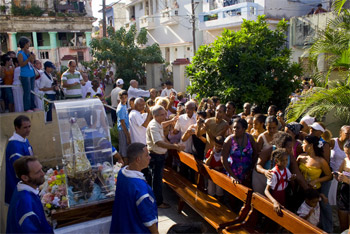 HAVANA TIMES, Dec. 14 — The image of the patron saint of Cuba, Our Lady of Charity of El Cobre, tours the different Havana municipalities during November and December.
One of the places visited was Cerro a densely populated district known for the Salvador Allende Hospital and the Latinoamericano Stadium. The following is our coverage of that visit.
The tour by the Virgin in the capital city is part of the pilgrimage that began in August of last year in Santiago de Cuba.
Those in attendance at the different stations were everyone from practitioners of the Catholic faith to people of other religious denominations, as well as curious atheists.
According to the Catholic Church, the virgin appeared floating in the water before three fishermen in the Nipe Bay in eastern Cuba in 1612. Since then, the syncretic nature of some religions on the island has led to the widespread cult worship of the saint.
A visit to Cuba by Pope Benedict XVI has be announced for the first quarter of 2012 as part of the celebration of the 400th discovery of the image.  A large number of believers are expected to make pilgrimages to the shrine of the Virgen in the town of El Cobre, in Santiago de Cuba Province during the coming year.

Click on the thumbnails below to view all the photos in this gallery. On your PC or laptop, you can use the directional arrows on the keyboard to move within the gallery. On cell phones use the keys on the screen.