Cuba's Pedro Luis Ferrer in Concert
By Irina Echarry, photos: Caridad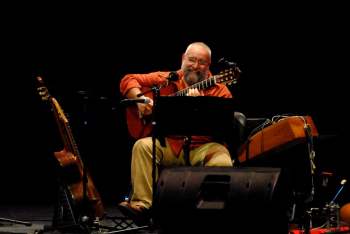 HAVANA TIMES, July 6 — People crowded around the door of the Mella Theater, the tickets were already sold out.  It was Sunday and many in the capital city didn't want to miss the summer concert being given by Pedro Luis Ferrer.
Despite the anxiety, everything was calm.  A relaxed atmosphere was sensed by a public who would be listening more to his lyrics than to the music, though the artist also knows how to take care of himself on the strings.
Yolanda, delighted, was hurrying her companions: "I couldn't miss this concert. I love Pedro Luis. I enjoy his irony a lot – his way of playing with words, his humor.  I brought my son here so that he could hear something different.  Today's teenagers only listen to reggaeton and they need to be familiar with other things.  It's wonderful to be able to see Pedro Luis in a big theater like the Mella; he's almost always presented in small halls where hardly anyone can fit in."
Many people were looking around for ticket scalpers (the theater sold them for 20 pesos each); some were willing to pay whatever to be able to hear him.  However when someone offered one man a ticket for "2 CUCs (50 pesos)," he exclaimed: "Not even if it were a Baby Lores concert" and he continued searching.
According to physics professor Ernesto Sardinas, "He's the most sincere singer this earth has given us.  I was a fan of Silvio [Rodriguez], for example, but he didn't keep up with the times. Silvio prefers poetry (which I like a lot), but he doesn't touch on the real issues.  He's not critical like Pedro Luis.  At the beginning Silvio seemed very rebellious, and he was, but he stayed behind, he got comfortable.  I prefer people who confront questions without fear, people who take risks.  And that's what Pedro Luis Ferrer does.  I don't know anyone as brave, and he also does it with authentic Cubania, with our music.  That's why I don't miss any of his performances."
Pedro Luis' voice was somewhat affected by the heat during that day's rehearsal ("There wasn't any air conditioning, and it seems it's necessary to conserve energy," he said).  Still, he was improving while he sang "Si no fuera por ti," "Mario Ague," "Yo quiero fundamento," and "Un Tango a Santo Suarez" as well as "Reiteracion", an old song that he seldom sings in public but that he has now given it a few retouches.  He sings things like: "Reiteration is the law of the sleazebags" when he speaks of daily political monotony and of the routine of leaders.
For more than two hours the audience passionately applauded each song, each stanza and each witty phrase.  Ferrer talked with his audience and told anecdotes.  He always wants those at his concerts to enjoy them in an atmosphere of cordiality and spiritual growth, as he explained in some of the songs.
The song "El pordiosero" (The beggar) he wrote in the early '90s when he began to speak out around the government austerity program people called "Option 0."  From a community dining room on the block, a local resident said: "Yeah, but the food is for the revolutionaries"; to which Ferrer responded with these verses: "I spend the night rummaging through the garbage as if I were an alley cat" – making his critical nature ring clear.
In this way his songs focus attention on authoritarianism, possessiveness, social inequality, homophobia, the dual currency, manipulation, food shortages, lies, repression in its broader sense and on the right to freedom.
Pedro Luis Ferrer has stood out for being a critical, sincere troubadour, something that cost him years of censorship on the island.  Sunday night he felt content for being able to play in an important theater: "It's very nice to sing these songs without censorship, without having to discuss them with any official."  And he added: "If we don't say what we think, we can't defend this country."

Click on the thumbnails below to view all the photos in this gallery. On your PC or laptop, you can use the directional arrows on the keyboard to move within the gallery. On cell phones use the keys on the screen.