Cuba's Playoffs: No Crisis, Plenty of Confusion
Peter C. Bjarkman*
HAVANA TIMES — Against the backdrop of a most historic if admittedly confusing National Series #52 campaign, Cuban baseball has now struggled through a rain-plagued post-season semifinal playoff round that has only served to underscore the circuit's ongoing struggles – disruptions mostly brought on by continued administrative tinkering and radical experiment. Convinced that the island game needed an upgrade in the wake of renewed player defections and several years of disappointing international tournament showings, the Cuban Baseball Commission this year introduced a novel split-season format and a host of related adjustments that have largely now rendered the traditional National Series almost unrecognizable. The drastic overhaul has also served to muddy the waters related to league statistical records and also cloud an upcoming international tournament season with its own dose of troublesome uncertainty.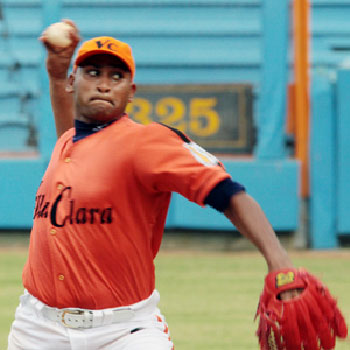 But confusion and chaos aside, this year's newly tweaked opening playoff round has been anything but dull or uninspired. Regular season champion Cienfuegos has quickly fallen by the wayside in the face of a three-game pitching performance by Villa Clara veteran ace Freddy Asiel Alvarez that has proven as brilliant as any individual post-season outing in the quarter-century of Cuban playoff baseball. Alvarez has singlehandedly lifted the surprising fourth-place Naranjas on his back with three straight shutout masterpieces that have rewritten the league record book. The Matanzas-Sancti Spíritus series proved even more dramatic with neither club winning on the road until the final fateful night, when the Crocodiles of Victor Mesa orchestrated the most shocking last-minute comeback in recent memory. Trailing 5-0 with but six outs remaining in the deciding seventh match Matanzas exploded for ten runs during an unlikely outburst that has now lifted that club into their first-ever final championship series.
But first let's examine the troublesome backdrop to all these recent on-the-field heroics. Several radical adjustments to the current 2012-13 domestic Cuban campaign at the season's start were more than enough to assure that this year's playoffs would have a very different and not altogether comfortable appearance. The new league structure not only eliminated a full half the provincial clubs from further championship contention before a mid-year March World Baseball Classic intermission, but it also featured a re-enforcement draft (each of the eight remaining clubs picking up star players from the already eliminated teams) that in effect meant a second-half pennant race now featuring teams fielding lineups different from those they had played with across the season's initial 45 contests. The radical change torpedoed more than a quarter-century of league tradition that always provided each Cuban province with its own home ball club and also staffed those local teams exclusively with home-grown regional talent. For the first time in memory there would be a host of ballplayers not only competing outside their native provinces but also wearing two different uniforms within the same campaign. This would not be a novelty in most leagues, but it certainly was for Cuban baseball which has long eschewed the North American pro staple of year-long ballplayer trades.
Of course the new scheme has had its upside. There admittedly has been a very large dose of highly novel entertainment for those eight regions still owning squads in the first division after March; a healthy number of the vital replacement players – especially shortstop Yunior Paumier (Holguín) and rookie pitcher Norge Luiz Ruiz (Camagüey) now with Sancti Spíritus, slugging outfielder William Luis Campillo (Camagüey) on loan to Cienfuegos, and outfielder Edilse Silva (Santiago) plus bullpen ace Jonder Martínez (Artemisa) transferred over to Villa Clara – provided the sparks that ultimately lifted their new teams into the post-season semifinals. Campillo tied new Elefantes teammate José Dariel Abreu for the league home run crown (19), Norge Luis emerged in his new surroundings as a runaway rookie-of-the-year choice (boasting a 1.97 ERA), and Paumier (not even an original lottery choice in February but an add-on when top pick Yadier Pedroso was killed in a tragic car crash) immediately shored up the previously leaky Gallos mid-field defense.
But any such gains in ballpark excitement have been largely nullified by the numerous resulting confusions – especially for any fans trying to study Cuban League statistics or analyze individual ball player on-field performances. The Cuban Federation website simply abandoned the practice of posting updated individual and ball club statistics after the pennant-race entered its second phase in late March and early April. Players on the eight clubs relegated to the "second division" were simply out of the running for any prestigious individual league titles (home runs, batting average, ERA etc.); those teams played for a consolation prize that was eventually won by a stripped-down Granma squad (minus batting champ Alfredo Despaigne who was now in Pinar del Río, Yordanis Samón wearing the colors of Isla, and Ciro Silvino Licea who was enjoying a late-career rebirth with Victor Mesa and Matanzas). Needless to say, the Second Division playoffs, featuring skeleton Granma and Holguín squads, passed almost without any fan or media attention. Worse still, there is currently no on-line site where the curious fan can obtain full year-end batting, pitching and fielding stats for all players on each of the league's original sixteen teams. In short, we have a virtual mess.
Part of the recent veil of distraction admittedly followed from an odd fact that the Cuban semifinals were destined to reach their climax against the unexpected backdrop of yet another sensational big league debut by a former league star who earlier abandoned the island to seek his fortunes with major league baseball. In recent seasons flamethrower Aroldis Chapman and slugger Yoenis Céspedes have turned heads with their quick MLB starts, but none among the recent Cuban imports (which also include Yunieski Maya with the Nationals, Leonys Martin with the Rangers, José Iglesias in Boston, and Adieny Hechavarria with Toronto) has made anything like the splash produced this past week by strong boy Yasiel Puig out in Los Angeles.
Although he has only been on the big league scene for six days, it is not an exaggeration at this point to claim that no Cuban native of the past century has entered baseball's big time with more thunder than the 22-year-old statuesque Cienfuegos outfielder. After tearing up spring training with a .517 BA and numerous power displays, Puig was dispatched to Double-A Chattanooga (where he slugged at a .328 clip) by Dodgers front office brass that were perhaps being overly cautious about rushing the debut of the number one franchise prospect. But when the injury-riddle LA club (with starting outfielders Carl Crawford and Matt Kemp both relegated to the DL) issued the call Puig was more than ready. He singled in his first big league plate appearance Monday night against San Diego and then capped an eye-popping debut with a two-for-four outing and a sensational game-saving throw from deep right field to double up the potential tying run at first base.
If that was not enough of a stunning curtain-lifter, in Game 2 Puig (Cuba's big leaguer number 171) homered twice, collecting three hits and a game-high five RBIs to become the first Dodger since Spider Jorgensen back in 1947 to turn that trick (knocking home five in his first two outings). Puig's first shot (439 feet to left center) came off lefty starter Clayton Richard to knot the came in the fifth; his second was a two-run opposite field blast the following inning struck off righty Tyson Ross. The flood of emails I have received the past two days from Cuban friends suggests that Puig's LA power displays have drawn nearly as much attention on the island as have the post-season struggles of his old team in Cienfuegos. Since the once-potent Elephants lineup was eventually blanked in half of the six games versus Villa Clara, one has to wonder what the early post-season favorites might have accomplished if they still had Puig in their lineup alongside current Cuban home run co-champs Abreu and Campillo.
Once the playoffs themselves finally commenced during the last week of May – capping the most bizarrely configured National Series season in decades – it would be Mother Nature (in the form of a couple of weeks of persistent rains across the western half of the island) and not precisely the heavy-handed manipulations of the commissioner's office that would have the most disruptive effect. Of course an earlier decision to once again curtail league action for nearly eight weeks in mid-stream, in order to accommodate MLB's World Baseball Classic festivities did after all play a major role in bringing on a clash with the natural elements. Once again the Cuban post-season had been ill-advisedly pushed back well into June, the worst rainy-season month when baseball is most likely to be impeded by tropical showers. In the end it would take fifteen days to get through a semifinal round that suffered multiple postponements along with an inevitable constant reshuffling of the original schedule.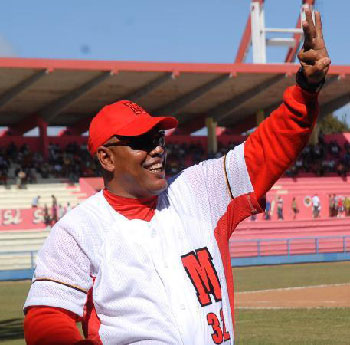 If the repetitive rains have not been entirely surprising, other developments have certainly had their elements of the highly unexpected. The biggest eye-opener of the late season has unarguably been the unlikely resurgence of Villa Clara's Orangemen under manager Ramon Moré. Engaged in a tense tussle with Industriales, defending champion Ciego de Avila, and Isla de la Juventud for much of the April and May stretch run, the Orangemen caught fire at just the right time to open plenty of final daylight between themselves and the trio of close challengers for a final playoff spot (finishing five games ahead of fifth-place Industriales and only six behind pacesetter Cienfuegos). Had the season lasted a few more weeks Moré's club might even have overhauled both Matanzas and Sancti Spíritus, two clubs that wilted down the final pennant stretch. And in their opening-round clash with the first-place Elephants the Orange-clad club again quickly seized an early advantage, jumping on top in a classic 1-0 opener, then taking two-of-three tight games on home turf to maintain a 3-2 lead heading into the scheduled final pair of deciding road matches at 5 de Septiembre Stadium.
Easily the biggest story of the Villa Clara-Cienfuegos series was the outstanding pitching of national team ace Freddie Asiel Alvarez. Alvarez always seems to pitch far better in international competitions and in the domestic post-season when championships are squarely on the line; his regular-season mark this winter was an unimpressive 8-6, although he did sport a solid 2.68 ERA. This time around when the playoff bell once again rang he was only an eye-lash away from perfection, not allowing a run or even a legitimate enemy threat in three stellar victorious outings. Freddy Asiel's performance has already been one of the record books – setting a new league mark of 25 consecutive scoreless post-season innings that he will now carry into an opening-game start in the finale with Matanzas. Reinforcement pickup Jonder Martínez (after a disappointing couple of years in Artemisa) also seems to have found new life with his role out of the Villa Clara bullpen. Jonder appeared in five of the six contests (picking up one of the losses) and gained the "save" credit for all three of the Alvarez shutout victories.
Semifinals Series #1 (Villa Clara wins in six games, 4-2)
Game 1 – May 25 (5 de Septiembre) Villa Clara 1, Cienfuegos 0 (WP: Freddy A. Alvarez)
Game 2 – May 26 (5 de Septiembre) Cienfuegos 4, Villa Clara 2 (WP: Leorisbel Sánchez)
Game 3 – May 30 (A. César Sandino) Villa Clara 3, Cienfuegos 3 (WP: Freddy A. Alvarez)
Game 4 – June 1 (A. César Sandino) Cienfuegos 4, Villa Clara 3 (WP: Duniel Ibarra)
Game 5 – June 2 (A. César Sandino) Villa Clara 4, Cienfuegos 3 (10) (WP: Robelio Carrillo)
Game 6 – June 5 (5 de Septiembre) Villa Clara 2, Cienfuegos 0 (WP: Freddy A. Alvarez)
A less noticed subtext of the Villa Clara resurgence was the impactful return of star Ariel Pestano, the heart and soul of the Naranjas over the past decade and more. Controversy swirled when Pestano was left off the WBC team, reportedly because of an ongoing squabble with manager Victor Mesa, thus ending a near decade-and-half run for the rock-solid national squad backstop. There were also rumors of a deep rift between Pestano and Mesa that stretched back to their days together in Villa Clara; the ultimate result of it all found the veteran catcher (obviously bitterly disappointed by his WBC exclusion) announcing a surprise retirement at mid-season. But late in the year Pestano was back in the Villa Clara lineup and also contributing heavily; Ariel caught all six semifinal games (including the record-setting trio of Alvarez shutouts), and also collected three hits and an RBI. Now he may soon taste his sweet revenge against his old mentor with a Villa Clara-Matanzas finale that could bring Pestano's first National Series title since the earlier three straight captured under manager Pedro Jova at the dawn of his illustrious 22-year career.
The second semi-final set was equally entertaining even if it didn't feature quite as many intriguing subtexts. Victor Mesa's Matanzas club – last year's regular-season Cinderella outfit before stumbling early in the playoffs – was extended to the wire before surviving their collision with the rival Sancti Spiritus Gallos under rookie manager Yovani Aragón. Neither club has every enjoyed much notable post-season success over the years with but one National Series crown between them. The Gallos won it all way back in 1979 (the pre-playoff era) and also reached the finals in 2002; the Matanzas club in its current manifestation has never been there (although Matanzas Province does boast several championship appearances by a ball club once known as Henequeneros, the last one coming in 1992 versus Industriales). This series would follow true to form with both clubs collecting three victories on their home turf in what was largely a replay of last year's see-saw quarterfinals clash. The shootout also featured two notable head-to-head matchups between the league's top pair of regular-season winners, Ismel Jiménez (13-3, 2.02) and Joel Suarez (14-1, 1.73). Each came out on top once and also stood on the losing end once; but in a crucial third meeting they both imploded and neither survived the second frame of a 15-7 Gallos slugfest win that forced a seventh game.
Semifinals Series #2 (Matanzas wins in seven games, 4-3)
Game 1 – May 26 (José A. Huelga) Sancti Spíritus 5, Matanzas 4 (WP: Ismel Jiménez)
Game 2 – May 27 (José A. Huelga) Sancti Spíritus 6, Matanzas 5 (WP: Yohari Panama)
Game 3 – June 1 (Victoria de Girón) Matanzas 4, Sancti Spíritus 0 (WP:Joel Suárez)
Game 4 – June 2 (Victoria de Girón) Matanzas 3, Sancti Spíritus 1 (WP: Jorge Martínez)
Game 5 – June 3 (Victoria de Girón) Matanzas 4, Sancti Spíritus 3 (WP: Lázaro Blanco)
Game 6 – June 7 (José A. Huelga) Sancti Spíritus 15, Matanzas 7 (WP: Noelvis Hernández)
Game 7 – June 8 (José A. Huelga) Matanzas 10, Sancti Spíritus 5 (WP: Frank Navarro)
The Gallos jumped to an early series lead on home turf, but that advantage was quickly dissipated on the road where the Orange and Blue couldn't muster a single victory and in fact scored in only two innings (the third frame in both Game 4 and Game 5). There were some truly heroic late-game rallies which flipped the series back and forth. Yulieski Gourriel won Game 2 with a clutch ninth-inning hit that seemed to put the Gallos squarely in the driver's seat. But José Miguel Fernández responded twice in similar fashion once the Crocodiles returned to the more friendly surroundings of Victoria de Girón. Given the way this series has unfloding the Gallos might have appeared to own on the edge since the final matches were slated for José Antonio Huelga Stadium. Then the whole affair was seemingly derailed for Aragón's club with an announcement that slugging star Freddie Cepeda had been lost for the remainder of the year due to a hand injury. Ironically the departure of Cepeda was not much of a factor in the end; the Gallos plated 20 runs during the final two games in Huelga yet their sunk with an epic bullpen collapse when ultimate victory was only six outs away. José Miguel Fernández proved the ultimate hero for the third time for Mesa and company with a bases-loaded double that capped the Cocodrilos historic eighth-inning ten-run miracle rally.
This year's Cuban League championships are rumored to hold special value since it was earlier announced that the league winner would be rewarded with a trip abroad during the summer's international travel season. But that whole matter has now also cast further elements of shadow and confusion over the island scene. The problem seems to be that the Federation is caught between a rock and a hard place if the actual plan is to have the full squad of league winners trek to Holland (World Port Tournament, starting June 28) and a completely distinct but representative national team travel to the USA (to face the USA Baseball College All-Stars) only a few weeks later. If Matanzas were to win the title that would mean that Mesa might have to choose which club to manage. Sending any of the four semifinal squads to Rotterdam would likely mean a significant dent in the USA-bound club (Cienfuegos boasts Abreu and Arruebarruena; the Gallos feature Jiménez, Gourriel and Cepeda; Matanzas also owns a pair of national team starters in Fernandez and Guillermo Heredia, plus this year's most successful hurler in Suárez). Would any of these players (or Victor Mesa himself) make both trips? It is this conundrum which has obviously delayed far longer than desirable any announcement on what kind of a squad would actually attend the World Port Tournament in The Netherlands at the end of the month. And those rain-delayed semifinals series that have now extended the post-season schedule even further haven't helped the scenario in the least.
A constant theme in the Cuban press this winter – first motivated by the odd National Series format and later stoked further by still another distasteful early elimination from the WBC – has been the time-worn debate about whether or not Cuba is now facing yet another hour of crisis with its cherished national pastime. Crisis, however hardly seems the appropriate conclusion. The national squad indeed played well in Japan (MLB scouts universally agreed that Cuba showcased the best talent in the Asian region). The season for all its innovations in the end proved exciting and highly entertaining. The playoffs themselves are already proving to be among the most competitive of recent years. And there may yet be some image-saving during tournament trips to Rotterdam and the USA. Hopefully the weather will improve during the final round and the news of the coming week or two will be dominated by an action-packed climactic shootout that already promises as many side-plots as could ever be hoped for: Freddy Asiel versus the potent Matanzas lineup; the clash of Victor Mesa and Ariel Pestano; the final chapter of a much-anticipated baseball resurrection for the long-suffering fans of a beleaguered city known appropriately as the Athens of Cuba.
—–
Peter Bjarkman is author of A History of Cuban Baseball, 1864-2006 (McFarland, 2007) and is widely recognized as a leading authority on Cuban baseball, past and present. He has reported on Cuban League action and the Cuban national team as senior writer for www.BaseballdeCuba.com during the past six-plus years and is currently writing a book on the history of Cuba's post-revolution national team.