Cuba's Reform Process Reaches Sports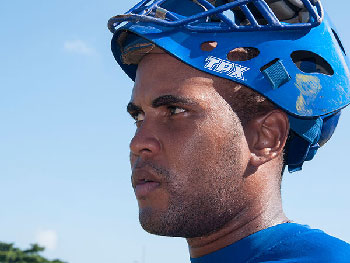 HAVANA TIMES — After 50 years of exclusively promoting amateur sports, the Cuban government has announced that the island's athletes will now be entitled to compete in the professional leagues.
The new, laxer legislation will allow them to enter into contracts in different countries, without intermediaries, and to collect 100% of their earnings there. In exchange, they must merely commit to returning to Cuba for major, national sporting events and to represent Cuba internationally.
The sports that have benefitted the most from this measure are baseball, boxing and volleyball, where Cuba has world-ranked players.
"This is good. It gives us the opportunity to grow, to finally have and fight for something," said Pinar del Rio's baseball team pitcher Guillen Martinez.
"Now that we can access and play professional baseball, less players will leave the country," another Industriales player commented.
Till very recently, all sports were practiced at the amateur level in Cuba, where training begins in primary school. There, discovered talents are sent to educational institutions that combine an academic education with sports training.
The State covers all of the costs of training the athletes and, later, pays them a salary similar to that of any other worker. The privileges enjoyed by some top Cuban athletes are limited to receiving a house, an automobile and to spending their vacations at a good hotel. In addition, they are entitled to higher education, mostly in the field of sports training, so that they will be able to find a job after their athletic careers are over.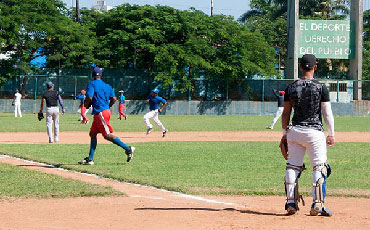 Cuba's sports system affords all citizens access to sporting events: admission to a stadium is around 10 cents of an euro and sports matches are shown on television free of charge, without the need to pay any team for broadcast rights.
From the very beginning, the Cuban revolution established that the practice of sports was a right everyone should enjoy and developed the sector to such a point that it secured more Olympic gold medals than any other Latin American country.
Since the triumph of the revolution in 1959, US Major League Baseball and professional boxing have sought to draw Cuban players and fighters to their ranks, offering them astronomical sums of money so that they will leave Cuba.
Boxing heavyweight Teofilo Stevenson and baseball player Omar Linares are two of the Cuban sportspeople who publicly rejected these offers, saying that the only millions they were interested in were the millions of Cubans waiting for them on the island.
In the course of the last fifty years, however, hundreds of Cuban athletes have left Cuba in search of a professional career that would not only earn them more money but also afford them access to far more demanding competitions.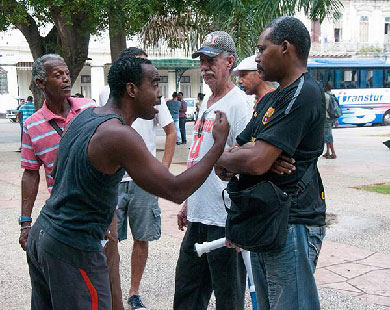 As way of an example, there are only 3 rounds in amateur boxing, and the contenders wear protective head gear, while a professional boxing match consists of up to 15 rounds, without protective gear.
The Big Leagues are also the acid test for many baseball players: many have succeeded and played on major US teams, while others have been unable to make the grade or remain at the level.
Brian Rodriguez, another opinionated participant of the debates held in the park, believes that, now, "fewer players will stay abroad. Cuban athletes leave the country, not for political reasons, but for financial reasons." That said, he added that "I believe that an athlete should not earn more than a doctor or a teacher," demonstrating that half a century of amateur sports has left its mark on Cubans.
Cuba's liberalizing reforms now place the ball in Washington's court. The embargo that has weighed on Cuba for over 50 years forbids any athlete residing on the island from earning money in the United States.
It is considered a crime, punishable with 10 years in prison and a quarter of a million dollar fine. Such measures, to be sure, are not aimed exclusively at athletes. They apply to everyone: not even Cuban-American pensioners are allowed to enjoy their retirement money in the country of their birth.
—–
(*) An HT translation of the original published by BBC Mundo.