Cuba's Thunder Series Baseball News
So far few fireworks
Peter C. Bjarkman*
HAVANA TIMES — Team Cuba's much-anticipated November tour of Taiwan and Japan opened this past weekend in Taichung and Taoyuan with a pair of classic pitching duels that provided few on-field fireworks but nonetheless perfectly mirrored the pattern of so many nip-and-tuck Taiwan-Cuba battles during recent international seasons.
Victor Mesa's charges dropped the series opener Saturday afternoon when surprise starter Yadier Pedroso surrendered a pair of second-inning runs that proved the difference in a 2-1 Taiwan victory.
The Cubans quickly rebounded in Sunday's rain-delayed affair with a 1-0 triumph on the strength of Alfredo Despaigne's fourth-inning solo home run as well as the solid shutout pitching of starter Freddy Asiel Alvarez and six different short-term relievers.
With the emphasis so far clearly on power pitching and not on power hitting, the pair of games provided but a single homer, only six additional extra base hits, and more strikeouts (33) than safeties (26).
The matches have thus been quite reminiscent of several other thrilling low-scoring meetings staged between these same rivals – especially a 1-0 Cuban triumph in the preliminary round of the 2008 Beijing Olympics and the 2-1 come-from-behind Cuban victory this past July in Haarlem, both of those earlier contests featuring dramatic late game-saving home runs by reliable team captain Freddie Cepeda.
This current series featuring the Cuban "pre-selection" squad training for the March 2013 third edition of the MLB World Baseball Classic and an all-star club from the Chinese Taipei Professional League, will conclude with a final rubber match Tuesday evening in Taipei City (with Vladimir García expected to get the starting assignment for Cuba).
Taiwan is using the series as a final tune-up for their upcoming WBC qualifying event on home soil (November 15-18, when they will host New Zealand, the Philippines, and Thailand).
Next Stop Japan
The Cubans for their part will next move on to Japan to face an even stiffer challenge (November 16 and 18) in the form of a contingent of Japanese Professional League stars also prepping for next spring's WBC tournament.
Defending two-time WBC champions, the Japanese will feature on their current roster such notables as 12-year veteran Yomiuri Giants catcher Shinnosuke Abe (who boasts 295 career homers in the Japanese Central League) and 37-year old Chunichi Dragons infield star Hirokazu Ibata (author of nearly 1800 career base hits over his 14 years of Central League service).
Japan's strongest suit (just like the Taiwanese) is of course pitching, especially in the form of talented starters  Hirokazo Sawamura (right-hander, Yomiuri Giants) and Kenji Otonari (southpaw, Softbank Hawks), plus closers Hideaki Wakui (right-hander, Seibu Lions) and Shun Yamaguchi (right-hander, DeNa BayStars).
In this week's Taiwan lid-lifter manager Victor Mesa pulled a mild surprise my opening with last-minute roster addition Yadier Pedroso who has suffered from shoulder pain in recent weeks and rejoined the club only hours before their departure from Havana.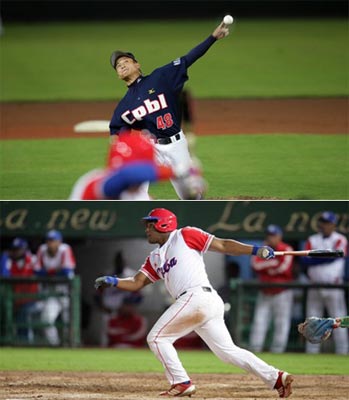 Pedroso was lifted in the second frame Saturday after yielding three straight safeties – a leadoff single by clean-up hitter Peng Zheng Min, a double by Designated Hitter Zhou Ziqi, and a run-producing single to right from shortstop Chen Yong.
Veteran reliever Norberto González faced only a single batter and surrendered a final run-producing base knock before Ismel Jiménez eventually stopped the bleeding with five solid relief frames in which he stuck out five while allowing only one additional hit.
Dalier Hinojosa, Yoanni Yera and Pablo Fernández also worked out of the bullpen (the latter pair facing only one batter apiece).
Cuba plated its lone tally in the fourth when Alfredo Despaigne doubled, José Dariel Abreu singled to move Despaigne to third, and Ariel Pestano brought home the marker with a roller to third.
The game had something of the eerie appearance of an opening-week spring training match with Taiwan employing eight different hurlers; starter Wang Yao-lin labored only two opening frames and his seven replacements all worked a single inning each.
Day Two of the series saw Cuban hurlers run their string of scoreless frames to 15 with the bulk of the work being done by starter Freddy Alvarez who struck out five over his 6.1 frames while allowing only a trio of harmless base knocks.
Five effective Cuban relievers (Leandro Martínez, Vladimir García, Norberto González, Pablo Fernández, Darien Núñez and Dalier Hinojosa) all worked one inning or less and chipped in an additional seven Ks to run the team strikeout total to a dozen on the afternoon (against a single enemy base on balls).
If Cuban bats have been tame so far against the Chinese professionals, the clear bright spot has been Cuban pitching which has permitted only a single productive opposition inning over the full two days of action.
All that was needed for victory on Sunday afternoon was the single towering drive by Alfredo Despaigne which game off a fat delivery from southpaw starter Hung Cheng Lai. Although Cuba did no further scoring, right fielder Alexei Bell did provide some further fire power with two ringing doubles in his three official trips to the plate.
Cuba's Top Thunder Series Hitters (Two Games)
| | | | | | | | |
| --- | --- | --- | --- | --- | --- | --- | --- |
| Batter | BA | AB | Hits | Runs | Doubles | HR | RBI |
| Alexei Bell | .667 | 3 | 2 | 0 | 2 | 0 | 0 |
| Rusney Castillo | .486 | 7 | 3 | 0 | 0 | 0 | 0 |
| Alfredo Despaigne | .286 | 7 | 2 | 2 | 1 | 1 | 1 |
| Ariel Pestano | .400 | 5 | 2 | 0 | 0 | 0 | 1 |
| José Dariel Abreu | .250 | 8 | 2 | 0 | 1 | 0 | 0 |
| Juan Carlos Torriente | .250 | 4 | 1 | 0 | 0 | 0 | 0 |
| Erisbel Arruebarruena | .200 | 5 | 1 | 0 | 0 | 0 | 0 |
Cuba's Top Thunder Series Pitchers (Two Games)
| | | | | | | | |
| --- | --- | --- | --- | --- | --- | --- | --- |
| Pitcher | ERA | Games | Innings | W-L | SO | BB | Saves |
| Freddy Asiel Alvarez | 0.00 | 1 | 6.1 | 1-0 | 5 | 0 | 0 |
| Ismel Jiménez | 0.00 | 1 | 5.0 | 0-0 | 5 | 3 | 0 |
| Dalier Hinojosa | 0.00 | 2 | 1.2 | 0-0 | 1 | 1 | 1 |
| Pablo M. Fernández | 0.00 | 2 | 1.1 | 0-0 | 2 | 0 | 0 |
Billed by the Chinese Professional Baseball League as the "Thunder Series" (so far an obvious case of unwarranted hyperbole), the first leg of Cuba's oriental tour has provided some entertaining diamond play but has hardly lived up to its advertising slogan as far as on-field dramatics – especially in the way of any "thunderous" offensive explosions.
But the opening day of the series did have at least one rather dramatic development, even if the biggest newsmaker was a league official and not a ballplayer.
CPBL president Huang Zhen stole the majority of the headlines when he announced immediately preceding the game that Taiwan's pro circuit would be expanding for the summer season of 2013 from a mere four to six ball clubs.
The most shocking news was that one of the two new entrants would in fact be an all-star squad from the Cuban League that would compete for the Taiwanese professional title.
So far there has been no official confirmation of this news from the Cuban Federation and no explanation from either side concerning how this scenario would play out and what the makeup of such a Cuban team might be.
But if the Cuban entry into the CPBL does become a reality it would represent a truly historic development. This would be the first occasion since the 1960 folding of the International League Cuban Sugar Kings (in the aftermath of the 1959 socialist revolution) in which Cuba would sponsor a ball club in a full-fledged professional league being staged on foreign soil.
The potential of such news for Cuban baseball is obviously enormous and there will obviously be much speculation in coming weeks concerning the nature and impact of such a surprising announcement.
—–
(*) Peter Bjarkman is author of A History of Cuban Baseball, 1864-2006 (McFarland, 2007) and is widely recognized as a leading authority on Cuban baseball, past and present. He has reported on Cuban League action and the Cuban national team as senior writer for www.BaseballdeCuba.com during the past five-plus years and is currently writing a book on the history of Cuba's post-revolution national team.