Cuba's Top Star Cepeda Shuns MLB for Japanese League Sojourn
Peter C. Bjarkman*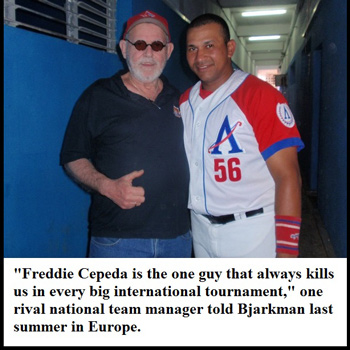 HAVANA TIMES — In easily the most significant revelation yet spawned by the recently revised policy regarding Cuban ballplayer exchanges, the Cuban Baseball Federation revealed this past weekend that long-time national team star Frederich Cepeda will be performing this summer with the famed Yomiuri Giants of the Japanese Central League.
Cepeda is now the second (Alfredo Despaigne returned to the Campeche Pirates of the Mexican League only last week) of what will likely be a handful of top Cuban stars heading overseas in the next month or two to serve with ball clubs in the Mexican and Japanese Leagues. The highly coveted international slugger and 2006 WBC all-star selection will report to his new team at the Tokyo Dome as early as mid-May, once visa credentials are processed and final contract details ironed out.
The Tokyo-based Giants have reigned for decades as Japan's most celebrated and successful sports franchise, owning a record 33 Central League pennants and an unrivaled 22 Japan Series championship banners, and once simultaneously boasted (back in the 1960s and '70s) legendary sluggers Sadaharu Oh and Shigeo Nagashima, Japan's most renowned combo of bat-wielding diamond heroes. Cepeda's assignment with the Yomiuri club represents a second late-career appearance by a Cuban League stalwart in the top level Japanese League, replicating the earlier pioneering role of Omar Linares. The famed "El Niño" also completed three less-than-stellar campaigns with the Central League Chunichi Dragons during the dawning years of the new millennium.
Loaned to the Dragons by the Cuban Federation as a well-deserved perk at the end of his brilliant 20-season Cuban League career, Linares was overweight, slow of foot and seemingly burned out by the time he reached Chunichi at age 34 for the 2002 summer campaign. A shadow of his former self once on Japanese soil, the player once dubbed the greatest third baseman never to play in the Majors enjoyed relatively little success as a sparsely used Chunichi bench player (limited mostly to a pinch hitting role).
His Central League numbers (.246 BA and 11 homers in only 349 at-bats) paled next to his inspired Cuban League and international tournament statistics that included an unmatched lifetime .368 BA (with 404 homers across 1,700 games) and a lofty .430 hitting mark spread throughout 23 prestigious senior-level international events.
Cepeda, also just turned 34 and a veteran of 17 Cuban seasons, is by stark contrast still very much at the top of his own game after more than a decade ranking as one of Cuba's most fearsome hitters. In the just-completed National Series #53 campaign the switch-hitting Cepeda was the very first player chosen in the league's novel second-half reinforcement player draft (picked by Artemisa over rival slugging sensation Despaigne); his 13 four baggers also moved him into seventeenth slot on at all-time Cuban home run list (with 260), and he capped the campaign by earning selection (as Designated Hitter) on the island circuit's year-end honorary all-star squad.
Precedent was set last summer when the Cuban Federation shipped home run record holder Despaigne to the Mexican League Campeche Pirates for the second half of the summer AAA minor league season, the first time a high-profile league player had been loaned abroad during the height of his National Series career.
Linares's tenure in Japan a decade earlier coincided with the Pinar del Río headliner's 2002 domestic league retirement; similarly, Pinar pitching ace Pedro Luis Lazo also moved to Campeche late in 2012 as combined coach and part-time hurler, but again only after his illustrious National Series and national team careers had already closed.
Last summer's contractual arrangement with the Campeche club also included two additional Cuban stars, three-time batting champion Michel Enríquez and Despaigne's Granma teammate Yordanis Samón, but both were quickly returned to their native island – Enríquez due to lingering knee problems preventing maximum performance, and Samón following a surprising failure to perform up to elevated expectations during a brief two-week Mexico tenure.
Despaigne, however, was a heavy contributor with the Pirates and his solid performance included a celebrated single-game six-for-six outing that tied an eight-decade old circuit record previously held by legendary Cuban blackball star and Cooperstown Hall-of-Famer Martin Dihigo. The Cuba-Campeche ties were further strengthened last December when former Team Cuba (Atlanta Olympics Gold Medal winner) and belated Pinar del Río skipper Jorge Fuentes was formally announced as the Mexican ball club's 2014 season manager.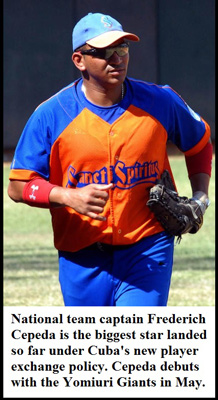 When a widely misunderstood change in Cuban League player remuneration was announced last September, it became clear that these previous summer exchanges with Campeche were a foreshadowing of an extensive Federation effort to slow the increasing tide of headline player "defections" that had recently claimed such league stars as José Abreu (now with the Chicago White Sox), Yasiel Puig (Dodgers), Aledmys Díaz (Cardinals), Miguel Alfredo González (Phillies), Dalier Hinojosa (Red Sox), Alex Guerrero (Dodgers), Odrisamer Despaigne (briefly with the Mexican League), Erisbel Arruebarruena (Dodgers), and current free-agent prospects Yohan Moncada and Raciel Iglesias (both reportedly still in Cuba yet banned from league play).
Under the new arrangements player compensation on the island would be elevated (if ever so slightly) and more top players would be chosen periodically for overseas exchanges with other top professional leagues. While Cepeda's upcoming junket to Tokyo is easily the biggest development to follow these radical policy shifts – all aimed at giving more national team stalwarts better incentives to remain in the homeland – Despaigne has now also been returned to Campeche for a second straight year and Industriales third baseman Yulieski Gourriel (eyed by big league scouts for nearly a decade) is also rumored to be on his way in the near future to either Japan or perhaps to the Taiwanese professional circuit.
An immediate and highly premature assumption afloat in the US press last fall that such policy changes in Cuba would swing the door open to a flood of Cuban imports arriving in Major League cities proved rather quickly to be wildly imaginative. While the Cuban baseball authorities obviously wish to enhance monetary rewards for top players, they remain equally committed to maintaining the integrity of both a viable domestic league on home turf and a strong national squad to carry the country's banner during international events.
A central Cuban stipulation that players going overseas would remain contractual property of the Cuban Baseball Federation and thus would be returned to the island for winter league seasons thrust a huge roadblock in front of any working arrangement with MLB (which owns its players outright and does not rent them from other leagues or national sports federations). Another early misreading of the September Cuban announcement was that individual players would be free to negotiate with foreign leagues when the reality was that the Cuban League itself would carry out such deals and exchanges and therefore benefit from a large portion of loaned players' salaries.
The beauty of new Cuban regulations for the security of island baseball is that at least some select players can taste action in top leagues while at the same time being guaranteed to return for National Series duty. If athletes like Cepeda and Despaigne do not pocket all or even most of their earnings (or sock away the multi-million dollar personal deals available to those who flee to the MLB camp), they do nonetheless earn salary payouts unrivaled back home and also enjoy the other perks of international travel and high-level professional experience.
At the same time they contribute with their efforts to a significant cash flow onto the island now desperately needed to keep recently drained coffers of the home country baseball enterprise afloat. And Cuban players under contract to Mexican or Japanese league clubs are not free to sign with MLB teams (easing defection fears), even if they were to bail out of their commitments while overseas. Both leagues require MLB to purchase player contracts are huge (often prohibitive) buyout costs.
Specific financial arrangements for either Cepeda or Despaigne have not been made public, but both are clearly under contract only for the remainder of the 2014 season and will return to Sancti Spíritus and Granma respectively in time for renewal of National Series action in November. Cepeda has been the most coveted hitter on the island for years and he could have bailed out of the Cuban League on numerous occasions in the past had he elected to do so.
His choice instead has been to bide his time until legal travel and a legal exchange were finally viable options, and that time has now finally arrived. In a recently released statement to the Cuban press the veteran national team captain spoke of his pride in being selected to follow the footsteps of Linares, his appreciation of the confidence placed in him by the Cuban Federation, and especially his excitement about playing in one of the most legendary stadiums and on one of the most legendary teams in what remains one of the world's top pro circuits. Cepeda is not alone in his assumptions (shared by many top Japanese stars as well) that there is indeed quality professional baseball life to be celebrated outside of the North American major leagues.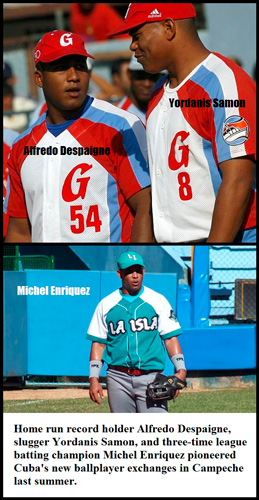 The muscular Sancti Spíritus left fielder (and most recently, Artemisa's potent designated hitter) is indisputably the top switch hitter in Cuban League annals and one of the most productive island batsmen of the past several decades.
Cepeda has rarely paced the circuit in individual hitting categories yet has regularly been one of the island's most consistent and feared offensive performers ever since his first true breakout season back in the winter of 2001-02; he would hit above the .300 mark for a dozen straight winters until barely missing that level (.292) during the just completed NS#53.
Displaying awesome line-drive power from both sides of the plate, Cepeda's biggest upside as a hitter has been tremendous plate discipline and savvy strike zone knowledge that has seen his seen him pace the circuit in free passes on seven different occasions and maintain a remarkable walks-to-strikeouts ratio that has bested 3/1 in his half-dozen or top campaigns. He remains one of only two Cuban leaguers (and the only to do it twice) ever to receive 100-plus free passes in a single 90-game season. And his career total of 1393 bases on balls stands fourth on the all-time list.
The Cuban slugger's truest talents have been most clearly on marquee display in international venues with a string of memorable clutch performances almost too lengthy to recount. In his first shot with the national team during the Havana-based 2003 IBAF World Cup tournament, it was Cepeda's pair of late-inning solo round trippers that clinched a 4-2 gold medal championship game versus rival Panama.
On several occasions his dramatic late inning homers rescued his team from near-certain elimination during other treks toward major tournament gold medal game appearances, most notably versus Australia during the lid-lifter of the 2007 Taiwan World Cup. Other similar heroics came a year earlier in the 2006 upset victory over Venezuela during the second round of the inaugural World Baseball Classic, and twice versus Chinese Taipei (during the 2008 Beijing Olympics and the 2012 Haarlem Baseball Week matches). His impressive slugging displays throughout the first two rounds of the 2009 World Baseball Classic earned him the only unanimous post-tournament all-star squad selection in an event crammed with big name MLB celebrity stars.
Numerous big league scouts have long maintained that Freddie Cepeda is the one Cuban League hitter they most admire and most tout for big league duty. The manager of one national team told this writer a few months back that "Cepeda is the one guy who always kills us" and many of my conversations with pro birddogs at overseas tournament venues have quickly come around to the assessment that Cepeda is the one Cuban hitter who just seems to get better and better against any elevated levels of top professional pitching found in the most challenging international venues (like the last two editions of the MLB World Baseball Classic).
There is little surprise, then, that it was the switch-hitting Freddie Cepeda that the Yomiuri Giants wanted above all others (including Yulieski Gourriel) when the opportunity arose to benefit from a top selection among Cuba's ever-impressive wealth of burgeoning baseball talent.
(*) PETER C. BJARKMAN is a widely recognized authority on Cuban baseball past and present, an avid collector of Cuban game-worn uniforms, and a frequent visitor to the island nation. His work as a "Cuban baseball insider" has been featured on Anthony Bourdain's Travel Channel episode of "No Reservations Cuba" (2011) and also with a 2010 front page profile story in the Wall Street Journal. He is the Senior Baseball Writer for www.BaseballdeCuba.com, the leading Cuban League website.