Cyber Violence Already Targets Cuban Women
By Ivett Gonzalez  (IPS-Cuba)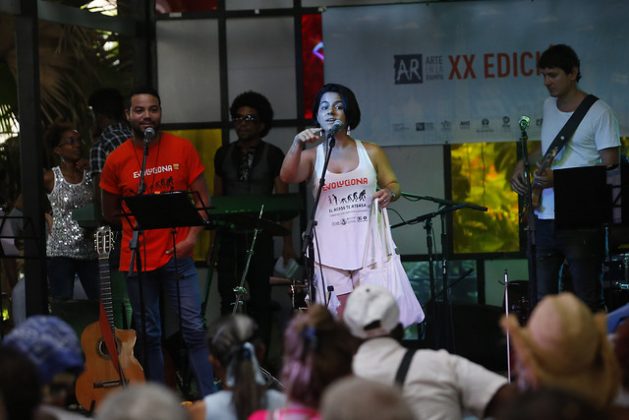 HAVANA TIMES – "I won't look at Facebook anymore because of safety problems, I've already been attacked on social media," business-owner Kira Romero writes, after making her project Firdaus public, which will be the first online store for Muslim women in Cuba.
A member of the country's Muslim community which is 6,780 members strong, Romero's story proves how Cuban women are beginning to become victims of a global problem ever since the population (11.2 million) has had greater access to social media in spite of high prices, connectivity restrictions and irregular services.
Discrimination, cyberbullying and revenge porn (sending intimate photos and videos around to get back at the woman) etc., are some of the problems Cuban women face online, which is why activists underline the pressing need of studying and empowering women against these forms of machista violence.
Ever since she decided to leave social media, on August 25th, Romero continues to avoid them and doesn't even give interviews about her new business, which will only sell hijabs (the veil that covers a woman's head and shoulders), as she finds other kinds of veil discriminatory.
Romero started suffering attacks because of her online store, which included insults and criticism of her as a Muslim woman, which went as far as attacking her husband. She hopes that Firdaus will also be a source of employment for Cuban Muslim women, of which there are 1200 on the island, such as young Lisandra Dominguez.
"Muslim women are discriminated against for the simple reason of being a woman. People see a Muslim man and they just say: 'Ah, look, there goes a Muslim man.' And it's even worse on social media," Dominguez told IPS at the Addallah mosque, in one of the emblematic Old Havana's neighborhoods.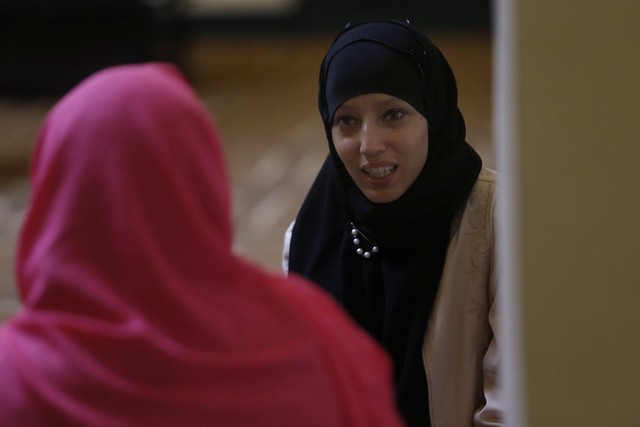 Going by the name "Iman" within her religious community, the young woman says that she has been a victim of cyberbullying for nine months now. "I was the administrator of a Facebook group where we talked about Islam. Then, a man, who doesn't live in Cuba, pretended to be a Muslim and asked me for some advice in a private message… and I replied," she told us.
"He became obsessed with me… When I blocked him, he 'hacked' my personal profile and a page I had called Historias de la Vida, where I shared real stories and only changed the names," she continued. "I reported him, I made new accounts and restricted them… but he has many accounts and tries to communicate with me," she said.
In spite of limited Internet access, data packages on mobile phones became available in December 2018, allowing the population to have greater access to the Internet.
The 2019 Digital Report, published in January and written up by the international creative agency "We Are Social" and international social media management platform "Hootsuite", states that by the end of 2018, 6.47 million active Cuban users were recorded on social media, a huge leap from an almost zero presence in 2014.
"Access to social media in Cuba today is naive and not supervised by families very much, who a lot of the time have no idea what 'sexting' (the exchange of sexual and pornographic messages and content), cyberbullying or revenge porn is, or more recent forms of aggression," journalist and social community manager Mayra Garcia told IPS.
Garcia forms part of the team that runs the National Campaign against Violence against Women #Evoluciona, which was set up in November 2018 by Cuban bodies such as NGO "Centro Oscar Arnulfo Romero" and with international cooperation support, which stands out for garnering great support online on social media.
"There isn't a contextualized legal framework under which these crimes can be punished," the expert pointed out, in regard to a problem that lawyers have highlighted. "Not to mention the little human resources training in this regard, not only of lawyers and district attorneys, but at every level of education, etc.," she added.
International organizations fighting for a safer Internet underscore the vulnerability of women, especially of activists and journalists who fight for gender equality.
"Ever since we launched the #Evoluciona campaign, we have been experiencing machista violence every day, whether that's in comments, online debates or private messages," Garcia shared, about a team made up of mostly young people. "Our position has always been to debate, but from a respectful place. This hasn't always been the case, but we have made a lot of headway," she assessed.
Less than a month after the campaign kicked off, mobile data packages became available.
"It has been great for the campaign, in terms of engagement, debating and convening people," Garcia continued. "It's a lot easier to reach our audience on these platforms than more traditional ones, although we don't give these up," she said about the initiative that focusses on harassment, especially on the street.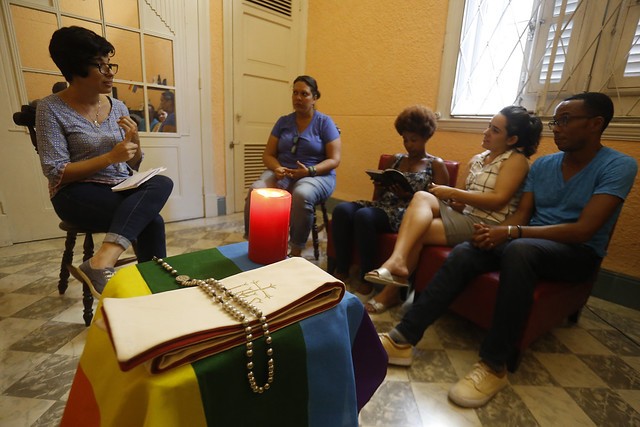 With a strong presence on Facebook and building up her Instagram profile, tattoo artist Amanda Santana proudly shares photos of the many artworks 30 artists have etched on her skin, including herself.
"A man, who lives in Cuba but isn't my friend on Facebook, sent me a private message and when I read it, he was attacking me because of my tattoos… he said truly awful things," Santana told IPS about one of her bad experiences, at the collective studio that she runs alongside three other young artists.
"I took a screenshot of the conversation and posted it… so many people were commenting that it had to get taken down," Santana said, who in spite of everything still sees more positive than negative things on social media, such as the opportunity to promote your work and women's empowerment in the world of body art.
The tattoo artist stressed the importance of blocking and exposing men with violent behavior online. "Cyber bullying is a global phenomenon, every woman experiences it… but whenever I've been a victim, I don't feel so violated like I do when I walk down the street and a guy starts on me," comparing her experience online to street harassment.
On the other hand, professor Dayamis Tamayo only accepts real friends on her Facebook account. "I've never suffered gender-based violence on social media but I know many people who have… lesbian women like me who have been attacked," she shared, after a session at the Metropolitan Community Church in Havana.
"Empowered women in terms of rights, sexual and reproductive health have a foundation to face social media, although there is a still a lack of specific training for them to use it safely," the professional weighed in, who goes to this protestant congregation that is inclusive of lesbians, gays, bis, trans and intersexuals.
With shortcomings still in its response to gender-based violence, such as specific laws and a comprehensive care system for victims, the problem is gaining unprecedented dimensions in Cuba, in 2019.
In February, results from the National Gender Equality Survey were published, and in April, the first official statistics of femicide also came to light.
Greater Internet access has amplified a problem that Cuban media (under the government's control mostly) still haven't really dealt with, and the diversity of women as political activists who oppose the socialist government and have launched the #UnidasPorNuestrosDerechos campaign in September.
The initiative is driven by the Cuban Alliance for Women's Inclusion and the Cuban Women's Network, so as to focus the violence exercised against women who want to participate in the politics of a country with a single party, within the general scourge of gender-based violence.