Daniel Benitez  (Café Fuerte)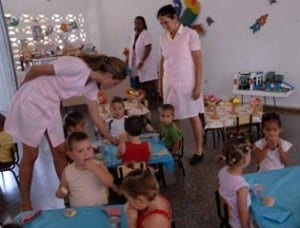 HAVANA TIMES — The policies the Cuban government seeks to implement to encourage families to have two or more children are running into a major obstacle: the country's reduced number of kindergartens, which today fail to meet a demand of nearly 50,000 children.
This critical situation is coupled with the fact that, of the existing facilities, 56 are closed, 45 of those in Havana. If you're a working mother living in the municipalities of Yateras, Imias, San Antonio del Sur and Cauto Cristo (all located at the island's eastern end), you should be aware that no day care exists anywhere near you.
In fact, 34 of Cuba's municipalities have only one day care center, making a large number of women think twice about having children. After giving birth, mothers find they have no one they can leave their children with so they can continue working.
Lack of Personnel
Under the law, an employed mother is entitled to a paid 18-week maternity leave (covering 12 weeks following labor), but, 12 months after the child's birth, the mother is required to return to work, Juventud Rebelde reported recently.
The article pointed out that there are personnel shortages at the day care centers, though it failed to specify the number of professionals needed to cover the deficit.
Surveys conducted by different institutions around the country reveal a growing disinterest in maternity, owing, among other reasons, to the material privations faced by the population, the low salaries and the fact several generations are forced to live under one roof because of the housing deficit.
Despite this, authorities insist on encouraging procreation and the measures they approve appear oblivious to these basic needs.
The Population and Housing census of 2012 revealed Cuba is facing sustained population aging and that the over-60 age group represents 18.3 percent of the population (a figure expected to rise to 30% by 2030).
Procreation Measures
New measures aimed at encouraging procreation within the family were announced at the beginning of the year. These included assigning day care centers to working mothers as of the second year of life of the newborn after these have had a second child and even creating non-State cooperative daycare centers at locales rented out for such purposes.
According to Cubadebate, mothers who agree to have two or more children may be entitled to discounts for kindergarten and daycare centers, which would begin to undergo repairs.
Such centers would also be constructed in municipalities devoid of them and pre-school teachers would begin to be trained for these. The plans, which appear pristine on paper, make no mention of raising the salaries of those who decide to become mothers.
The extensive report also expresses the government's concern that the aging process could affect the armed forces in the mid to long term, owing to the decreasing number of people of military age.
Currently, Villa Clara, Havana and Sancti Spiritus report the largest concentrations of elderly people. One out of every five persons in Villa Clara is already over 60.
In the capital, the municipality of Plaza de la Revolucion has an elderly population over 26 percent.