Despite Obstacles and Prejudice, Pool Is on the Rise in Cuba
By Yamila Sanchez Rodriguez and Alba Leon Infante (El Toque)
HAVANA TIMES — Heydi waited at the entrance to her home for the group that came on Fridays. She already had everything ready for them in the pool room on the second floor – the business that has been a means of survival for her and her family for the past five years.
The group's racket made her jump out of her armchair; she went to the gate and saw them coming around the corner towards her house. The same group that always came: four young guys and two girls. Heydi doesn't allow more than six people in her pool room.
Even though these are regular clients, she felt the need to remind them of the house rules:
Alcoholic drinks and drugs can't be consumed on the premises.
You can't make a racket so as to not bother neighbors.
Bets aren't allowed.
It closes at midnight.
Heydi rents out the pool room nearly every day of the week from 4 PM until midnight and she charges 10 CUC for three hours of playtime. She has a locally made table; she got a carpenter to make it for 800 CUC (800 USD). Although with the cues, balls, triangle and cloth, the initial investment was close to 1000 CUC. But, her business quickly became popular in her neighborhood and she got her investment back in just a few months.
"It's a good business. It only takes the initial investment and a little bit of upkeep. I always have customers, especially young people, because they have very few places here in Havana where they can go out and have a good time without having to spend a lot of money."
But, Heydi doesn't want "a racket, or publicity", don't be fooled, she prefers not to disclose her name or the location of her pool room because she is afraid. She's afraid of losing her license.
"Everyone knows me here. They know that I am a good neighbor and that I abide by the law; but I don't want new customers, it's going really well for me with the ones I already have. I don't want an official to give me a license today and then another one come along and tell me that it doesn't apply to my business. This has to have an order.
Plus, nobody spends three hours playing pool without drinking anything. Nobody believes that. Sometimes, I give juice or some bottles of water to my closest customers who are like friends already, but it comes from me. I can't sell any drinks."
"Why not?"
"Because my license doesn't allow me to. When I went to ask at the Labor Ministry which license I could get to rent out my pool table, they didn't know what to tell me.
***
Here, the most common thing is for someone who owns a bar to put up a pool table as another way for customers to have fun, but in my case, I only had the table and I can't sell any drinks or food. Luckily, I came across an official who wanted to do her job and she helped me. She told me that I could get a license as a personal sports trainer which was the closest thing, because pool is in fact considered a sport, right?"
***
Pool and Cuba go way back. However, its links to betting and gambling led the new social regime established in 1959 to try and wipe it from the country's new reality in a single stroke.
Today, there are quite a few private businesses who have secretly set up their own pool tables in restaurants or rental homes, as another way for their customers to enjoy themselves. And bets? They survive in the same way they do in a baseball stadium where inconceivable sums are bet on whether Industriales will win or on whether Matanzas will finally become the champion.
The difference here is that baseball is Cuba's national sport in everyone's eyes, and pool is seen as a bicentennial practice that has middle-class roots. Even though pool is a candidate for being included in the Olympic Charter ever since the International Olympic Committee recognized it as a sport in February 1998, Cuban authorities still don't consider it as such.
In this continual stuggle to defend the right to play pool, several names could be mentioned, from Ruben (Picolino) Aguilera, the forefather of making pool widespread in social clubs in the '80s, to more recent names such as Pancho in Havana's city of Cerro, or the maxillofacial surgeon Osdani Cancio, in Sancti Spiritus. Two men stand out in Matanzas, who have dedicated a good part of their lives to developing a pool sporting movement in the country: Guillermo (William) Santana and Carlos Moreno.
***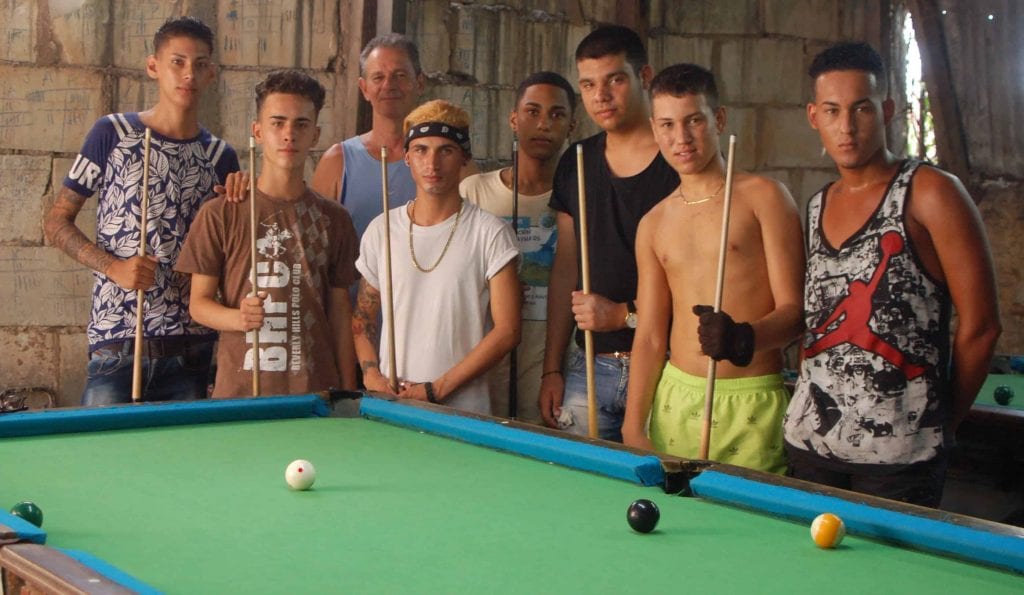 It was 1994, the toughest year during the Special Period and Carlos went mad, his friends would say. He put a few changes of clothes in his backpack and he traveled all over the island looking for every pool player so as to organize a national championship. But, his adventure paid off: in 1995, the first national pool tournament of the Chicago variant, was held in Jovellanos, in Matanzas province.
"In '97, it was even more organized, other players found out about our tournaments and joined, but pool tables were disappearing from social clubs at the same time. It became really difficult to practice for the competitions," she says.
During that same time period, Guillermo Santana began to put together his first table with some pitch pine beams and some pool boards which had been miraculously saved. "It was a disaster aesthetically speaking, but we could start training there."
Repairs and changes would come over the years, until it was discovered that someone in Los Mangos (in Matanzas) had an original table in a corner and that's where he went to buy it from him. "Then, a friend made me another one with angle brackets and granite." This is how his pool club came to life in his backyard. Several generations of pool players have been taught there, from his daughter Lisset, who was quite a local sensation back in her time, to Vladimir de Armas, one of the top three in the sport in Cuba, today.
Meanwhile, Carlos moved to Cardenas in '98. "Once I was there, we began to make the movement more serious and organized, but we came across a lot of rejection at every level, both in the government and the Communist Party; they said that pool was a money game, a vice… and we had to change this mentality so that people would see it as a sport."
Juan Carlos Alamo, a Recreation methodologist at the National Institute of Sport, Physical Education and Recreation (INDER) in Cardenas, has been his companion-in-arms and he has ended up starting quite a few arguments. He recalls INDER's Resolution 54/2012 which supports the development of traditional games and he has protected the development of this community project, because pool is really a tradition in Cardenas.
Moreno and Alamo defined the statutes and regulations of Cuba's pool championships between them. No alcoholic drinks or cigarettes in the game area, and zero shouting because pool is a mental game and requires a lot of concentration. No bets. In fact, Carlos has his own security team to make sure that no one "gets annoying" or violates the established rules.
Over more than 80 players from 13 provinces come to Cardenas every year. And competitions are held using personal resources.
Three championships have gradually taken shape over time: the Flag City, which is the national one; the Elite Cup, which 32 of the best players take part in and is selective, and the Ruben (Picolino) Aguilera Cup, which some guest players take part in. A national ranking has been created by using every player's results in these championships.
Nine-ball and ten-ball variants of the game, which are the most played internationally, have also been played at these competitions for a few years now. According to Carlos and William, this is good for preparing Cuban athletes, so that once the Cuban Pool Federation is approved, players can be on the same level as other countries.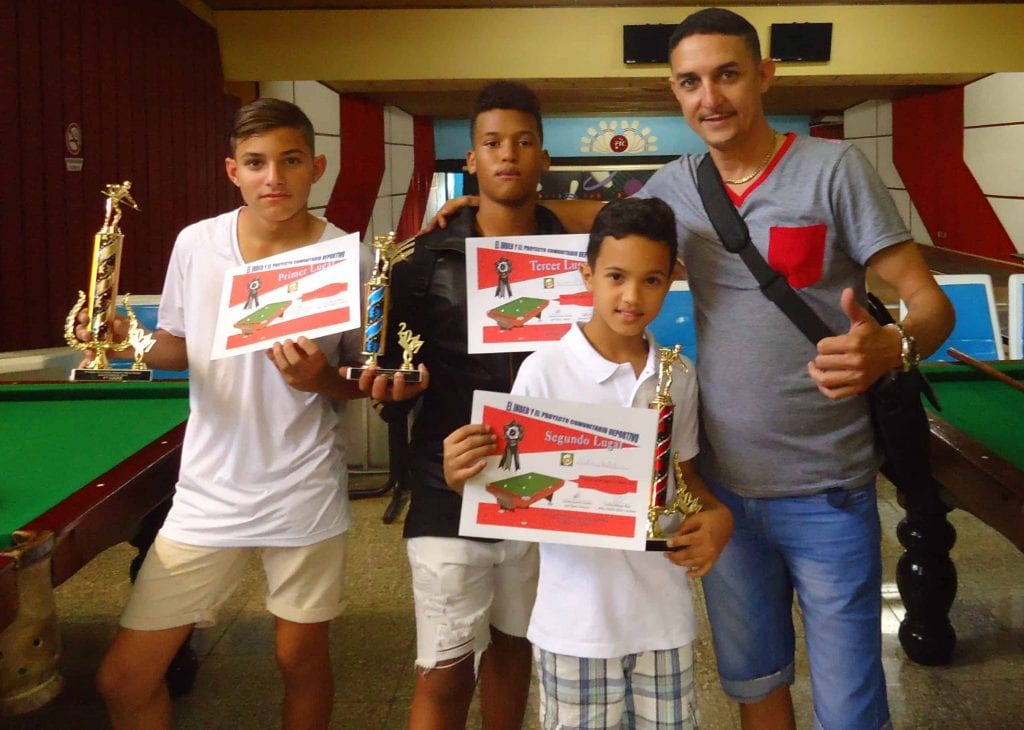 The children's pool movement is also growing, alongside the adult pool one. Right now, Cardenas has about 40 children in the 7-14 category. Matanzas has a smaller group and Sancti Spiritus has also formed its own team.
"Since 1994, Cardenas has won 7 national titles for team games and 15 for individual teams, not counting second and third place finishes. At this last national championship, we won 4 out of the 6 trophies up for grabs," Moreno says proudly, who is someone who earns his living as an I.T. engineer at the CIMEX Corporation, but he lives for his passion: pool.
Plus, he has a self-employment license as a leisure equipment operator, which allows him to use a part of his earnings to invest in pool, as they always need to buy some things such as cloths, balls, plasterboard, cues, which are very expensive, or to subsidize some of the costs of events with their own money, even though they receive many donations from former players who emigrated abroad.
***
Not all of the places where you can play pool are hidden or have obstacles. The Kohly Hotel in Havana has a pool room, which is run by the Gaviota hotel group (which belongs to the Armed Forces' corporate structure), and is one of the most popular in the capital. There is a table and a bowling alley in the leisure area. Entry costs 10 CUC per person, which are used inside without any time limits. The area also has a bar which sells different drinks, including alcoholic beverages. It is open until 2:30 AM daily.
There are pool tables, just like this one, in other leisure and tourism institutions across the country. Including Varadero. Not because it's considered a sport, but rather because it is profitable and in State-run facilities.
"Here, we have all kinds of customers, but they are mostly young people from all over the city. The pool room is always full, that's to say, there is always a line waiting to use the table. It's very popular. We do sell alcoholic beverages but it's a very calm environment. Once in a while someone will have too much, but there has never been any fighting or anything like that. It's a healthy game. They come here to have fun and to chill out. It might be a little expensive for young people, especially for those who are students, but we also understand that not everyone comes here. Just like not everyone stays at a hotel," a man who introduces himself to us as Alberto, the Kohly Hotel's entertainment manager, says.
***
Like Heydi, Norma has also asked to remain anonymous and to not disclose the location of her pool room. She is afraid that the table she bought with money sent by her family abroad might be seized. Unlike Heydi, Norma doesn't have a self-employment license. She insists that she doesn't charge those who come to play with her table a single cent, most of whom are neighbors, young people from the New Vedado neighborhood and the friends of her teenage grandchildren.
"Sometimes, when I get calls asking to know how to rent out the place, I tell them they have the wrong number. I only let the people I know from the neighborhood in and people who come recommended. This has always been very calm and I want it to carry on that way."
"And how do you keep the place going?"
"Like everyone else, by inventing! You understand?"
"But, the young man who told me about this place sad that people were charged 10 CUP per person to enter and then 1 CUC for every hour of playtime."
"Well, see here, the people playing right now are my grandchildren's friends who have come to celebrate their grades at school. You can come in and ask them."
"And what about everyone else?"
"…" Norma shrugs her shoulders.
She got her original table made abroad. Her family wanted to make sure she had an income coming in that allowed her to make money without leaving the house and an opportunity to save up for the future.
"We prepared the last room in the house for the business and I went straight to the Labor office in the Plaza municipality to get a license. Can you believe they told me that I couldn't apply for a license for this? I stopped dead in my tracks. I didn't directly ask for the sports trainer license even though a friend of Cerro had recommended that I do this, I just went, said that I had a pool table and that I wanted to pay taxes for renting it out. You would think that they are there to give you advice and show you the right way in order to make your business legal. Honestly, I don't understand how they can look down on someone who goes with the best intentions to do things properly and pay what they need to. What do I do now? Throw out the table? Leave it to collect dust? I didn't buy it so I could play. I have to make a living somehow."
The exact number of pool tables in Cuba can't be calculated, there aren't any figures. Some have disguised them with self-employment licenses for another activity, others run secretly and only the State can set up a pool table in peace. But, the Cuban people's interest in playing pool, as a sport or for entertainment purposes, can't be hidden.