Dilon Zeledon, a Nicaraguan University Student Paying the Price for "Treason"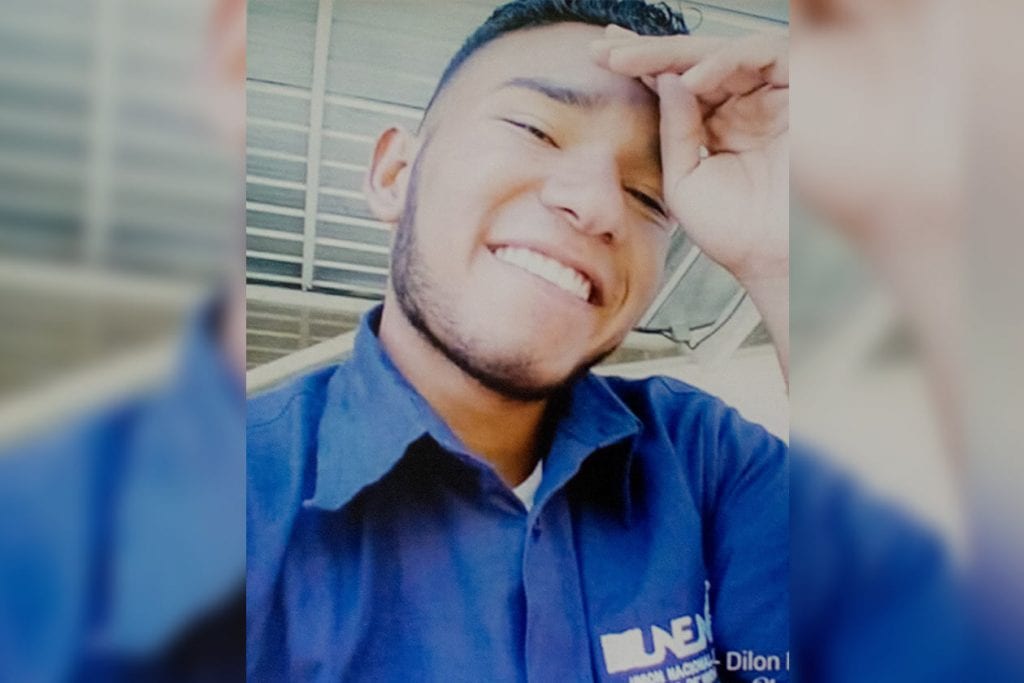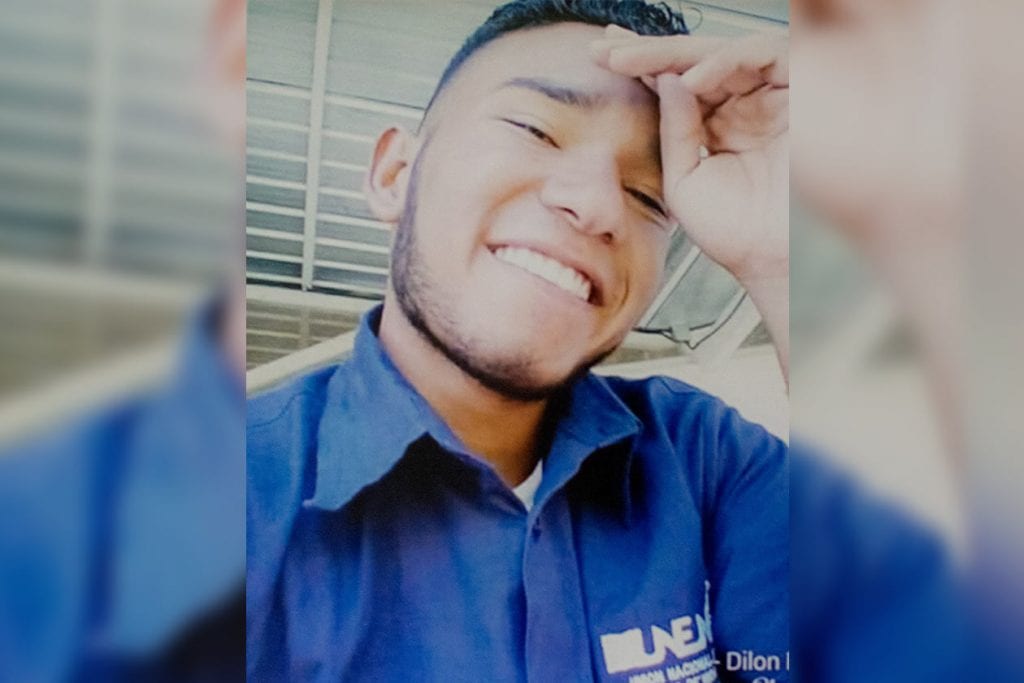 Leaving the UNEN to join the civic protests cost him his career and his freedom. Imprisoned since June 21, he has been accused of "treason". Because of the torture he received, he's now deaf in his right ear.
By Keyling T. Romero (Confidencial)
HAVANA TIMES – Upon hearing that the members of the National Union of Nicaraguan Students (UNEN) in Matagalpa would support Daniel Ortega's government, despite three days of protests during which more than twenty people had already died, Dilon Zeledon got up from his chair and said:
"I disagree! We owe our presence here to the students. How are we going to leave them in the lurch?"
There were immediate glances of disapproval, but no one argued with him. The group leader, who had called the special meeting, told him that they respected his opinion. Certain that he was doing the right thing, Dilon left determined to join the protests that were now beginning in Matagalpa. It was April 21.
Months later, the same leaders of the UNEN made it their job to expel him from the Matagalpa university where he was studying his next-to-last year of Public Accounting. They would also seek revenge with blows and tortures for what they considered his "betrayal" that day.
"He was the dance coordinator for the UNEN. He was a Sandinista. He didn't belong to the Sandinista Youth, but he'd help them choreograph their dance performances. He'd always perform as a dancer: on July 19th; at El Repliegue – the yearly commemoration of the Sandinista's strategic retreat in 1979; for the election campaigns of Matagalpa mayor Sadrach Zeledon (no relation). That's what affected him the most, because they saw him as a traitor," states his mother, Eimy Ramos.
Dilon has been in prison for five months. First, they beat him in the departmental seat of the FSLN; then he was in the cells of the el Chipote jail, where he was subjected to different tortures, and now he's at the El Modelo prison, where he's had seizures and can no longer hear with his right ear.
Dilon's passion was for dance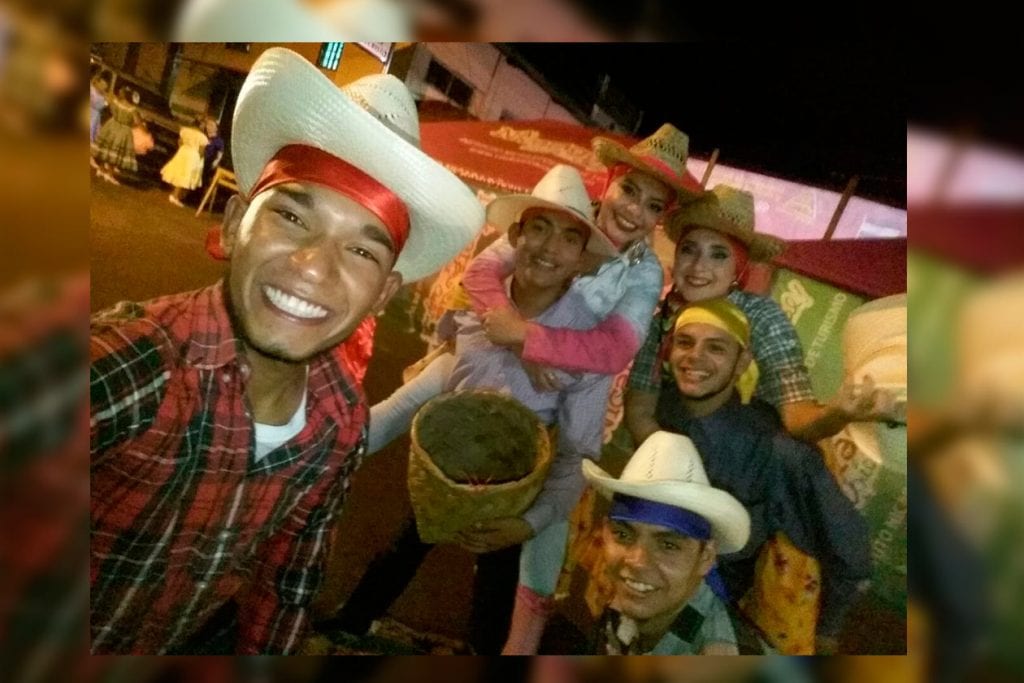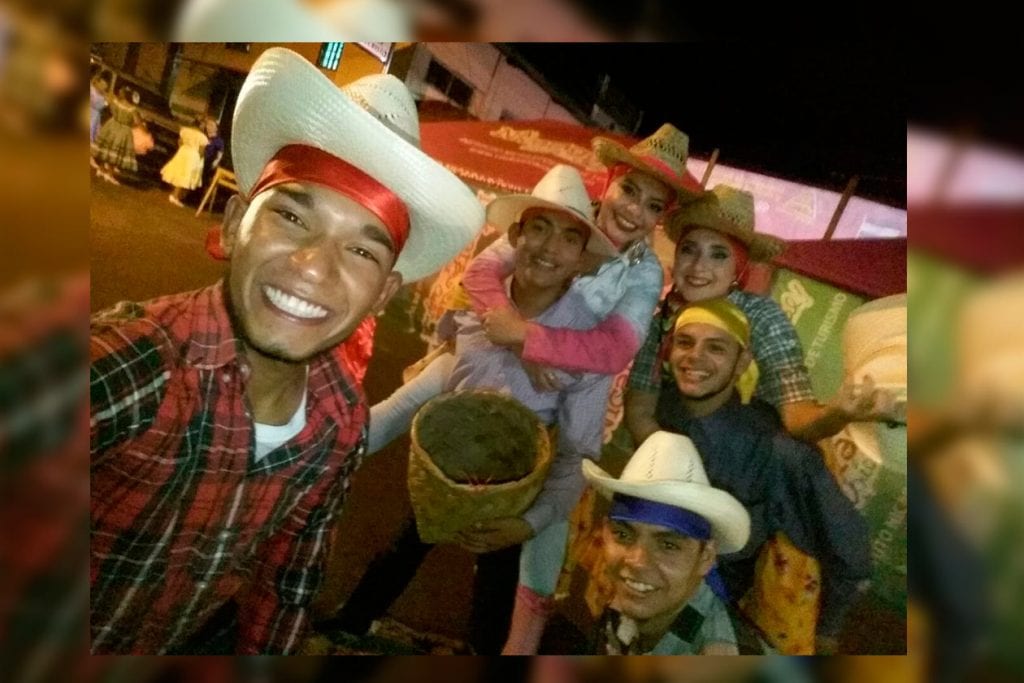 Eimy Ramos' face lights up when she recalls her son's dancing. She remembers that the last time he was in her house, she made a video of him dancing to send to his girlfriend. "He danced really well," she says with the trace of a smile. Minutes later, her expression becomes serious again, and she notes: "dancing was his life." "He told me once when I went to see him at the prison, that what he missed most of all the things he'd lost was his dance."
Dilon, at twenty, has dancing in his blood. His father danced in a folk ballet group in Matagalpa. Whenever Dilon heard some music, he couldn't help but start dancing. The first time he danced publicly was when he was five and in preschool. Later, he joined his school band, and when he entered the university the first thing he did was audition to join their folk ballet troupe.
He loved dance so much that even though the practices were held in the late afternoons, as were his classes, he always found time for both activities. On seeing the passion that he invested in dance, his dance teacher gave him the opportunity to arrange choreographies, and in that way to earn a little extra money.
Entrance into the Nicaraguan National Student Union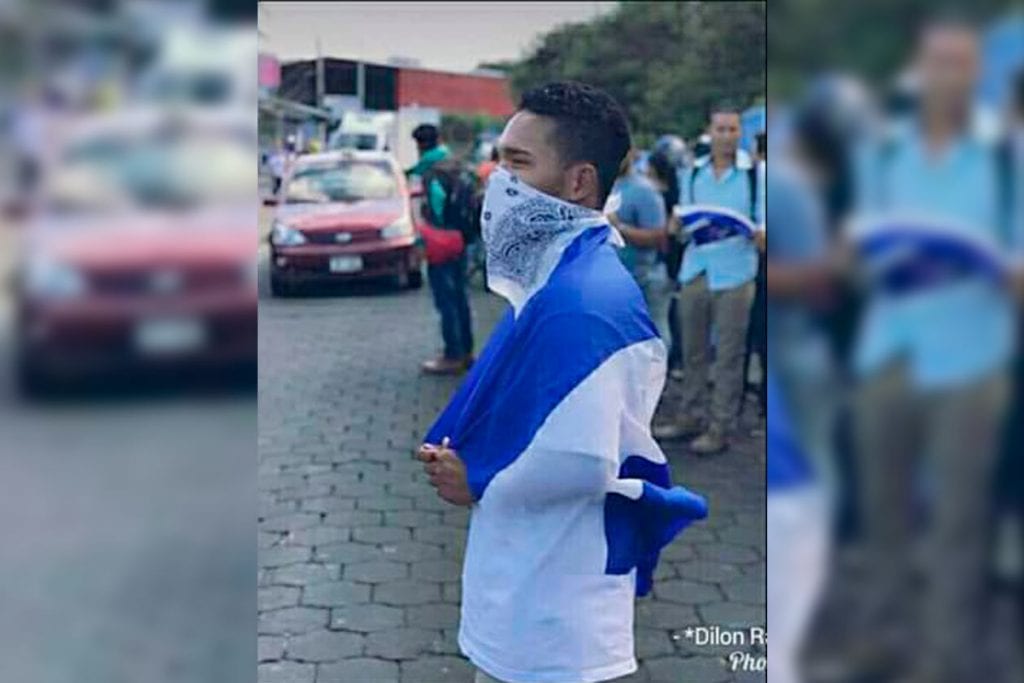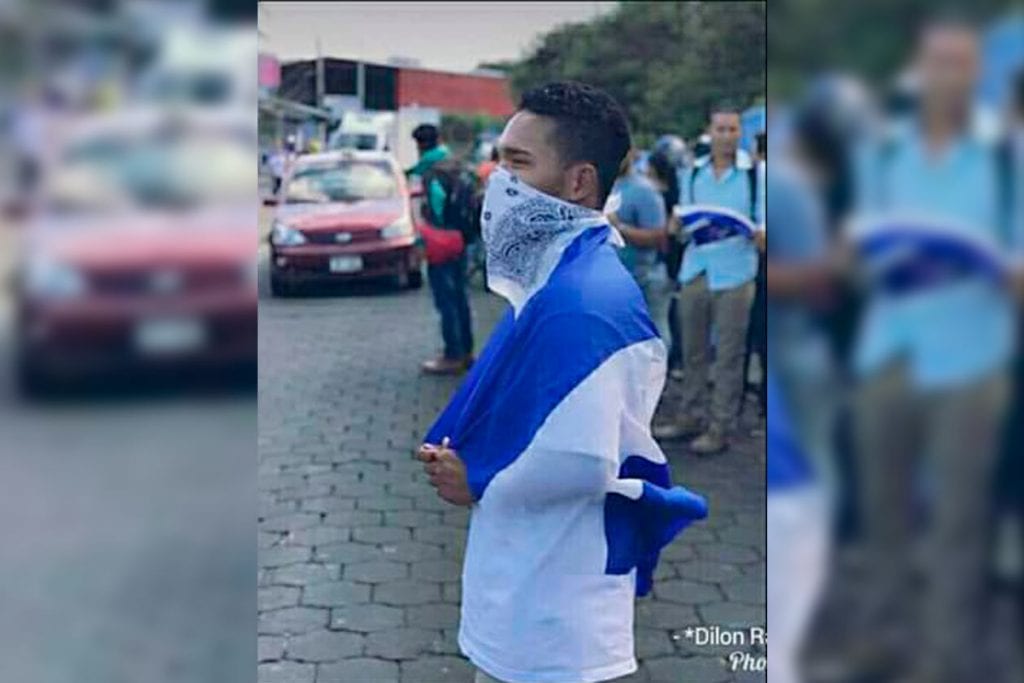 They soon began to seek him out to dance in the FSLN cultural activities. It was then, in the middle of 2017, that Dilon decided to join the UNEN. As Ruben Vargas, his friend and fellow dancer who also belonged to that student movement tells it, they both joined because they were spending ever more time dancing in the party activities and they wanted to have better communications.
In the dances they put on for the FSLN activities, Dilon headed the dance group and organized zumbatones – festivals where participants practice Zumba – for the Sandinista Youth. Also, last year when the river in Matagalpa overflowed and flooded several neighborhoods, he led a food drive for the victims.
In the university, there are few who haven't met him. People like being around him for his outgoing and friendly personality, his acquaintances recall. They remember him as always smiling and trying to multitask. So much so, that in addition to dancing, studying and participating in the UNEN, he found time to play soccer. And if a job came up, even a temporary one painting houses or working as a waiter, he wouldn't turn it down.
He'd always tell me: "I'm going to buy you a house, Mother," because we've always rented. And now that he sees how I've fought for him, he says, "I'm very proud of you. They told me everything you've done in the streets, and that saved me from being killed, because that was the order," Ramos says.
The student struggle: "if I die, it'll be for my country"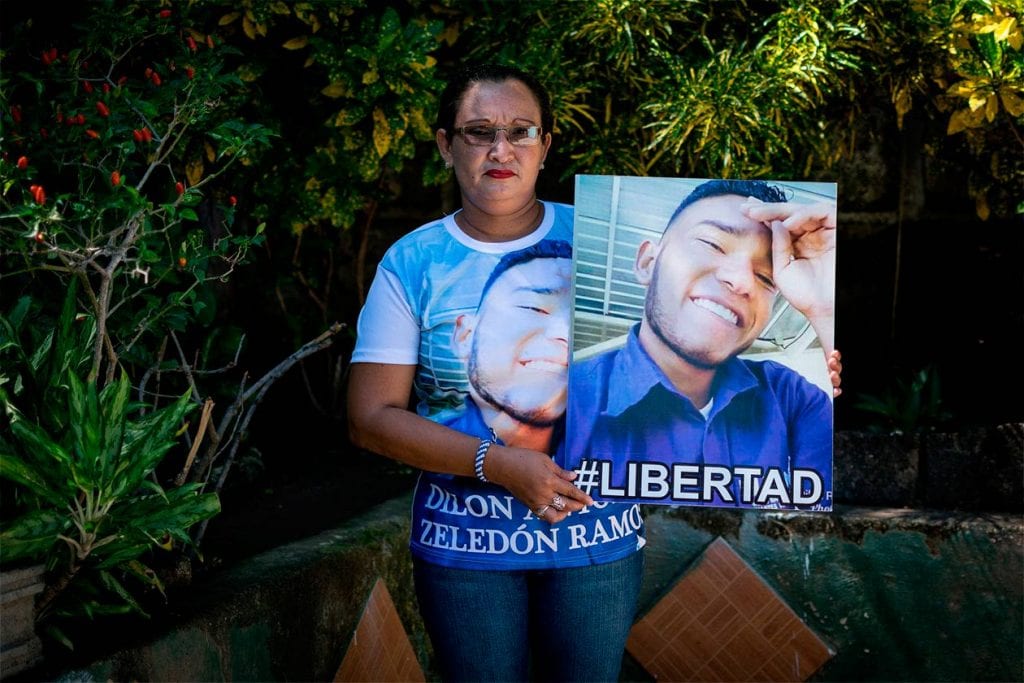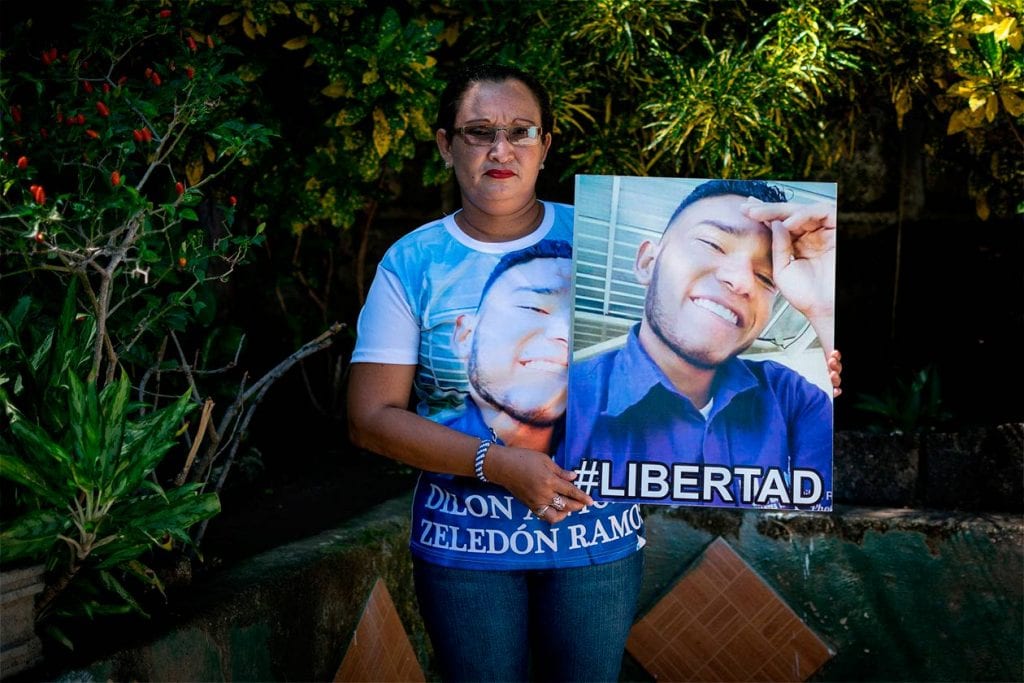 Since the day in which Dilon Zeledon decided to break with the Student Union and join the civic protests, his life changed drastically. He joined the April 19th Movement in Matagalpa, abandoned the university, lost a lot of his friendships and gained the camaraderie of the students who had rebelled. He also "gained" death threats that have followed him even into jail.
"Dilon, quit this business, they're going to kill you," his mother told him.
"Yes, but if I die it'll be for my country," he'd respond energetically.
"And when they kill you, what am I going to do?" his mother would protest, crying.
"I know, mother, but I'm not going to stop," he reaffirmed.
His father also tried to persuade him to get out of the April 19th movement. On one occasion, when the National Police attacked a roadblock in Matagalpa, Dilon wasn't present because his father had slipped him a sedative. When he awoke and learned of the attack, he was very upset and told his father that "he was a coward, because those who should be out on the streets were the adults, and not the young people alone."
Horror in prison
Dilon's good luck lasted for two months. During that time, he avoided being touched by the bullets and being arrested. Until the morning of June 21: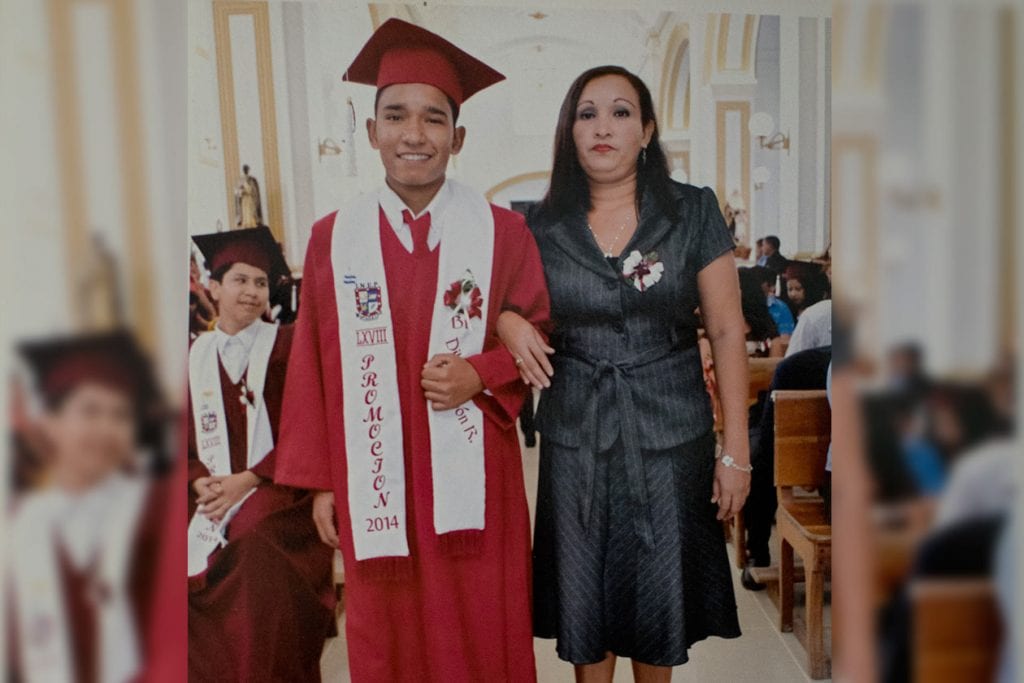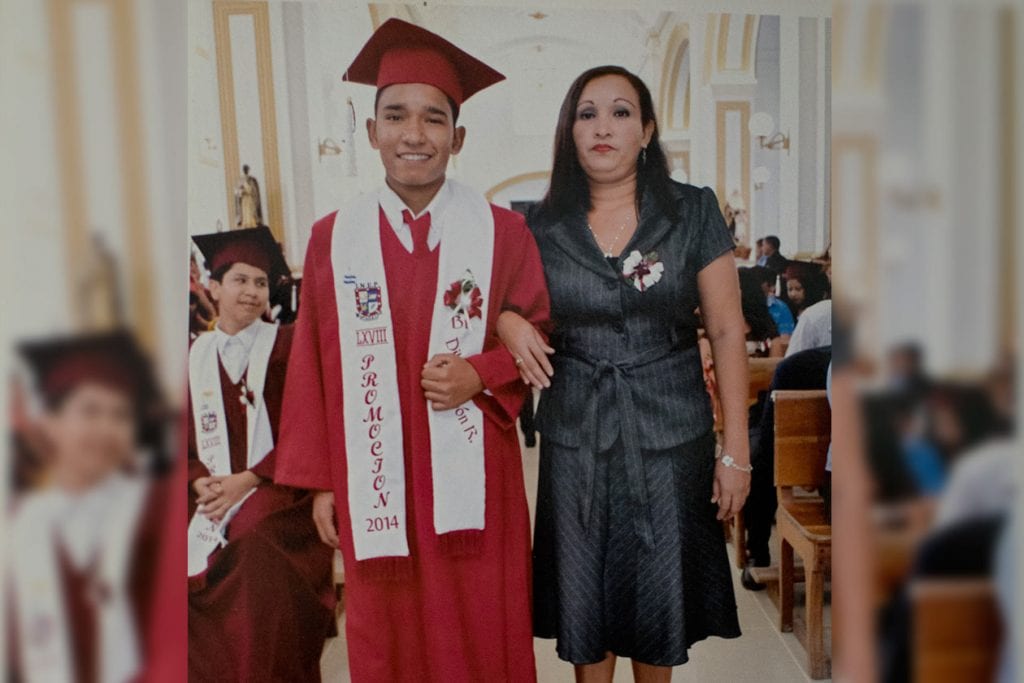 "We had gone out to do errands," recalls his friend Ruben, "and while I went inside the fabric store, he remained outside, chatting with a friend who worked across the street. While this was going on, a red Hilux pick-up, carrying men in civilian clothes, pulled up next to him. The men jumped out and tried to grab him. He took off running down the road, while I ran the other way. Later, I heard shots and I was able to get in a taxi." That was the last time he saw Dilon.
No one saw Dilon for eleven days after he was grabbed. They knew that he'd been taken away in that red pick-up, but they weren't sure where he was. They later found out that he was first taken to the Departmental Seat of the Sandinista Front in Matagalpa. There, he was beaten and interrogated. Afterwards, they took him to the Matagalpa police station where he was also beaten, his mother says, and at night on June 21 he was taken to the cells of the feared El Chipote jail in Managua.
For that day forward, his mother took up a spot outside the jail. They told her that he was there, but they wouldn't let her see him. He wasn't presented in the Plaza El Sol police headquarters like the other political prisoners. It wasn't until July 9th, when he was taken to the courtroom, that Eimy could see her son. At that moment, she found out about the tortures he had been subjected to.
"He told me that he was all beaten up, and that's why they wouldn't show him to the public, until a doctor arrived and massaged him so that the bruises would go away. He told me that for some five days he couldn't even move, because they'd beaten him all over his body," his mother related.
As Dilon described to his mother, he was in several different cells in El Chipote. The took him to one cell where there was water up to his knees, later to another, where they hung him by his arms and beat him. Then, he was in another cell where the air only entered through six holes. He further affirms that they subjected him to electric shocks on his testicles and that they beat him around the ears so badly that to this date he can no longer hear with his right ear.
During the first five days that Dilon was in El Chipote, he was so isolated that he didn't know that his mother had been outside waiting for him for days. He felt sad, in pain from the torture, but he hadn't cried. It wasn't until they brought him a plate of food, and when he finished he saw the words written at the bottom of the plate, "I love you, son," that he immediately began to cry. Between sobs and weak as he was, he shouted: "My mother is here!"
Left deaf by the torture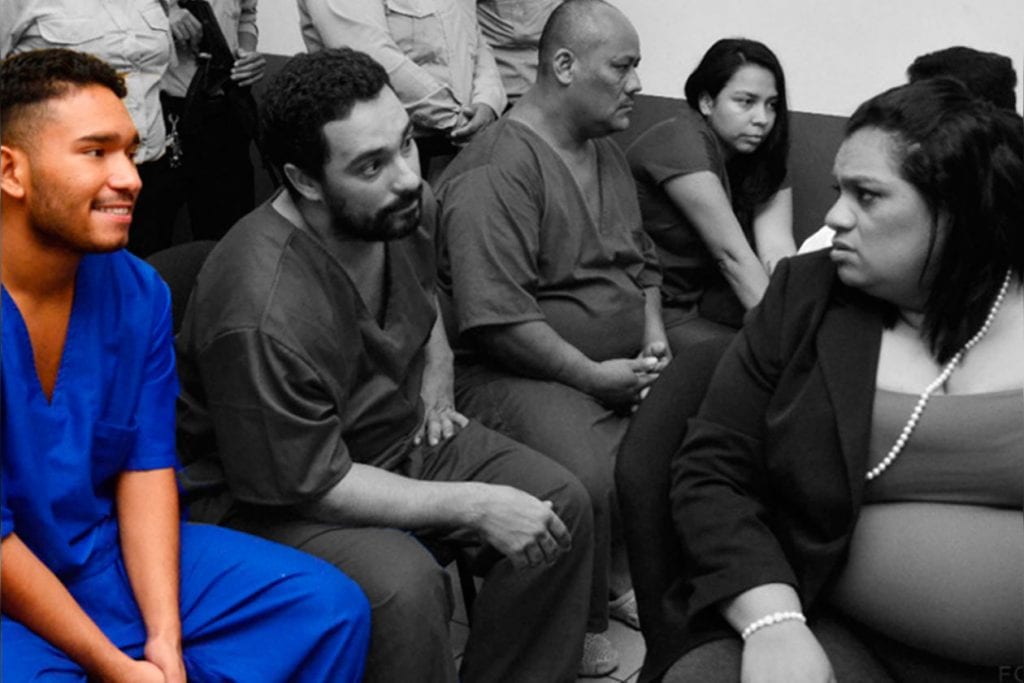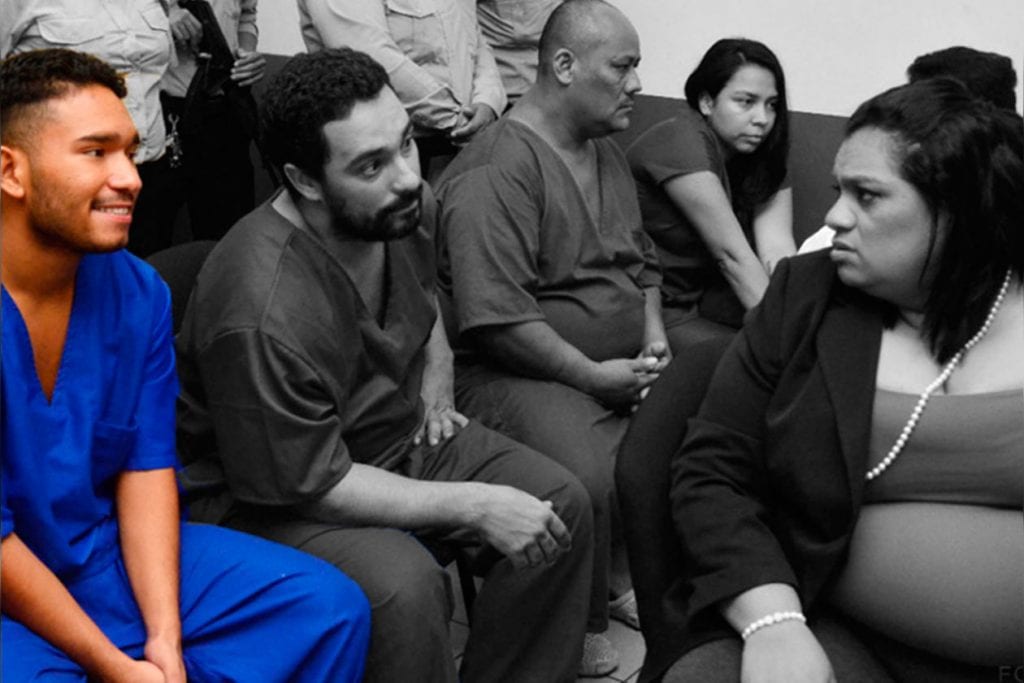 A month after being captured, Dilon was transferred to the jail known as La Modelo. His condition has improved there because he's no longer receiving torture as before. But now, after five months in prison under poor conditions, his health has deteriorated.
"I found out about his first seizures from the kids who were leaving to attend their court hearings. They passed the word: 'Dilon's in really bad shape, let his Mom know.' From that moment on, the lawyer began to submit the notifications, but the penitentiary administration wouldn't obey them. So, I medicated him myself, On November 13, when I had a visit, he told me that he hadn't had any more seizures," Eimy states.
Some of the political prisoners who are in Gallery 16 with Dilon have been punished for helping him. Roberto Cruz, who's also from Matagalpa, was taken to a cell in maximum security because he raised a fuss to have the penal authorities provide Dilon with medical attention.
Eimy Ramos says that she has no trust in the Nicaraguan justice system. Dilon is being accused of terrorism and for stripping Sandinista militants naked and painting them in blue and white. But the trial has been put off on several occasions and none of the witnesses they're using against him has presented any identification. As Ramos has ascertained, one of those witnesses even appears on social media in an army uniform and with weapons.
Each time he sees her during her visits to the jail, Dilon asks his mother how the struggle in the streets is going. She tries to appear strong for him, and tells him that he'll soon get out of prison. "Maybe not right now, but soon," she repeats to him. Other political prisoners tell Eimy that Dilon always recalls the fortitude that she's displayed in fighting cancer, since she survived the same kind of cancer that years before had killed his grandmother.
"If cancer couldn't defeat my mother," Dilon says, "I'm not going to let these bastards defeat me."
For our readers who understand Spanish: