Dozens Charged in Venezuela over the Maduro Drone Attack
By Nestor Rojas Mavares (dpa)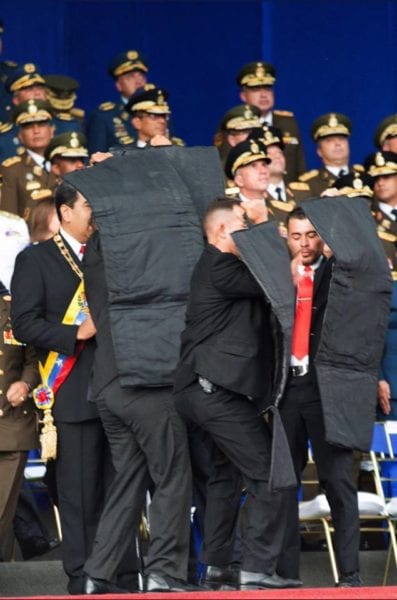 HAVANA TIMES – Venezuelan opposition legislator Juan Requesens and two top military officials were arrested and charged with treason after president, Nicolas Maduro, accused them of being involved in the alleged attempt on his life, chief prosecutor Tarek William Saab announced on Tuesday.
Colonel Pedro Zambrano and General Alejandro Pérez were among those who were brought before the courts, both of whom form part of the National Police (militarized police force), Saab stated.
Six of the accused were arrested on the spot. Those arrested military officials were also accused of collusion, treason, attempted homicide.
Saab also pointed out that, in addition to treason, Requesens had been charged with terrorism, organized crime, public incitement and the unlawful possession of firearms and ammunition.
He added that a military court will investigate the motives of Colonel Zambrano and General Perez Gamez, both of whom are active officials. Up until last week, the latter was the National Guard's Head of Services to maintain public order, according to this institution's website.
Perez Gamez has been charged with leaking confidential information about the time and place of a military event that took place on Saturday August 4th along the downtown Bolivar avenue, where the alleged assassination attempt against Maduro with explosive-charged drones took place.
Meanwhile, Zambrano had been charged at the beginning of the year with leading a military revolt, due to his alleged involvement in the attack on a military stronghold in the interior Carabobo region, last year.
Saab pointed out that the Attorney General's Office had requested an order against Requesens to stop him from selling or transferring his assets and to freeze his bank accounts, which will also be applied to his colleague Julio Borges.
Borges, who is currently in Colombia, was charged by the Government of being the mastermind behind the alleged assassination attempt 11 days ago and a request has also been made for his extradition.
Saab also said that an order had been issued to stop Venezuelan Osman Delgado Tabosky, charged with being the leader and financial backer of the conspiracy who currently lives in Miami, from selling or transferring his assets in Venezuela, while his accounts will also be frozen.
"Today, we can say that the number of those involved reaches 34, but it can still increase. We have 14 men arrested who have already been charged by the Public Ministry," he said during a press conference. "Several of those involved are currently abroad; some in Colombia, others in the United States," he added.
With regard to Requesens case, Saab has claimed that due process of the law was ensured. His immunity was lifted by the Constituent Assembly, dominated by Chavism supporters who have plenipotentiary powers, which the National Assembly (Congress) considers to be an illegitimate organization.
Requesens was arrested last Tuesday at his home, which his legislator colleagues reported as a forced disappearance, and on Friday, the Government made a public statement which mentioned Borges and the smuggling of one of the plotters to Colombia.
After the Government disseminated this testimony, another video was widely shared in which the former university leader appeared in his underwear which was stained with what seemed to be excrement, during an alleged medical check-up at the police station. His family questioned the official statement and said that Requesens seemed to have been threatened and drugged.
Saab condemned the second video of the legislator and said that an investigation would be carried out. He also announced that a drug test and medical and psychologic exam will be requested for the defendant.
Meanwhile, the opposition majority at the National Assembly approved an agreement today which denounces the violation of Requesen's human rights and the fact that he was subjected to cruel and inhumane treatment.
During the session, legislator Gilber Caro (who served two years in prison after being accused of leading a military revolt) held a protest in the chambers, where he stripped down to his underwear in an unusual display of solidarity with Requesens.
"Our dignity doesn't lie in our clothes, but in our hearts," he said from the speaker's box.
At the same time, lawyer and legislator Oscar Ronderos claimed that Requesens had made his statement under the effects of some substance which the police had apparently given him.
"Publishing the video (of his statements) makes it clear that the Government isn't interested in carrying out a serious investigation (of the case)," he pointed out.