Faces of Political Prisoners: Samuel Pupo Martinez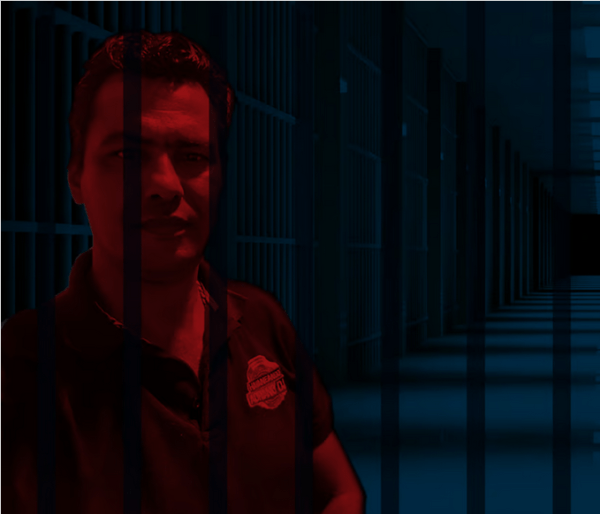 HAVANA TIMES – On July 11, 2021, Samuel Pupo Martinez stood on top of an overturned car in Cardenas, Matanzas, and shouted: "Down with Communism! Patria y Vida! " (Homeland and Life). The image became an iconic representation of the 11J Protests and the Cuban Government couldn't let him get away with it.
He was arrested that very same day on July 11th. He was initially sentenced to seven years in prison, charged with "contempt" and "public disorder".
The trial lasted three days and despite his lawyer's defense, the Public Prosecutor's Office asked for the maximum penalty, his wife Yuneisy Santana declared.
"Witnesses in the trial all belonged to the Ministry of Interior (MININT) and their testimonies were incoherent," Yuneisy said. The sentence was later reduced to three years in prison after an appeal was made.
Samuel Pupo Martinez, 48 years old, is a Math and I.T. graduate and was a Math teacher. He was working as a freelance English teacher, at the time of his arrest. Since 2011, he's been suffering scleroderma or systemic sclerosis, a degenerative disease where the immune system attacks healthy tissue by mistake.
His fragile health condition means he gets sharp pain all over his body and his organs and blood circulation are affected. His joints barely work and it's almost impossible for him to look after himself. As a result of this disease, he also suffers glaucoma, diabetes, high blood pressure and constipation.
The family imagined that his case would be given some kind of special consideration because of his serious health condition. However, the reality was different. The three-year prison sentence remains intact, and he has been denied a transfer to an open prison.
Yuneisy's struggle for her husband's freedom
After the arrest, Yuneisy Santana didn't see Samuel for 103 days. She was told at the local police station that they didn't know anything, despite her explaining that he was sick and needed his medicines.
Nine days after his arrest, Samuel was able to make his first phone call to his family. According to Yuneisy's account, he was taken in a patrol car to the police station and he was slapped in the face while handcuffed, forcing him to shout "Patria o muerte!" (Homeland or death!).
He was transferred to another Ministry of Interior department outside the city, where "a black beret strangled him by the neck so hard he fainted. In the early morning, he was taken to the Labiotec women's prison (Matanzas), where he slept for 40 days on a zinc sheet without a mattress, with very little food and water," Yuneisy stated.
The prisoner's wife has also complained about the poor quality of food Samuel gets in prison. "Food in prison is disgusting and there isn't much. They serve prisoners from in a bucket and sometimes, there isn't enough for everyone. One day, he only managed to get a boiled egg."
Santana was a teacher for years at a Polytechnic School, but she was forced to leave her job because of her relationship with Samuel Pupo Martinez. "You must be trustworthy to teach, and if you stay with your husband, you're not. If you stay with him, it's because you think the same," the director of the school told her.
In order to maintain herself and her son, Yuneisy began to clean homes and sold many appliances and clothes. Every month, she travels 70 kilometers to visit her husband at the Aguica prison, Matanzas, and to take him the medicines he needs, which she buys "on the illicit market", because of widespread medicine shortages.
According to her, the situation is very traumatic for her 13 year old son, Hugh, as "he knows what hate is already and doesn't want to know anything about Communism." He sees how his father's health is getting worse with every visit. "They've always been very close, and this separation has affected him a lot," she says. The mother laments that Hugh doesn't laugh or play like he used to, and that he spends all day worried and checking on her, afraid that she'll also be taken prisoner.
On September 14, 2022, the Child Assistance Office summoned Yuneisy and Hugh. The woman is accusing the Cuban authorities of constantly harassing her, of destroying her family and her son's childhood (who MININT are following at school), and of stealing time from Samuel's life.
In late 2022, she presented a request for the conditional release of her husband and on January 27, 2023, she filed a criminal complaint with the People's Municipal Court in Cardenas, Matanzas, because of the authorities' lack of response to the appeal for parole.
In a subpoena that was issued by State Security, she was told that her husband would remain in prison because of her own complaints and activism. Samuel confirmed the existence of this threat in conversations with his wife, telling her that the prison authorities had told him that they would have granted him parole if Yuneisy "sit still."
Nevertheless, she has gone ahead with her complaint and in April 2023, appealed the rejection of parole for her husband, which had been justified with a supposed act of indiscipline committed by Samuel when he demanded medical attention. In Yuneisy's words, the indiscipline report states that the prisoner of conscience "requested medical assistance; he began to shout from his cell because they didn't come to see him and he had chest pain." In the appeal, she argued that she disagreed with the reason for deferring parole, because Samuel's complaint for medical care "isn't an indiscipline, it's a right."
Complaints and reports against injustice
On October 27, 2022, the NGO Cubalex – dedicated to reporting human rights violations in Cuba and providing free legal counsel to anyone who needs it on the island – warned about MININT's Child Assistance Department keeping tabs on Hugh, and condemned the threats made to Yuneisy that they would take custody of the boy away from her.
"We denounce the harassment of 13-year-old boy Hugh Dieter Pupo, son of 11J prisoner Samuel Pupo. Despite having a good attitude, the child is being monitored by the Child Assistance Department. His mother has been threatened with having custody of her child taken away from her because of her complaints," the NGO, noted Cubalex.
In November 2022, the Cuban Observatory for Human Rights reported that Samuel Pupo Martinez had been beaten by the second in command at Aguica prison, after asking his jailers to let him have family visits again. The teacher said he didn't defend himself during this attack.
His wife Yuneisy forms part of the group of 50 families of Cuban political prisoners that asked the president of European Parliament, Roberta Metsola, to demand the Cuban Government to comply with resolultions approved by the European Parliament; and that the European Commission use the Political Dialogue and Cooperation Agreement to request every prisoner of conscience in Cuba be released.
"At the beginning of February, Cardinal Beniamino Stella expressed Pope Francis' wish that our family members be released and for them to come home. Months have passed and the authorities haven't done this, maybe because of their own political calculations. But while the Cuban Government is playing its chess and other political actors – democratic or not – continue or are expanding their interests on the island, our families are languishing in Cuban prisons, many of them sick and without any hope of being released or receiving a fair trial," part of the letter reads.l
Signees recall that Cuba is the country in the Western Hemisphere with the highest number of political prisoners in their prisons, 1052 according to statistics from Prisoners Defenders by the end of September 2023. This fact should be a cause for concern for democracies. They also warn about the quality of life of inmates – especially the prisoners of conscience -, the hunger, lack of medical care and diseases they suffer; intimidation from ordinary prisoners; the beatings and extreme punishments, including threats, blackmail and pressure on their families; as well as sabotaging obligatory visits.