Fears in Cuba about Currency Unification
Getting rid of the country's dual currency and different exchange rates won't be the magic solution to all of Cuba's built-up financial problems.
By Ivet Gonzalez (IPS Cuba)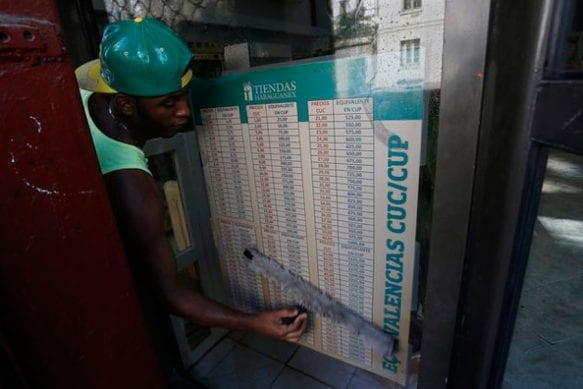 HAVANA TIMES — The days these two currencies lie next to each other in any Cuban's pocket are numbered. Currency unification is one of the government's top priorities for this year, perhaps the most complex policy it needs to tackle within the economic reforms process which began in 2008.
While experts say a single currency is "urgent" in order for the Cuban economy to kick off (as has been much-anticipated and avoided until now), the people IPS spoke to are asking themselves how this process will be carried out and what its impact will be on society, especially on more vulnerable segments of the population, such as pensioners.
"The impact of this policy, depending on how it is laid out, will be well or poorly received," industrial engineer Maricelys Martinez said, who works for a state-run company in Cienfuegos.
The Convertible peso (CUC, a hard currency equivalent to the dollar) was introduced as a temporary solution to the profound crisis that began in 1991, the effects of which we are still experiencing, and has been circulating since then with our devalued Cuban peso (CUP).
Different exchange rates between the two currencies vary from 1:1 to 1 CUC: 25 CUP.
Ordinary citizens can buy a CUC at banks and bureaus de change for a fixed rate of 25 CUP or get 24 CUP if they are selling their CUCs. There are several other rates that exist within the state-led business sector.
And so, the end of the dual currency system in every nook and cranny of Cuban life is on the horizon.
"Everyone is uncertain about this situation, even more so when there are more and more shortages of basic food products," Martinez said. "Many households feel at risk given the increase in prices, which directly impact on old people, single mothers, etc," she added.
The professional believes that currency unification "isn't a pressing subject or something that is crucial while there isn't any financial stability." Nevertheless, she concluded that she had faith in the fact that the government "will take all the necessary measures in order for this to impact the people the least they possibly can, to benefit everyone equally."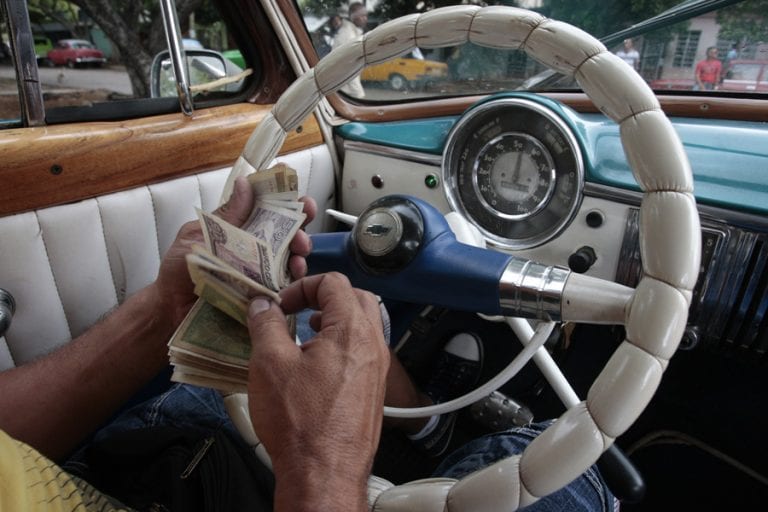 The spotlight on the end of the dual currency system came on December 21st, when Cuban president Raul Castro said, during the last parliamentary session in 2017: "I must admit that this issue has taken us too much time and its solution can't be delayed any longer."
"Even though getting rid of the country's dual currency and different exchange rates won't be the magic solution to all of Cuba's built-up financial problems, it is the most decisive process in making progress with the financial reforms process," the leader stated, without giving any details about how it would be implemented.
In fact, going beyond the "urgency" economists give this policy, it's still unknown whether Castro will fix this critical issue before he leaves the presidency in April, as he himself has repeatedly said at different public events, on the 10th anniversary of his time in power.
After his speech in front of Parliament, it emerged that a team of over 100 experts are working to end the dual currency system that exists with different exchange rates, which has created serious distortions in the Cuban economy and, worse yet, prevents transparency in business account books, national accounts and the State budget.
Even the European Union, which has reestablished its ties with Cuba after the EU-Cuba Political Dialogue and Cooperation Agreement was put into effect (signed in 2016), has offered the Cuban government help in this regard, given the fact that the bloc carried out the greatest currency conversion in the history of the world which led to the Euro being used in its 28 member states.
"My biggest concerns have to do with its impact on Cuban society," a retired chemical engineer from the capital said. "I believe that it will affect the poorest sector of our population, especially pensioners like myself," the woman reckoned who asked to remain anonymous.
"The Cuban people think that unification will favor those who work for the State, who are professionals, technicians or employees, in particular," playwright Ulises Rodriguez said, who lives in Matanzas, 87 km to the east of Havana. "Work needs to be valued and the quality of life of every citizen needs to be improved," he stated.
According to pensioner Rolando Lopez, other measures need to be taken to reach the final objective, which is "a reasonable adjustment between incomes, prices and profits."
Each of the Cubans who gave their opinion spoke about the social inequality that this double currency implies.
CUC are in the hands of those who receive remittances from abroad, have jobs in foreign companies and in the private sector. While CUP is the currency the State pays in, the main employer, who gives an average monthly salary of not even 30 dollars per month (and many under 20).
Researchers are seeing an "increase in poverty and inequality", which is being accentuated in historically disadvantaged groups such as women, non-white people, the elderly and the population of the country's eastern provinces, with lower levels of development.
They also point out that the Gini coefficient (a measure of income inequality where 0 is perfect equality and 1 absolute inequality), in Cuba, it was 0.24 in 1984 but has since gone up to 0.40 in 2013, using the few available and public statistics we have.
"The policy's social impact might not come so much to do with returning to one single currency (CUP), but with unifying exchange rates that will be followed by a devaluation of the CUP," explained Cuban economist Pedro Monreal, who currently lives in Jamaica and is the author of the "El Estado como tal" blog, about Cuba's economy.
Monreal explained that, "when the end of today's fairytale exchange rate for the government where 1 CUP is the equivalent of a USD, the value of every imported product will automatically go up in Cuban pesos," in a country which imports up to 70% of the food its 11.2 million inhabitants consume.
"This is a potential danger," he highlighted, that's why, "you can't really know what's going to happen."
"There are compensation mechanisms which will depend on a combination of political will and the availability of resources to intervene in the market and be able to contain the increase in prices," he added.
"The political priority that the Cuban government to maintain social wellbeing is clear," he said. "However, with regard to the means they have at their disposal, there is less clarity and experts disagree," he warned and mentioned alternatives such as subsidies and hard-currency income redistribution.
Cuba has been facing a tough financial situation since 2016, when financial crisis hit Venezuela, its main trade partner and supplier of oil at preferential rates, as well as national problems such as low productivity and losses that Hurricane Irma provoked in September 2017.
On October 22, 2013, the government announced the beginning of a timeline in order to carry out currency and exchange rate unification, which was never given a specific deadline.