Foreign Journalists Threatened, Beaten & Deported in Ortega's Nicaragua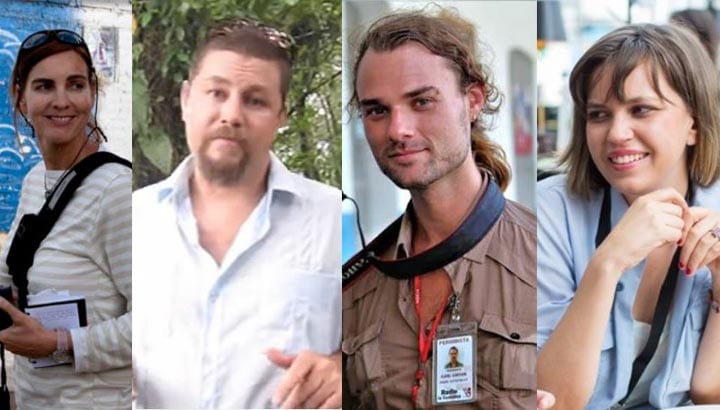 Tim Rogers was threatened. Sandra Weiss had her equipment stolen. Emilia Mello and Carl David Goette were deported. Foreign journalists who have suffered government repression.
By Julio Estrada Galo (from laprensa.com.ni)
HAVANA TIMES – Tim Rogers was threatened. Sandra Weiss had her equipment stolen. Emilia Mello was deported. Ortega's regime has targeted and attacked foreign journalists in the country on many occasions. The most recent case involved an Austrian-US documentary filmmaker who was deported on Monday for allegedly "spreading false information".
During the crisis, at least five have fallen victim to government repression. However, this isn't a new form of repression for Ortega's government, it is a long-standing practice which began when Daniel Ortega came into office in 2007. This is a recounting of the most recent foreign journalists' cases.
Tim Rogers leaves Nicaragua after receiving threats
On April 27th, US journalist Tim Rogers left Nicaragua after receiving threats on social media from Sandinista Youth (JS) members who marked him as a member of the US Central Intelligence Agency (CIA).
Sent by Fusion media to cover the anti-government protests, Rogers was the first foreign journalist to leave the country during the current crisis. On one occasion, JS members followed Rogers to the hotel he was staying at. "They told me that it was a government campaign and that my life was at risk and that it would be best for me to leave (Nicaragua)," the journalist said at the time.
Journalist Sandra Weiss has her equipment stolen
German journalist Sandra Weiss, a correspondent for the Swiss newspaper Neue Zürcher Zeitung, was robbed by a group of Ortega's paramilitaries in Chinandega and found herself forced to leave the country.
Weiss was attacked on August 9th while carrying out an investigation into the case of a group of land grabbers who had invaded a property in Chinandega.
Weiss, who lives in Mexico, spoke of the horrors she was forced to endure in early August at the hands of paramilitaries loyal to Daniel Ortega.
The land grabbers shot into the air to scare the journalist and held her hostage for over two hours. They stole and used Weiss's credit card and ran up US $2,000 in fuel purchases at a gas station linked to the Ortega-Murillo family dictatorship. They also stole another $4,000 worth of equipment and accessories.
Brazilian-US documentary filmmaker Emilia Mello was deported
The documentary filmmaker of Brazilian origin, Emilia Mello, who came to Nicaragua to document the protests taking place in the country, was arrested in Carazo on Saturday August 25th when she was on her way to a protest in Granada.
Mello was arrested along a group of university leaders who were later released. However, the Brazilian didn't share their fate and the authorities sent her to the General Directorate of Migration (DGME) to be deported to El Salvador.
At that time, Paulo Abrao, the executive secretary of the Inter-American Commission on Human Rights (IACHR), said that the documentary filmmaker had reported that "she suffered a long interrogation and psychological abuse at the hands of Nicaraguan authorities" at Managua Airport.
Documentary filmmaker deported for spreading "false information"
The most recent case is that of documentary filmmaker, Carl David Goette-Luciak. He was arrested by Ortega's National Police on Monday morning in Managua. Hours later, he was taken almost naked to Augusto C. Sandino airport where he was deported to El Salvador.
The documentary filmmaker is being accused of spreading "false information", for covering protests in Nicaragua and is being linked to the CIA. Before being deported, Luciak was threatened with torture if he didn't give the authorities his phone password.
Mexican journalist has equipment confiscated
On April 24th, Nicaraguan Customs confiscated a drone from Victor Gonzalez, the official voice of Badabun, a platform that creates content worldwide.
Gonzalez traveled to Nicaragua to document police attacks against protestors, but when he arrived at Managua airport, Customs officials seized his equipment. Gonzalez never got his drone back.