Frank Delgado, Sometimes Pressured, Sometimes Tolerated
On the Musical Bridge from Cuba (*)
By Osmel Almaguer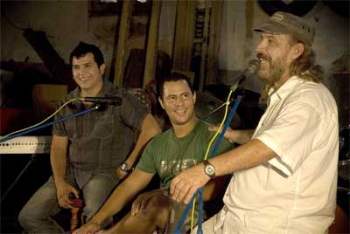 HAVANA TIMES, March 8 — This Cuban singer-songwriter, a native of the country town of Mines de Matahambre in Pinar del Rio province, belongs to the Nueva Trova movement.  It is here that he shares a space with others of his generation, artists such as Santiago Feliu, Carlos Varela and Gerardo Alfonso.
His music has been traveling through Cuba and the world, frequently in an informal fashion or what many call "mouth to mouth."  His songs, though dealing with a great number of issues, reiterate critiques of the daily problems of the country and those of the average Cuban.  This musician has himself affirmed, "I don't know how a country is made but I do know how it's not."
Delgado has performed in more than two hundred cities in nations of Africa, Europe and Latin America.  He has shared the stage with Silvio Rodriguez, Luis Eduardo Aute, Daniel Viglietti, Juan Carlos Baglietto, Fito Paez and a host of Cuban colleagues of his generation.
Among his followers are several generations of Cubans, not only for his songs that are pleasing to the ear, but for his intelligent compositions and because he is — as he says — a "committed singer."
The positions of institutions toward this interesting phenomenon of Cuban music have gone through different phases, from putting pressure on him in his live performances, to successive stages of indifference and scant promotion, and more recently to where he has been tolerated to a greater extent.
Frank has several CDs, among which we can highlight Trova–Tur (1995), La Habana esta de bal (1998), El adivino (2001) and Mi mapa (2004).  Recently he recorded his album Los Extremistas Nobles.    
Trova–tur
CD Trova–tur
I was a trova-tur in Havana / a philanthropist of the trash cans / and I spent the nights and the dawn there, in the blackness / singing only for foreigners.  / The coins they paid me / didn't fit in any purse / that's why when they search me, baby / they couldn't find the money on me. / I was a tropical virus, / Latin-lover communist / involved with the revolution / and with its points of view.  / a mixture of Eusebio Leal / and a minister without portfolio.  / I myself would quote everything from Karl Marx / to Madame Lydia Cabrera.  I took them to the Malecon / and I showed them very seriously / where Columbus disembarked / along with Rodrigo de Triana.  / And where Hemingway stepped / on wooden pavers / and to top it all off I sang in A major / "Guajira Guantanamera." / And speaking Portuguese / I passed as a Brazilian / but I was surprised in a hotel / when I imitated someone from Buenos Aires.  / They turned me around, / they put me on the list / and they told me: if you want to disappear, / act like a tourist again.  / And God that is the unconsciousness of my soul / he punished me for being a good-for-nothing / and one day in October amid the wind, baby, I married a Cuban.
Trova-tur relates to us the incidents of a trova musician in Cuba at the end of the 1980s and the beginning of the '90s, during the Special Period crisis and the increase in tourism – conditions that kept many Cubans from engaging in a well-known activity, and instead pursuing what they would call, "jineterismo" (hustling).
But in main sense of this story, which could easily be autobiographical, the intellectual man and the mundane one unite in an interesting mixture of adaptation to conditions.  This is a good blend of how we usually react in situations of limitations.  The same trova musician who sang in small sessions and gatherings at the beginning of the '80s now united with turn-of-the-century pragmatism that seemed to completely cover the planet after the collapse of the socialist camp.
Being a trova-tur implied becoming a kind of bohemian; smiling and trying to please at all cost in order to win necessary crumbs from tourists.  To be a jinetero, however, one had to be "involved in everything."
It turned out very strange, even to the trova-tur, to feel like kind of a parasite in a country that was still dominated by a certain rigid socialist morality, which he also took advantage of…often evading the authorities.
"It mattered little whether you did or didn't know the history of Cuba in depth," as he said in a fragment of his lyrics: "I took them to the Malecon / and I showed them very seriously / where Columbus disembarked / along with Rodrigo de Triana.  / And where Hemingway stepped / on wooden pavers / and to top it all off I sang in A major / "Guajira Guantanamera."
Nonsense continued producing dividends for him because the new times had arrived of "every man for himself" and "the survival of the fittest." Seriousness and professional rigor no longer mattered.
The song concludes with a sense of irony that, looked at from the surface, could appear to be a joke, or only filler added to conclude sympathetically with a picaresque characteristic of Cuban composers.  However, not forgetting that this last passage makes reference to that preference commonly felt by Cubans for ourselves, we end up feeling ourselves to be — like some say — "the navel of the world."
– – – – –

(*) A Musical Bridge from Cuba: This is an effort to find new bridges that promote communication between peoples of the diverse regions of the planet.  I will be using simple narration in a series of articles to connect with those who are interested in the messages transmitted by Cuban songs, which due to their limited commercial potential and the difficulties posed by their translation, languish in a state of communicational stagnation – despite their being true jewels of Cuban culture.