French Tourists in Havana
Vicente Morin Aguado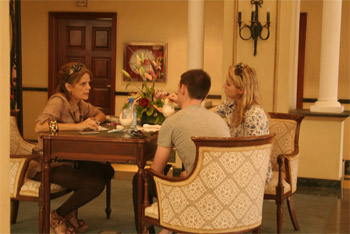 HAVANA TIMES — There are several typical routes for tourists who like to walk around Havana, which is something I find pleasing.
If I had that same opportunity to be able to travel to another country, I'd never accept being locked in a refrigerated vehicle – peering through glass at the landscape and the people around me.
One of those routes is the one that leads from Old Havana to Revolution Square.
One summer evening began with the tedious humid heat that makes many people here call those times "when dogs don't obey their masters."
Nonetheless, I had to carry out my obligations. I was walking to the provincial bus station and found myself heading along the emblematically Cuban promenade of Paseo del Prado, which is near what was once the walled part of the city.
Along this route that is customarily taken by tourists, there aren't any serious obstacles for them, other than the streets having two names (a pre-revolutionary and a post-revolutionary designation), in addition to many blocks lacking the proper signage.
In my slow walk, a turned off of Paseo del Prado (officially "Jose Marti") onto Reina Street (officially "Simon Bolivar").
I stopped at the Computer Center (an initiative of our "maximum leader" for providing free computer services to Cubans – except for the Internet) when a married couple came up to me.
With their first question I could tell they were French speakers.
Though they seemed very distrustful, I pointed out the beaten path to Revolution Square. I did this trying to show that I was completely disinterested, since I know the French character, which is very independent, besides believing they know everything or learn it from an initial conversation.
Since I was going that same way, we all walked together to different destinations not far from each other.
When faced with the inconsistency between my information and their Guide de Routard (a French tour book), I had to explain to them about the streets here having two names.
The first case was when Reina St. turns into Carlos III, whose revolutionary-era name is "Salvador Allende."
At that point, just as they had begun speaking with a little more trust in me, a camello (a "camel") started coming toward us a full speed.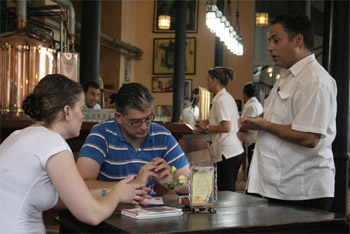 For those who are familiar with the Cuba of a decade ago, there's no surprise in mentioning a "camel" in Havana. If you've never been here, you should know that hundreds of "camels" used to circulate throughout Havana, crowded with passengers. These were Mack (International) trucks with locally manufactured double humped trailers for hauling passengers – a Cuban invention to serve our urban metro system that was never really built.
My accidental companions then separated. While the woman asked me about this antediluvian mode of transport, the man — camera in hand — advanced a few yards to take of picture of it.
This was when the problem arose! A big, young and thin guy had been lying in wait for his chance to snatch the camera from the Frenchman and run away at full speed.
When this happened, I — over 40 — took off after the man, more out of a sense of honor than with any actual hope up catching up with the guy. Lucky, I got help from both a man on his bicycle-taxi and the driver of a car, who expertly hit the gas and navigated through those side streets.
Though the younger man had a distinct advantage, when he realized he was being pursued, he dropped the camera and disappeared from sight.
We immediately found the exact spot of the camcorder and we stopped there, panting and waiting for the Frenchman. Like a fool, the man was still back at the bus stop yelling for the police (who never appeared), while I returned the stolen property.
We went to a phone, called the tour agency representative who was responsible for their visit to Cuba, and a few minutes later I was going with them as a witness to the police unit that specializes in matters concerning tourists.
When they finally attended to us and found that the device had been recovered, the officer told us that there was nothing more to do. At the insistence of the foreigners, though, we all left written statements of facts, giving the location and other details…though the police officer seemed more concerned that I had been hanging around with some tourists.
Nonetheless, the tour agency rep asked me to stay with the French couple until the end of their trip that day, and he kindly gave us a ride back to Revolution Square in a late model car.
It was too late for my planned activities for that day, so I thought of trying to wind up the eventful day with a happy ending.
I chatted with them for a while, discussing Jose Marti (nothing about Camilo, Fidel or Che), until the French were obviously getting tired and decided to return to their hotel. Sometime after 6:00 in the evening we said goodbye at the Seville Hotel.
The postcard they sent me with the picture of the Champs Elysees must still light up a dark corner of some drawer, while the pens they left were expeditiously used up, divided up between my family members.
What will always be unforgettable to me, though, were their trusting eyes, as they both said "merci beaucoup," almost in unison.
—–
Vicente Morín Aguado: [email protected]