Fuel Shortages in Cuba Highlight its Energy Debt
By Ivett Gonzalez (IPS-Cuba)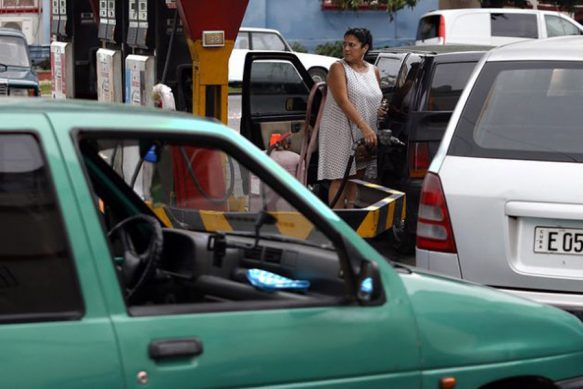 HAVANA TIMES – Long lines of up to 50 cars outside the few gas stations that have fuel and hundreds of people waiting at bus stops for hours, became a reality for Cuban people in the second week of September, as a result of some fuel shortages.
"It was taking us two hours and a half to get to work and take the girls to school, each way… transport is really complicated right now," a teacher and resident living in Havana's Cerro neighborhood told IPS about the time it now takes to make the regular journey which is only three stops on a bus, just 8 kms.
Government measures imposed during this tough time include cuts in public transport services, suspended classes at some universities and workdays at workplaces, the paralysis of non-essential industry and the order that state-owned vehicles pick up people waiting at bus stops.
According to an announcement by president Miguel Diaz-Canel on September 11, the national energy deficit last week was due to tanker ships carrying oil to the island being blocked as a result of Donald Trump tightening down on the economic and financial embargo that the US has imposed on Cuba since 1962.
This blockade is now accompanied by additional US sanctions on Nicolas Maduro's government in Venezuela, Cuba's main oil supplier, which is making it harder and harder for Caracas to find transport services for its oil.
Even though the authorities said the most critical moment was last week (ending September 15th), energy-saving measures will continue throughout the rest of the month, especially in regard to diesel, which is the fuel in greatest shortage, in a country which only produces 40% of the fuel it needs and hasn't harnessed the full potential of renewable energy sources at all.
Cuba's high energy vulnerability and the urgency to speed up clean energy plans in the country were some of the long-term solutions that experts and citizens voiced on the Internet, the Cuban people posting photos and videos on social media about the situation in the capital and other cities and towns.
In important articles published on the blog El estado como tal, economist Pedro Monreal explained that there has been a growing trend of diesel imports and its use in electricity generation, since 2012.
In 2018, it was the main energy derivative that Cuba bought on the global market, buying 1,378,000 tons.
Laying out his recommendations, the expert supported the idea that the only immediate measure the government can apply right now is cuts in consumption and to implement efficiency measures, but he suggested that they review this and other structural problems that lead to the country's energy vulnerability.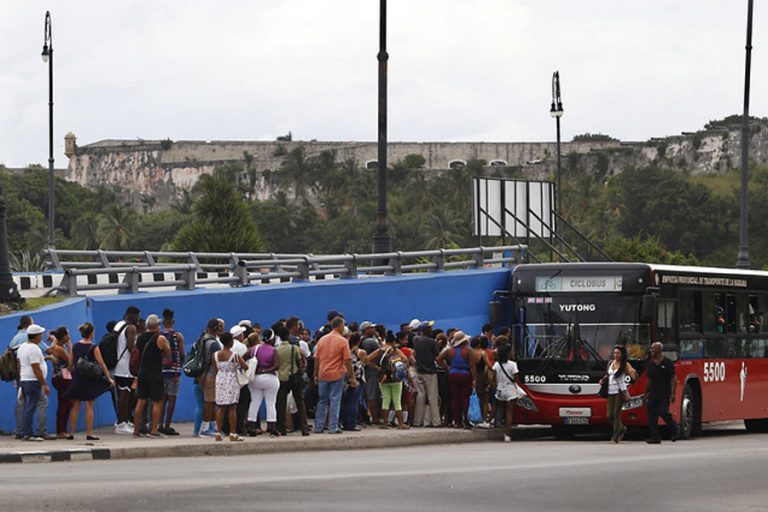 The NGO Cubasolar, which has been promoting greater use of renewable energies since 1994 and identifies them as the alternative for energy sovereignty in Cuba, sent out an email across its network stating that "saving and making organizational measures more efficient would be the most effective and immediate thing to do."
Situations like the current one revive the urgency of boosting renewable energy participation in the energy matrix of a country where every time there is an energy problem, its people fear a return to extended blackouts and almost zero transport like they lived in the early years of the crisis that began in 1991.
"It's crucial that we make headway with renewable energy," engineer Reinaldo de Armas told IPS, who runs the Amperyos cooperative, which has specialized in carrying out research building and repairing efficient electrical systems since 2014, and has included renewable energy systems since last year.
"We have the greatest renewable energy supplier all year round: the sun; and if we take this to municipalities and homes, or at least to high energy-consuming devices such as air-conditioning units and boilers, it would be really healthy for the population and the environment," the president of the Havana-based cooperative said.
Yamisel Martinez, who acts as the manager of Amperyos, explained that greater advances in clean energy depend on greater investments in this technology.
"If we don't have supplies available to buy, the cooperative's management finds itself limited in terms of providing this service and promoting renewable energy sources," she said.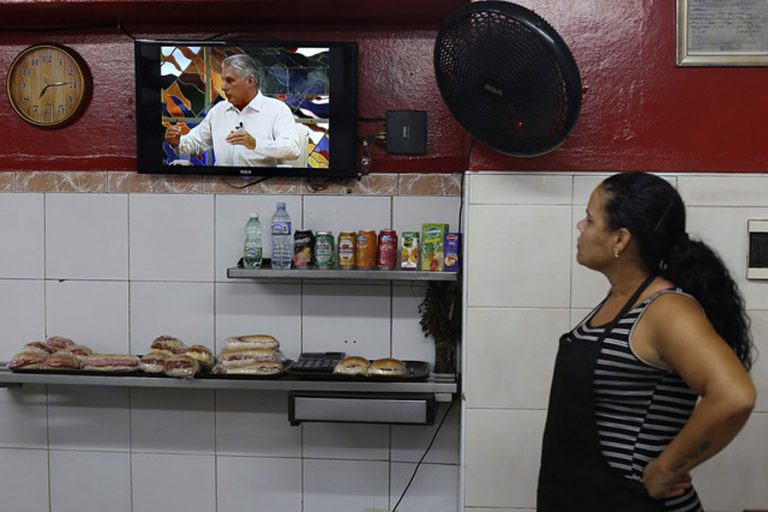 Due to the lack of these supplies, the cooperative hasn't been able to install renewable energy-based systems yet, although their most efficient designs and repairs contribute to saving electricity at hotels, bakeries, factories, labs and leisure centers, especially in the capital.
Amperyos' work and profile seems to be representative of the State's plan to increase the extremely low participation of renewable energy, 4.6% at the time the plan was approved in 2014, in national electricity generation to 24% by 2030.
However, the government needs 4 billion USD in foreign investments in order to do this.
Run by the Ministry of Energy and Mines, the program to reverse Cuba's dependency on fossil fuels within the current energy matrix also includes the core idea that technology needs to be updated so it is energy-efficient, including the sale of LED bulbs for homes and induction cookers.
Local government press have covered the advances made under this plan but say that time is still needed to reach this 24%: made up of 14% biomass, 6% wind power, 3% solar energy and hydro-electric making up the rest. Solar-energy parks take the lead with 65 currently running and 15 under construction.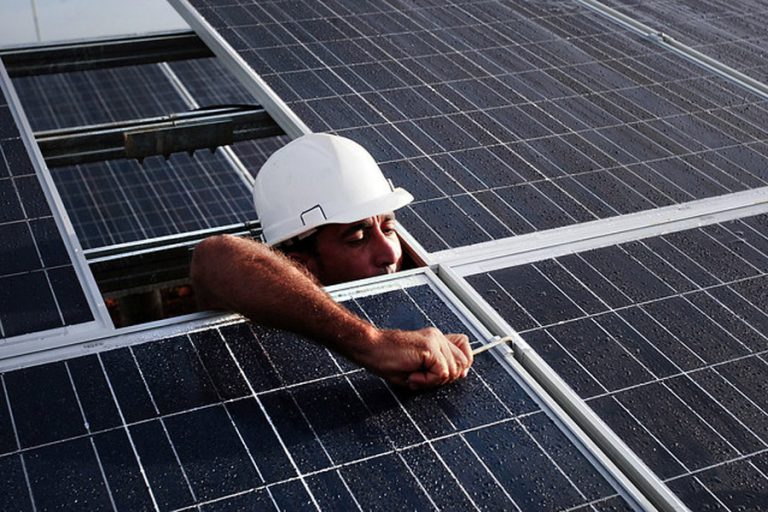 "Transport is terrible. Today, the only bus that comes from the municipal capital per day didn't come," Isis Lopez said, who lives in a rural neighborhood in the Mayabeque province, next to Havana.
"We haven't had blackouts, but we might now," this housewife told IPS in regard to the government's austerity measures.
Established as a "temporary situation", the Cuban president has been making many TV appearances since September 11th, and he said he would continue to make them alongside the Council of Ministers, in order to inform the population about the progress of the government's plan to overcome these problems, for which he blames on the United States.
Washington's hostile policy in recent weeks has focused on stopping hard-currency from reaching Cuba. Among other measures, travel authorization for recreational boats and passengers to the island were suspended, including cruise ship and yachts, as well as private planes.
On September 6th, the US government announced that bank institutions falling under US jurisdiction would no longer be allowed to process certain transfers that originate or end up outside the US, in addition to other restrictions that were announced at the beginning of the year.
According to US Secretary of the Treasury, Steven Mnuchin, these regulations attempt to put the brakes on "the Cuban government's bad behavior" for its support of "other dictatorships across the region", such as Maduro's in Venezuela.
On Friday September 12th, President Trump issued a memo in which he stipulated the extension of the Foreign Trade Law with the enemy (which has been the basis for the economic and commercial blockade against Cuba since 1962), for another year, up until September 2020.
Trump is heading in the opposite direction to the European Union, which still holds a critical stance in regard to the Venezuelan government, but has established closer ties with Havana as part of its Political Dialogue and Cooperation Agreement which was signed in 2016, with a follow-up visit of high representatives that took place in Havana on September 8th and 9th.