Gourriel Ties Cepeda on Cuban League Career Home Run List
Peter C. Bjarkman*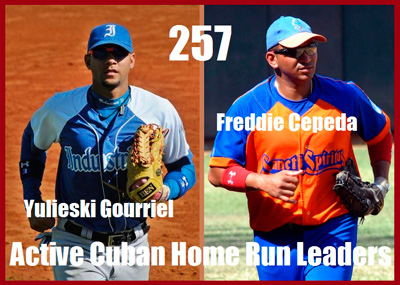 HAVANA TIMES — In only the second campaign of a novel split-season structure, the reduced eight-team Cuban League is currently witnessing one of its most nail-biting and competitive pennant chases in recent memory. Heading into this week's action only three series (nine games) remain for each club, with five teams still very much alive for the four available post-season slots and a mere five games separating the top contenders in the packed standings.
Matanzas leads the hunt with a two-game advantage over surging Pinar del Río; defending champion Villa Clara stands three contests off the mark while Industriales and Holguín remain deadlocked (five out) for the final playoff ticket. Despite its seemingly safe seat atop the pile, Victor Mesa's Matanzas club may yet still have the toughest route to travel since they are the only outfit in the hunt now forced to play all remaining series against top rival contenders.
Artemisa also still nurses rather slim hopes of earning a first-ever post-season pass (four games behind Industriales and Holguín in the loss column) and could be the true spoiler in the race with a pair of year-end series that find them hosting Villa Clara and traveling to Pinar del Río.
Havana favorite Industriales this week blew an excellent chance to climb up in the standings by dropping all three road games against arch-rival and front-runner Matanzas, including Thursday evening's 4-3 ninth-inning debacle before a packed house of nearly 20,000 in Victoria de Girón Stadium. The vital final game of that headline series culminated in a set of wild circumstances that only served to ramp up the already tense atmosphere.
With one out and the game deadlocked three-three in the home ninth, Yariel Duque ignited the partisan throng with a loud rally-opening double. Industriales skipper Lázaro Vargas next attempted to trump the unorthodox managerial style of colorful Victor Mesa by first replacing tiring hurler Michel Martínez Pozo with reliever Yohandry Portal, then calling for an intentional free pass to Yasiel Santoya. (This opening move itself was controversial since the orthodox strategy would have been to allow Martínez to issue the intentional walk, rather than requiring a newly inserted hurler to toss wide intentionally.)
The novel strategy immediately took a turn south when reliever Portal couldn't find the plate and plunked pinch hitter José Miguel Fernández to load the bases. Not done yet with over-managing, Vargas next employed a bit of "unorthodoxy" occasionally seen on big league diamonds but entirely novel for the Cuban League; he replaced left fielder Lourdes Gourriel with Juan Carlos Torriente, then moved Torriente into the crowded five-man infield (leaving only two outfielders to guard the pastures).
All the shifting and manipulation collapsed when reliever Portal (having thrown four intentional wide tosses and an errant "dead ball" on his first five attempts) still couldn't find the platter and issued yet another free pass to light-hitting Victor Victor Mesa (Junior) to force home the fateful winning tally. If Industriales indeed finds itself on the outside looking in at post-season play a dozen days from now it may very well be this ninth-inning managerial meltdown that will carry the bulk of the blame.
The Thursday evening thriller in Matanzas also became noteworthy for more positive historical developments when Yulieski Gourriel pounded out his league-leading home run number 15 during the seventh frame, a two-run blast off a delivery from Lázaro Blanco. The homer moved the former Sancti Spíritus star (now in his first season with the Blue Lions after a controversial switch in residence to the capital city) into a deadlock with former teammate Freddie Cepeda at number 16 on the all-time career list.
Ironically (under the new reinforcement plan for second-half championship play) Cepeda is now also wearing a strange uniform, having slugged his own most recent round trippers (seven to date) with Artemisa. Both former Gallos now stand 15 long balls away from moving into the top fifteen on the career list, a slot held by 1980s-1990s-era Camagüey idol Mario Leonel Moa. Moa, like Freddie Cepeda, is one of the league's few top sluggers to compile lofty numbers without ever pacing the National Series in round trippers during any single individual season.
All-Time Cuban League Career Home Run Leaders
1. Orestes Kindelán (Santiago de Cuba) 487
2. Lázaro Junco (Matanzas) 405
3. Omar Linares (Pinar del Río) 404*
4. Antoñio Muñoz (Sancti Spíritus) 370
5. Romelio Martínez (Habana) 370
6. Luis Casanova (Pinar del Río) 312
7. Gabriel Pierre (Santiago de Cuba) 306*
8. Julio Fernández (Matanzas) 302
9. Joan Carlos Pedroso (Las Tunas) 300
10. Pedro José Rodríguez (Cienfuegos) 286
11. Oscar Macias (Habana) 286
12. Antonio Pacheco (Santiago de Cuba) 284*
13. Fernándo Sánchez (Matanzas) 280
14. Victor Mesa (Villa Clara) 273*
15. Mario Leonel Moa (Camagüey) 272*
16. Yulieski Gourriel (Sancti Spíritus) 257
17. Frederich Cepeda (Sancti Spíritus) 257*
18. Yosvani Peraza (Pinar del Río) 247*
19. Lourdes Gourriel (Sancti Spíritus) 247*
20. Alejo O'Reilly (Villa Clara) 240*
Note: * indicates players never leading any individual National Series season in homers.
Active Cuban League Home Run Leaders
1. Yulieski Gourriel (Sancti Spíritus) 257
2. Frederich Cepeda (Sancti Spíritus) 257
3. Yosvani Peraza (Pinar del Río) 247
4. Alfredo Despaigne (Granma) 233
5. Reutilio Hurtado (Santiago de Cuba) 230
6. Eriel Sánchez (Santci Spíritus) 222
7. Alexander Mayeta (Industriales) 202
8. Yoelvis Fiss (Ciego de Avila) 196
Note: José Dariel Abreu stood in the number nine position on the active-player list (with 184 homers) before leaving Cuba before the start of National Series #53.
(*) Read Peter C. Bjarkman at Baseballdecuba.com