Haarlem's Two-Team "Short Season" Race
Peter C. Bjarkman*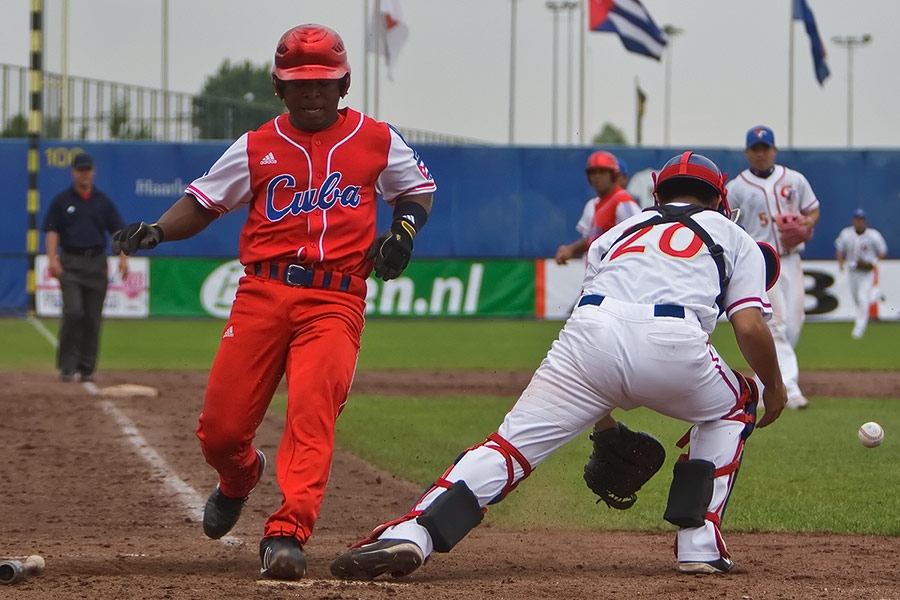 HAVANA TIMES, July 15 — In one of the more embarrassing outings of recent Cuban baseball history, German Mesa's Haarlem entry was outplayed in every aspect of the game by the Dutch national team during Tuesday night's showdown match. The final tally of 10-0 in a "knock-out rule" shortened 7-inning match represented one of the worst setbacks suffered by a Cuban squad at any level in nearly a half-century.
It was the first time in this reporter's dozen-year experience with Cuban baseball that I have witnessed the islanders wiped out by the ten-rule rule. After the sluggish Cubans fell behind 6-0 early (due mostly to ineffective starting pitching from Ciro Silvino Licea), it was clear that manager Mesa had made the decision not to use up any more of his bullpen in a game that was definitely a lost cause.  The result of that decision may well come back to haunt Mesa's squad, since the Cubans now face a steep 10-run mountain with the tie-breaking run differential rule. If both the Dutch and Cubans sweep the board between now and Sunday afternoon, a Cuban win in the rematch with Holland will leave the long-time rivals tied in the standings. But the host Dutch will reign as tournament champions, nonetheless, unless Cuba can win the finale by ten-plus tallies.
This was hardly one of the biggest setbacks of Cuban international baseball history.  Home fans and press were quick to make much of what was labeled an historic victory over the potent Cubans, yet this is a bit of an exaggeration to put it mildly.  The Dutch squad on hand in Haarlem is indeed the number one national club and—especially in terms of pitching—perhaps the most solid Dutch squad ever.  Cuba's team here is, in turn, definitely a backup squad and not the true national banner carrier. The Dutch did not defeat the likes of Yulieski Gourriel, Freddy Cepeda, Michel Enríquez, Alfredo Despaigne, Jonder Martínez and Pedro Lazo.  Far more discouraging and disappointing in recent Cuban baseball annals have been the two title losses to the Americans in World Cup play, the ouster at the hands of Japan in last year's World Baseball Classic, and even the 2008 silver medal finish in this very venue in Haarlem. Nonetheless the margin of defeat last night—if not the loss itself—was more than mildly surprising.
This tournament so far has not been at all what it originally promised to be.  Most observers in Cuba and Holland alike assumed that even a Cuban B squad would simply coast to the championship finale. Six teams were expected, not five, and the planned format included a single round-robin followed by a traditional single-elimination semifinals and finals.  Such a plan would have left the Cubans with an easy path to a championship, despite last night's collapse, since the final showdown match would have been a winner-take-all affair with no tie-breakers involved.
The revised schedule with its complete reliance on overall standings after round-robin matches now definitely favors the winners of last night's one-sided showdown.  The tournament has also now rather quickly become a two-team "horse race" with the legitimate contenders—Cuba and the host Dutch national team—the only clubs left with any practical championship aspirations.  The two Asian entries and also the Americans (all with 1-3 ledgers) have virtually no title aspirations left at the half-way mark.  It can be noted, however, that a rapidly improving Taiwan squad might yet play a role by surprising either the Cubans (Thursday) or Dutch (tonight) in their rematch meetings.
Cuba got off to a good start
For Cuba, the first several outings were on the whole impressive enough.  At least before Tuesday night, Cuban bats have truly been booming here in Haarlem, despite an absence of home run slugging.  Even after the meltdown against Dutch pitching, Cuba still owned the tournament's highest team batting average (.312) and could boast two .400-plus hitters (Mendoza at .462 and Castro at .429) and also three batsman slugging at a .300-plus clip (Duarte .375, Bell .375 and Ariel Sanchez .313). While the club has been homerless, Mendoza boasts a triple and one of the club's four two-baggers. Bell led the way with a three-for-four afternoon in the opener with Japan, Castro and Duarte each picked up three safeties versus the Americans (the latter also knocking home four runs in that second outing), and four players (Castro, Perez, Mendoza and La Rosa) all had multiple-hit outings against Taiwan pitching in Game 3.
After the whitewash opener versus Japan, next up for Mesa and company were the Americans, who proved scrappy if not overwhelmingly talented. One bad inning for starter Maikel Folch (who was lit up with four tallies in the fifth) handed the upset-minded junior college all-stars a temporary 4-2 advantage at the game's midpoint. But a nice comeback keyed by Donald Duarte's clutch two-out, two-run single in the sixth off American reliever Chuck Ghysels regained a lead that was never relinquished. Chinese Taipei also had their moments against Cuba but in the end offered little resistance. The islander's 6-run fifth-inning uprising—launched by a pair of opening doubles off the bats of Danel Castro and Eriel Sanchez—put the game well out of reach, even though Angel Peña struggled in late relief of starter Luis Borroto.
Brilliant Netherlands Pitching
The Netherlands squad under American manager Jim Stoeckel had been quite sluggish offensively in the early tournament going, despite the presence of a number of experienced international hitters.  While the Dutch pitching has been almost brilliant (0.26 ERA after five contests), the bats of such tested veterans as Kingsale (a one-time big leaguer), de Jong, Englehardt, Legito and company had produced only a .215 cumulative batting mark.  In their opener with the Chinese the top Dutch national squad was held scoreless until Englehardt unload the tournament's first long ball in the home ninth.  The orange-clad Dutch produced only 20 hits and 10 runs in their opening three matches; that run output was then matched in only six frames versus the more talented Cubans. Manager Stoeckel explained after the big win over Cuba that his team had taken some time to find a rhythm and thus to become more selective at the plate against the fairly strong pitching on tap so far here in Haarlem.
One interesting sideline to this year's event has been some controversy over the Rawlings baseballs in use for the Haarlem games.  The Dutch players have been complaining repeatedly that the spheres are exceptional "heavy" and simply do not carry even when well struck.  The fact that we have now played eight games and only one smash—Bryan Englehardt's walk-off blow for the Dutch against Chinese Taipei—has left the ballpark seems to suggest that there may well be something to this "dead ball" claim. I have spoken with several Cuban players on this issue and they claim not to have noticed any problems with the baseballs. But Bell, Eriel Sanchez, Meriño and other Cuban sluggers have lashed the ball well and yet failed so far to produce a single round tripper.  I have seen balls fly out off this same park during last year's World Cup and also the 2008 Haarlem Honkbal event, so I suspect that there may well be more in play here this summer than simply the exceptionally masterful pitching.
On the whole the tournament talent level has been certainly disappointing; a constant compliant being heard from the several dozen MLB scouts on hand here in Haarlem.  Only the host Dutch (with their top national team on hand) and fan-favorite Cubans (who have sent a solid enough Cuba B squad) seemed to take this tournament seriously this time around. University "all-star" squads from Japan and Chinese Taipei hardly seem to be the best those baseball-crazy nations could muster.  Both countries—even without tapping into their corps of professional ballplayers—sent a higher level of collegiate talent to this same event two years back.  But the biggest embarrassment remains the continued failure of USA Baseball to either support such international events or even to take IBAF international baseball at all seriously.
Low level US Team
The junior college all-star squad sent here this year is not a USA Baseball sanctioned club and hardly represents the quality of performers that should be expected from a nation which still claims the sport as its official "national pastime."  Fans here have repeatedly asked this reporter over the course of the week why the "American national team" has fallen in three contests.  This is of course anything but an American "national team" and yet that is not the perception among most fans here.  The image problem for "the American Game" is definitely a rather sad and unfortunate fallout of USA Baseball's continued provincial attitudes about the importance of the international version of the sport.  There are hundreds of MLB team caps for sale in the concession stands in Haarlem and thus at least a small cash flow headed into the coffers of MLB Productions; but there is not a single player on the field here that will ever perform under one of those caps, unless it is perhaps a future Cuban "defector" or a potential recruit from the Dutch national squad.
The disgrace of the Venezuelan "no-show" with which this year's Haarlem showcase began is a definite black mark on the Venezuelan Baseball Federation.  That the Venezuelans would not appear at a tournament they had committed to is bad enough; that they would not announce their withdrawal until well after the tournament was in progress is a far more severe blow to the integrity of IBAF-sponsored international baseball.
The official excuse from the Venezuelans was a last-minute difficulty in obtaining visas for planned travel through Puerto Rico.  This excuse rings very hollow, of course, since the Venezuelans have had more than six months to arrange their itinerary and certainly didn't have to reach Holland via a route through Puerto Rico.  The strong rumor here in Haarlem (which of course has no official verification) is that the Venezuelan delegation was holding out in hopes of forcing the Haarlem tournament committee to cover their full travel expenses (which is done only for the Cuban delegation as a long-standing tradition).  It is only hoped now that at the very least the Haarlem organizing committee and perhaps also the Dutch Baseball Federation will launch a formal protest to IBAF officials in Switzerland, requesting at least some sort of sanctions on the Venezuelan Federation—perhaps even suspension from scheduled World Cup and Pan American Games qualifying matches scheduled for Puerto Rico in early October.
Haarlem Baseball Week (as of late Sunday night) now has an entirely revamped format and schedule due to the absence of the Venezuelan ballclub.  Each club plays the other twice in what amounts to a double round-robin affair.  The order of games the second time through the schedule is altered slightly in order to provide a more attractive Cuba-USA match in the Friday night slot, although given the on-field results of the last couple of days a Cuba-Chinese Taipei encounter might have had far greater implications for the tournament title race.  The entire tournament schedule and current half-way point team standings are provided below.
Revised Haarlem Honkbalweek Tournament Schedule
Friday, July 9
USA 3, Chinese Taipei 1
Cuba 6, Japan 0
Saturday, July 10
Japan 4, USA 2
Netherlands 1, Chinese Taipei 0
Sunday, July 11
Cuba 7, USA 4
Netherlands 5, Japan 0
Monday, July 12
Cuba 9, Chinese Taipei 6
Netherlands 4, USA 1
Tuesday, July 13, 2010
Chinese Taipei  3, Japan 1
Netherlands 10, Cuba 0
Wednesday, July 14, 2010
Japan 4 vs. Cuba 2
Chinese Taipei vs. Netherlands (postponed)
Thursday, July 15, 2010
Cuba vs. Chinese Taipei (afternoon)
USA vs. Netherlands (night)
Chinese Taipei vs. Netherlands (night)
Friday, July 16, 2010
Japan vs. Chinese Taipei (afternoon)
Cuba vs. USA (night)
Saturday, July 17, 2010
Chinese Taipei vs. USA (afternoon)
Netherlands vs. Japan (night)
Sunday, July 18, 2010
Japan vs. USA (morning)
Cuba vs. Netherlands (afternoon)
*Note: This story was written and filed before Cuba's 4-2 loss to Japan on Wednesday and their 3-2 win over Chinese Taipei on Thursday.  Those games and other later developments will be discussed in the next Haarlem report.
*Peter C. Bjarkman is author of A History of Cuban Baseball, 1864-2006 (McFarland, 2007) and is widely considered a leading authority on Cuban baseball, both past and present.  He reports on Cuban League action and the Cuban national team for www.BaseballdeCuba.com and also writes a regular monthly Cuban League Report for www.ibaf.com.  He is currently completing a book on the history of the post-revolution Cuban national team.