Havana Shoppers Face Rising Food Prices
By Vicente Morin Aguado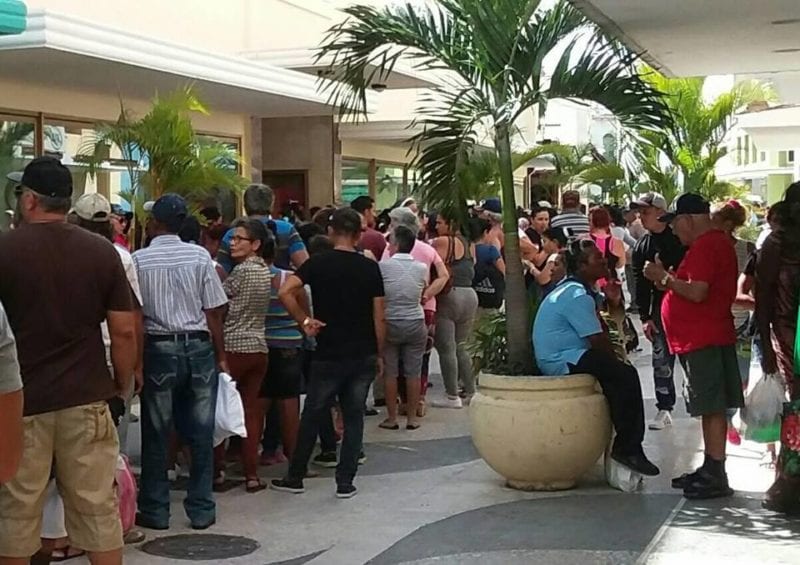 HAVANA TIMES – The government media is still hung up with its celebration of the YES vote for the new Constitution which has set socialism in Cuba in stone. Meanwhile, a liter of cooking oil was being resold for 3 CUC (equivalent of the USD), obtained after waiting in long lines by the resellers for 2 CUC, the official price at state-run hard-currency stores (TRDs).
There is even wind of a liter being sold for up to 4 CUC, an extremely high price for any Cuban because average monthly salaries are approximately 600 Cuban pesos (CUP), 24 CUC in the dual-currency system we have in this country. There are reports of similar shortages of cooking oil in Camaguey (the picture) and the other provinces.
In Cuba, the market presents itself as a fickle monster belonging to the Party/State system. You can only buy what you need to cook on a daily basis, somewhat easily, at the free market of agricultural produce and the informal black market (which is vast), so we will assess both commercial sectors to talk about the real rise in prices.
The following list bears two things in mind: "Price before" meaning the lowest general price of each product at least six months ago. "Price now" is based on the same concept. We will also be adding some high-demand processed foods.
Unit/ Product Price Before/ Price Now:
Liter/ Cooking Oil 2.00 CUC 3.00 CUC*
Unit/ Eggs 2.00 CUP 4.00 CUP*
Pound/ Imported Rice 4.00 CUP 5.00 CUP*
Pound/ Tomatoes 3-5 CUP 6-10 CUP (MA)
Pound/ Malanga root 8 CUP 10 CUP (MA)
Pound/ Papaya 4-5 CUP 6 CUP (MA)
Pound/ Cassava (Yuca) 1-3 CUP 4 CUP (MA)
Pound/ Beans 15-18 CUP 20 CUP (MA)
Pound/ Squash 2-3 CUP 3-4 CUP (MA)
Pound/ Sweet Potato 1,50-3 CUP 3-4 CUP (MA)
Pound/ Boneless Pork 45 CUP 55-60 CUP (MA)
Unit/ Individual pizza 10-12 CUP 12-15 CUP
Unit/ Ice-cream Cone 3 CUP 3-5 CUP
8 Oz.Fl. Natural Fruit Juice 2-3 CUP 5 CUP
Unit/ Small Plastic Bags 1 CUP 2 CUP
(*) Black or informal market.
(MA) Supply and demand Agro-Market
CUC = USD CUP = Cuban pesos 25/1 CUP
Comments:

There are other market sectors, the state-regulated market, with low prices but with food shortages as their supplies have been declining over recent decades and now only sells the basics such as the 1.75 lbs of chicken per customer per month or the 4 ounces of cooking oil per person.
Several products in high demand that were sold on the free market, have now been regulated by the State again, but with some flexibility. For example, imported rice is sold for 4 CUP per pound, but it is in shortage, especially high-quality rice; in Cuba, people prefer long grain rice from Brazil, which doesn't have straw and few split grains.
The road to hell is rife with good intentions, it isn't enough to decree price limits or set out a maximum people can buy to prevent hoarding, because the reality is that these citizens (the same people who mostly voted YES in the constitutional referendum) make a mockery of the so-called Socialist State's decisions, in many ways.
Now, that your interest has been sparked, here are a few examples:
"El Cocinero" brand soybean oil was being officially sold for 1.95 CUC per liter, but because it's in shortage at markets (like now), it was decided that people could only buy a maximum of 3 liters each. But, how does this play out in real life?
Many people line up several times or look to others to help them buy more, which they then resell to whoever wasn't able to get any, or quite simply, didn't get a chance to go to buy at the retail points where the product eventually showed up.
The price of fresh tomatoes at state-run agro-markets has been set a maximum price of 6 pesos per pound. Tomatoes come, initial sales are good, the next day, there is a significant reduction in stock, there are only second-grade tomatoes, the best ones most probably end up on vegetable carts that wander through the city reselling, as if by magic.
Another usual phenomenon is the so-called "fine", which involves discreet violation or deliberate deception of state prices. Let's say that a packet of crackers should be sold for 0.90 CUC, it can be put on sale for 1 CUC with no explanation whatsoever.
With regard to prepared foods, the price increase comes down mainly to the fact that it is difficult to get a hold of certain ingredients, such as cheese and refined white sugar. Plus, there's the economic effect of an overall increase of prices in the retail market.
Understanding the Cuban market (an irrational combination of half-truths and lies), needs an instruction manual that is as big as any phone guide and would need to be updated at least every week.
It's no coincidence that after banning people from taking photos in retail establishments, the Minister of National Trade, Betsy Diaz, announced on January 13th: "Making use of your rights as consumers, (customers) are authorized to take photos of prices and items of interest to you" at retail stores and establishments."
We have witnessed the cry of despair in the face of a cancer that even an army of inspectors and police can't wipe out.
Vicente Morin Aguado: [email protected]