Hondurans Face Emergency Situation
HAVANA TIMES, Oct. 27 (Rel-UITA) – In the wake of the Honduran coup d'état, the Committee of Families of Missing Detainees in Honduras (COFADEH) presented its second report on violations of human rights in that country.
Titled "Faces and Figures of Repression," the compendium provides solid evidence of the brutality of the de facto régime in its attempt to silence the various expressions of resistance since the June 28 coup that overthrew President Manuel Zelaya.
According to detailed information presented by Bertha Oliva, the general coordinator of COFADEH a total of 4,234 cases of human rights violations between June 28 to October 15 have been reported by this organization.
The organization emerged at the beginning of the "Lost Decade" of the 1980s, when the National Security Doctrine was first fully applied across Honduran society through whole scale militarization and the subordination of civil institutions to the armed forces.
In an emotional and well-attended press conference, Oliva explained that 21 politically related violent deaths and murders have been recorded, 10 of which occurred during public actions of the resistance, while the 11 others appear to have been selective executions, a method typical of paramilitary bodies.
Over the past 115 days, three murder attempts took place, as well as 108 death threats; 133 cases of cruel, degrading and inhuman treatment against people in administrative detention; and 453 people were injured or wounded – 21 seriously.  In addition, 211 persons suffered the affects of non-conventional weapons such as tear gas bombs, toxic gas and sonic weapons.
There were also 3,033 cases of illegal arrest and detention, mainly youths; two kidnapping attempts, 114 arrests for political reasons, of which five people remain detained, while the others have been subjected to imprisonment or have had their cases provisionally dismissed. Also occurring were 10 illegal raids, 13 cases of persecution of human rights leaders and supporters; and four attacks against organizations, including COFADEH itself and the Beverage Industry Workers Union (STIBYS).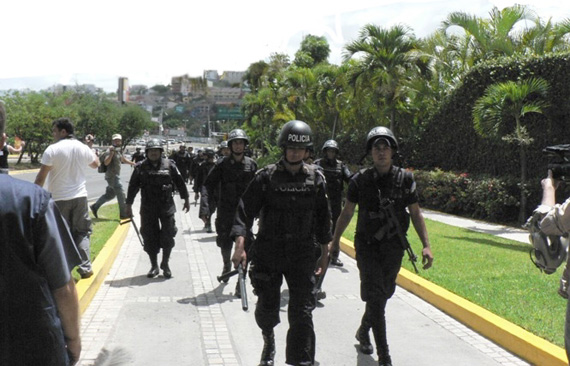 Concerning the freedom of speech and assembly, the COFADEH report documents 27 cases of press freedom violations, among them the closing of Radio Globo and Channel 36, assaults on 26 journalists and the closing of three radio programs sponsored by women's organizations.
Likewise, 52 additional military and police checkpoints have been set up across the country, an action Oliva identified as a violation of the right of movement of more than 20,000 Honduran citizens in this indefinite repressive escalade against the public's right to associate and demonstrate.
"I admit that when writing this report I felt alarmed," said Oliva.  "Perhaps because I had bought into the idea that over this lengthy process of the last few decades we had achieved at least a few relative advances in terms of human rights.  But I was dreaming," she added.
With more 100 days since that fateful date of June 28, which shook the core of COFADEH, we know we are facing a violent setback of 25 or 30 years – maybe more," Olive continued.
"Experts on the effects of military dictatorships assume this was not an isolated act; rather, we are confronted with a complete strategy to take and control power over the long term. That's to say that dictatorship in the region has come to stay," she said.
"In light of this situation," the COFADEH coordinator noted, "it is indispensable to prepare, because like in the past we are the ones who suffer the tears, the anguish, pain and despair, but desperation even more so."
Oliva also explained that she was extremely concerned about the direct attack by the dictatorship against the teachers association, which has been carried out through murder, persecution, illegal and arbitrary detention, the withholding of pay from teaching schools, and the collection of individual background information by the Public Ministry to take people to trial.
Young people have also been the object of repression, and many of them have been kidnapped, tortured and murdered, while several others have had to flee the country.
"With documented proof in our hands, we are affirming before the world that we in this country are living in an emergency situation.  For this reason, we appeal to the international community so that it remains vigilant and observant, that it meets the challenge of seeing the perpetrators tried for crimes against humanity," said Oliva. She went on to denounce the threats and harassment to which COFADEH is being subjected by the de facto régime, which hopes to revoke the organization's legal status.
"We do not need legal status to seek the truth, to stand up for those who are suffering, to denounce before the world the barbarism that we are experiencing.  This dictatorship seeks to silence us, but it will not achieve that.  They may be able to gag our voices, but not our ideals, not our thoughts. The more they repress us, more we gather force," she concluded.
Havana Times translation of the rel-UITA orginal with photos by Giorgio Trucchi.