Horse-drawn Carriages, Our Salvation
Rosa Martinez
Horse, horse, come on horse!;  Come on Black Pati. whoa, whoa, animal!;   Giddyup girl, giddyup!   What's with this horse?
HAVANA TIMES, June 16 — If you walk through the streets of Guantanamo, Cuba, you'll be surprised to hear these expressions coming from drivers, as well as from children who often imitate them.  In this Cuban city, like many others, horse-drawn wagons are the means of transportation for most people.
In Guantanamo, the covered wagon is part of tradition.  It's not because people want to go to "Bayamo en Coche" (Bayamo in Carriage), like the line from the song made famous by the popular artist affectionately known as "Tiburón" (shark), but because out of necessity for many years this has been the most common form of getting from one place to another.
Almost everyone is forced to catch one of these at least once a day because the terrible situation with local public bus transportation leaves us with no other option.  But while these carriages are our saviors for the great majority of Guantanamo residents, they are not without their detractors.
Area residents' opinions
Magdalena Brooks, for example, a resident along one of the main arteries along which carriages travel, says that what bothers her most is the foul odor in the streets, which blows into the homes (though the owners of the draft animal are now more careful and almost all of them have installed manure collectors behind their animals).  "The noise made by the wheels is also annoying, but there's no other way of getting around in the city, unless you catch a motorcycle-taxi – but that costs 10 pesos!, and my pocket just can't take it," she said.
Angelica, on the other hand, alleges that the majority of the drivers are "just plain rude."  She explained, "It's true that we depend on them to get to our jobs and schools on time, but on several occasions I've had to confront different drivers because of their offhand responses or disrespect.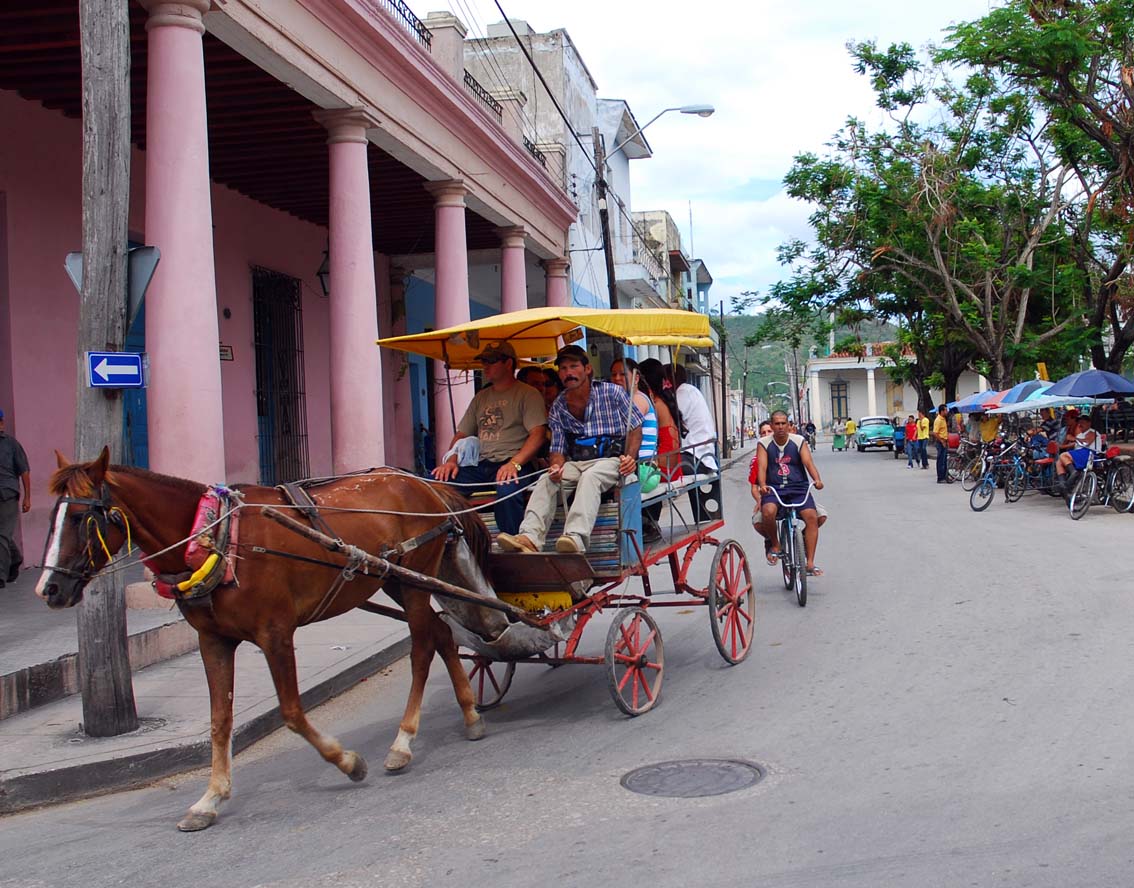 Luis Alberto Arredondo, a neighbor, says that every time that he catches a carriage he has to become a ninja or a magician: "A Ninja to slide between the other passengers who are all pushing each other around, or a magician to move unnoticed to situate yourself to be the first person to get on."
To climb into a buggy can create tremendous joy for some children because they can observe each and every detail of the city while they travel; likewise, they can enjoy much of the driver-horse communication.
For seniors, however, it isn't at all pleasant.  Even getting on these wagons is an odyssey for them; the vehicle's high steps make the task of climbing in or out difficult, which has caused more than a few accidents.  The uncomfortable movements and the unexpected bumps can injure anyone, especially the elderly.
I remember one time when a woman about 60 had to be taken to a medical center urgently because one of the back wheels slipped into a deep hole and the fright that gripped her shot her blood pressure off the chart.
Alejandro Rojo, 63, is a senior citizen who fears these vehicles, and not without his reasons.  He prefers to walk three or four miles daily than to get in "one of those things," as he calls them. "It's incredible!  In the middle of the 21st century we're still riding around in horse-drawn wagons.  Plus, in addition to being tremendously backward, they're uncomfortable and —for old folks like me— they're dangerous; the horse can buck and cause an accident.  I wouldn't get in one of those even if I was dead," he always repeats.
However some people prefer the adventure among horses and wheels. Julia, for example, is a regular rider.  As she noted, "The truth is they are a little uncomfortable, and you do feel the bumps because the streets aren't in good condition, though some of them are now being repaired.  But can you imagine what it would be like for Guantanamo residents without the horse-drawn carriages… how many miles we would have to travel daily on foot?  For me at least, I'll keep riding them, while I hope State bus services reappear."
On their origins
The tradition of horse-drawn carriages in Cuba has its origins in the 15th century, when they were introduced on the island by the Spanish, who used them to haul freight.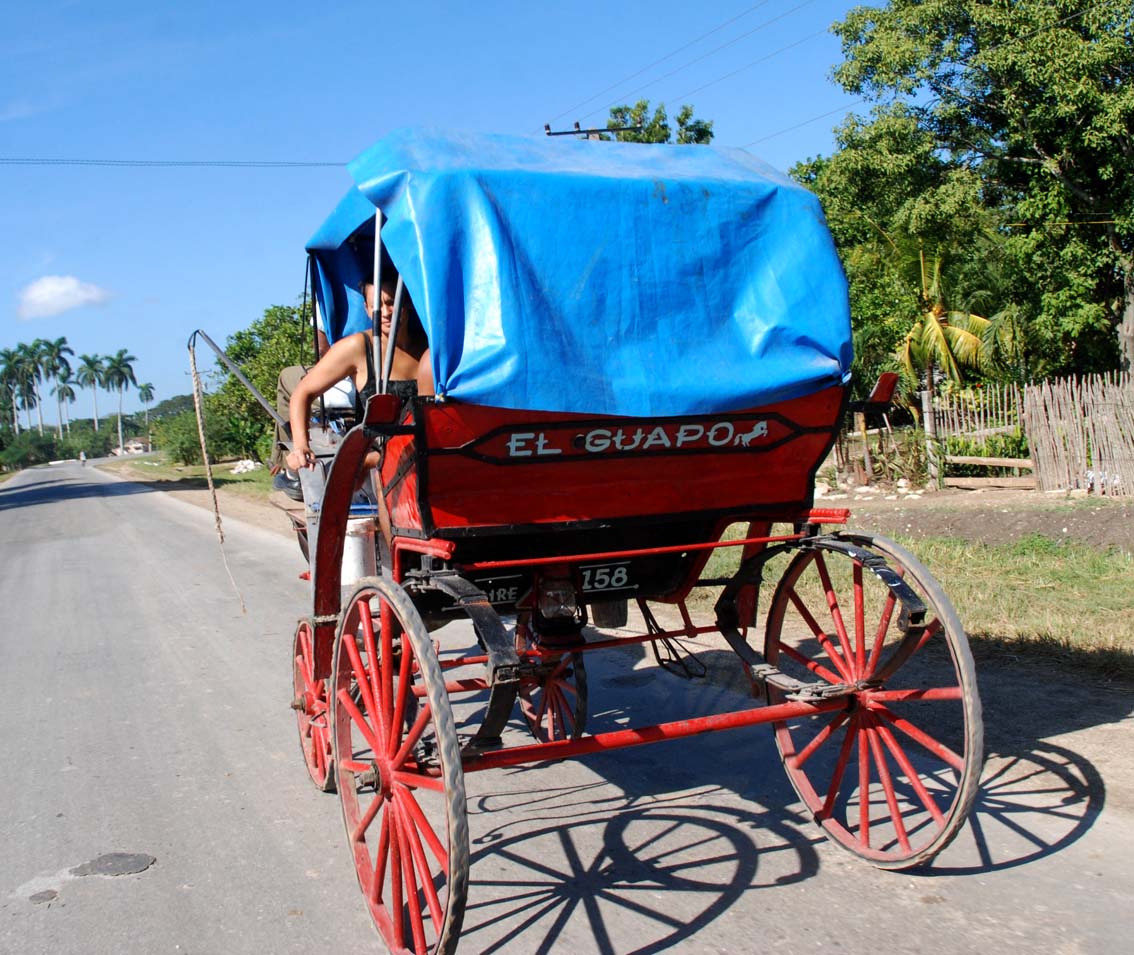 With the entry of the first automobile in the country in 1898, and many other autos at the beginning of the 20th century, the carriages, calches, volantas, quitrines and carts that had been in the big cities were relegated to a second rung.
They were later practically forgotten in those urban areas, though in places like Bayamo, Sancti Spiritus and Guantanamo they didn't cease to exist. Likewise, in rural areas they were always the means used by campesinos for getting around and for transporting agricultural products.
The disintegration of the socialist camp in the early 1990s and the worsening of the economic blockade against our country brought on the long "Special Period," —from which we still haven't emerged—, that has especially affected the Ministry of Transportation.  The use of draft animals was an alternative to alleviate the population's transportation needs.
In the case of Guantanamo, the fifth largest city in Cuba, there are only two local bus routes, and just one operates regularly.  The residents of the remaining parts of the city only have horse-drawn carriages as an alternative.
Although people are familiar with the economic problems that the country faces, the US blockade that has affected us for almost 50 years, and the world crisis that impacts all sectors, we should also recognize that on many occasions our problems are caused by the poor distribution of the resources that we possess.
For example, ten new Chinese "Yutong" buses were delivered to Guantanamo in February, but to date the population hasn't seen any improvement in conditions.  Several areas with numbers of potential riders have still yet to receive service.
At a price of just 20 centavos (about one penny USD), six of these new buses circulate along Route 5, two are being used to replace buses undergoing maintenance and the remaining ones are standby vehicles at the discretion of the Ministry, according to Alcides Parra Hermosilla, the director of transportation in the municipality.
What is certain is that while local transportation revives in Guantanamo, the population will continue taking carriages.  With their goods and their bads, they appreciate them for being the sole alternative.