How Goes the Contracting of Cuban Athletes Abroad?
By Ronal Quiñones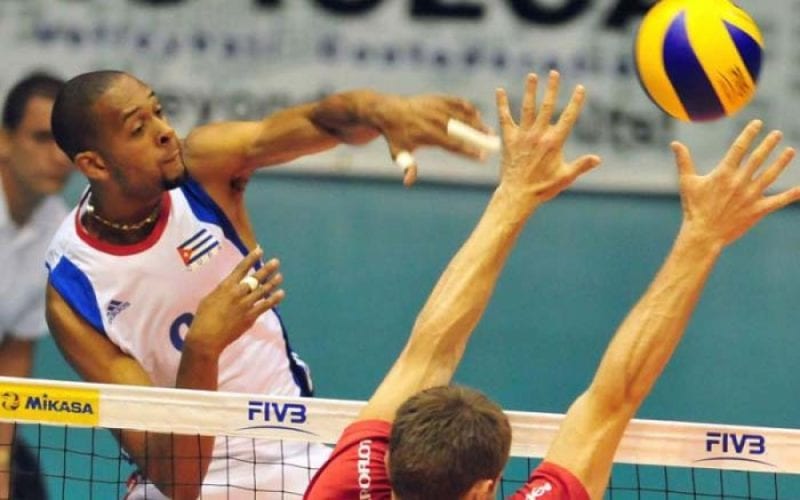 HAVANA TIMES — It's hard to believe that two years have gone by since the new legislation allowing Cuban athletes to sign contracts abroad was announced and that relatively few of those contracts have actually been signed.
When this legislation was made public in 2013, athletes, trainers and even aficionados were happy because it meant more opportunities to train, increase one's income and lift a burden off the Cuban State while at it.
Very little progress was made in terms of contracts in the year that followed. Now, as we near the second year, the number of athletes and sports authorized to sign contracts abroad has grown.
Their numbers still appear too small, far too small, for the potential that exists in Cuba in nearly all disciplines, but, as we suggested in our previous report, it's clear that the island's legal personnel was not entirely prepared for a development of this nature, and the slow going has been the price everyone has had to pay.
Recently, it was announced that five volleyball players (four new ones plus Javier Jimenez) and three basketball players (who, coupled with the baseball players, make for around twenty athletes under such contracts) had signed agreements of this nature.
Other agreements in the soccer and wrestling disciplines are also about to be signed, but these have not been officially announced yet.
In volleyball, joining Jimenez is Rolanda Cepeda, who will also play for the PAOK of the Greek League, Osmany Uriarte (Puyango Spor Kulubu, Turkey), Sulian Matienzo and Melissa Vargas (Prostejovsky, Czech Republic). The latter will be accompanied by her mother, as she is still a minor.
In basketball, we have Jasiel Rivero and William Granda (Club Tabare, Uruguay) and Javier Justiz (Estudiantes de Concordia, Argentina), as well as veterans Joan Luis Haiti and Orestes Torres.
Regrettably, it is still a habit of Cuban sports authorities not to report the sums of each of the contracts, and we will have to wait for the contracting party to divulge the figures. As agreed, 90 percent of the figure announced goes to the athlete and the remaining 10 percent goes to finance sports infrastructure on the island.
So what do Cuban sports fans think?
Havana Times went out in search of people's opinions about this and to glean how satisfied aficionados are regarding athletes and their relatives. We came across much dissatisfaction, as the process has not yet picked up the pace it needs to reach.
"It's very good for everyone from the financial point of view," said Reynaldo to get the debate going, "but not one of them is on one of those great teams where they can improve as much as possible. Everyone knows that the volleyball greats are Italy, Russia and Brazil, and that the Czech Republic is gaining strength. Our players need to rub elbows with the best out there."
"My friend," German replies, "everyone knows here that they don't look at the quality of the team where the athlete will be going, that they only care about the conditions they establish. To start with, next to no clubs anywhere in the world put players under contract for only one year. These Italian teams gain nothing from getting a good player if they're going to lose them in the middle of the league. There's no profit in that for them, and this is a business for them, don't forget that."
"You can sort of understand this in basketball," Fermin argues, "because Rivero is a tremendously skilled player, but no one knows him. He has to start at the bottom, making a name for himself in one of the lesser leagues, to see if he can then jump up to Argentina or Brazil, who are a bit better. I think he has it in him to make it to the NBA, he's only 21 and he's only played Cubans so far (and some scattered tournaments abroad). This contract is going to do him a lot of good."
"You have to have a load of patience here," Yosuan intejects. "Sometimes, I want to fall asleep and wake up in 2025, to see if people are allowed to sign contracts freely. A few players have done it, but you know what that involves: farewell to arms! The legal experts have to get into the swing of things once and for all, because, nowadays, a contract should be able to accommodate anything, even negotiate if you want to drive down to the field in your own car or the team's bus, sell the rights to your image separately, in short, a thousand things we don't know anything about here. Everything can be set in black and white."
Reynaldo charges again. "When that day comes, then we'll see the best players on the best teams. Soccer clubs are obliged to allow players to take on international commitments and, if you played for one country, you can't play for another. Unfortunately, things aren't so organized in other sports, which is why they're always taking steps with lead shoes."
"Listen up," Osmany cuts in, "if everything worked like it did in soccer – even with all of the charges of corruption out there – they wouldn't steal so many talents from us. If the FIFA has become so financially powerful and has those rules, the other federations can do it as well. It wouldn't affect them and countries like Cuba wouldn't lose as many athletes. Now we have the World Chess Cup, have you seen who the US players are? One is Ukrainian, the other Japanese, the other Philippine, the other Italian….It's so you see that it's not just Cuba. That's why I agree that the law should be stricter in that sense."
"We'll see about that," Leandro opines, "but, at the pace we're going, it's as though we were waiting for them to approve something like that while people are fleeing en masse. Baseball has the most contracts and we lose a player every day. You need to have more smarts for these kinds of things, because everyone will find their own way if you don't open doors for them. One's physical capabilities don't last forever. Many players have left this year and we're still counting."