Hurricane Proofing Cuba's Isle of Youth
Patricia Grogg*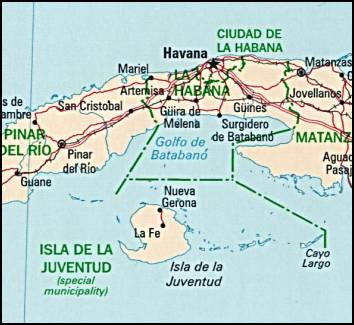 HAVANA TIMES, June 16 (IPS) — The residents of Isla de la Juventud (Isle of Youth), the second largest of the Cuban archipelago, know a lot about hurricanes, but it wasn't enough to avoid the destructive power of Hurricane Gustav two years ago.
It was a huge disaster, and many still shudder at the memory.  Concern is growing in this unique municipality, situated 100 kilometers off the southwestern coast of Cuba, because the forecast is for a very active and intense hurricane season, which runs Jun. 1 to Nov. 30.
"We lost the house and 90 percent of our belongings. Never in our lives had we experienced anything as intense.  It was terrible," Justo Carillo told Tierramérica, recalling the devastation caused by Gustav on Aug. 30, 2008.
That year, hurricanes Gustav, Ike and Paloma together left 10 billion dollars in damages across all of Cuba, according to official figures.
Like all of his neighbors, Carillo and his family were evacuated to a safe location before the hurricane hit, and later lived in emergency housing.
They have just moved to a new home in a solid building of 65 apartments that they've been told will "withstand any hurricane."
What is now a housing complex used to be a rural pre-university institute. It was shut down after a decision to move those classes to urban areas.  The large classrooms were transformed into apartments, and the lower level converted to spaces for a nursery, small primary school, cafeteria and other services.
"Everything was done at low cost," said Carillo, who is among the residents who agreed to join a Cooperative of Credits and Services (CCS) to make use of the neighboring farmland. "We are getting organized.  I'll have a dairy to supply fresh milk to the community.  They're giving me a loan to get started," he said.
Government reports show that more than 18,000 properties on Isla de la Juventud suffered damage from the Category 4 hurricane, with wind speeds reaching 210 to 250 km per hour.  To date, 13,700 homes have been recovered, and the plan is to add more than 400 units to the island's housing inventory.
Emergency preparation measures prevented deaths, but more than 40 people were injured and needed emergency treatment at the Heroes del Baíre Hospital, the only fully-equipped medical centre for serving the nearly 87,000 residents on the island.
The disaster pushed the hospital to the limits of its capabilities, as it had been under repair since 2006.  It was seriously damaged by Gustav.
Even so, the staff had to treat the wounded and once again move the patients that had been transferred to safe parts of the hospital, the safety of which was compromised by the storm.
The hospital is now part of a project to be the country's first "safe hospital" in cases of natural disasters, with support from the Latin American Centre for Disaster Medicine (CLAMED), the Pan-American Health Organization (PAHO) and the Spanish Agency for International Development Cooperation (AECID).
The initiative, already under way, will create an institution that can continue to function as long as possible in a hurricane, which means ensuring the availability of water supplies, electricity and waste treatment.
As for human resources, staff will be trained to deal with extreme emergencies.  "When a phenomenon of this type occurs, everything revolves around that emergency, the doctors' duties adapt to the need," hospital director Yosvany Tamayo Garrido explained to Tierramérica.
Isla de la Juventud has a well-oiled meteorology system, with a centre in Nueva Gerona, three land-based weather stations and radar on the far southeastern point of the island.
However, the system's scientists are hesitant to go into detail about predictions for this year's hurricane season.
"We are predicting a more active season than average, but experience has shown that the number of storms cannot be predicted accurately three months ahead of time," said meteorologist Edgardo Soler, who underscored the importance of disaster preparedness.
In late May, the U.S. National Oceanic and Atmospheric Administration reported that 14 to 23 tropical storms could form this season in the Atlantic Ocean, of which eight to 14 could turn into hurricanes — seven of high intensity.
The experts agree that this higher probability is affected by factors such as the warmer surface water temperatures in the Atlantic and the weakening of the cyclical climate phenomenon known as El Niño in the Pacific, which affects global weather patterns.
(*This story was originally published by Latin American newspapers that are part of the Tierramérica network. Tierramérica is a specialized news service produced by IPS with the backing of the United Nations Development Program, United Nations Environment Program and the World Bank.)