If Loneliness Sickens Your Soul…
Musical Bridge from Cuba*
Osmel Almaguer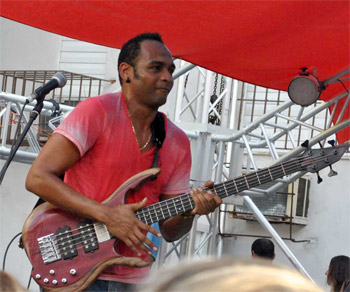 HAVANA TIMES, Oct. 29 — Descemer Bueno is a singer, bassist, percussionist, composer and producer in Cuba. His success began to be felt in various parts of the world since the '90s, and in Cuba at the beginning of the millennium.  A professional musician, he was born in 1971 in Old Havana.
He made his first professional forays performing with Santiago Feliu.  In 1990 he founded Estado de Animo, along with Elmer Ferrer and Roberto Carcases.  With this band he achieved a certain level of popularity through a series of concerts in Spain, Bolivia, Uruguay, Germany and Argentina.
In 1998 he went to the United States with the Column B jazz band, and a year later he joined the hip-hop group Yerba Buena.
Descemer soon returned to Cuba and in the interim period has produced, arranged and composed for many young Cuban musicians, ones such as Haydee Milanes, William Vivanco and Yusa.
In 2005 he recorded his first solo album, Siete Rayos, a work that is a fusion of various rhythms with hip-hop.
A year later was the public release of the film Havana Blues, for which he composed much of the music (which also earned him the Goya Award for "Best Original Soundtrack").
Among his many talents standout his skills in composition, as evidenced by several of his boleros having been sung by the famous Fernando Alvarez.

"Sé feliz" (Be happy)  CD Siete rayos
If loneliness sickens your soul, / if winter comes to your window, / do not forsake the calm / with an open wound / it's better to forget and start a new life. / And breathe the pure air / without the vice of doubt. / If one day you find the joy of life, be happy. / Be happy. / Be happy. / Be happy.
And breathe the fresh air without the vice of doubt, / because life is one, like a wave, and its surge brings hope, / never get tired, seek the yearning in hearts that are filled with emotions, / those that have wings and fly touching the sky, / looking for the yearning, happiness, and rain / fall, getting wet / the souls / that are found along the sincere path, / durable / how love feels when it's true.
With the colors of a butterfly, / flying between the lights of spring. / If you imagine the rain makes you naked, / play in the seas that awaken the moon and be happy. / Be happy. / Under the spell of a moonlit night / in a tender kiss. / A sigh, and the breeze that you find is the sound, / I was lost in a heartbeat. In a dream / breathing silence, / when the soul messenger / she who waits to love you, adore you and love you until eternity. / If loneliness sickens your soul, / if winter comes to your window, / be happy.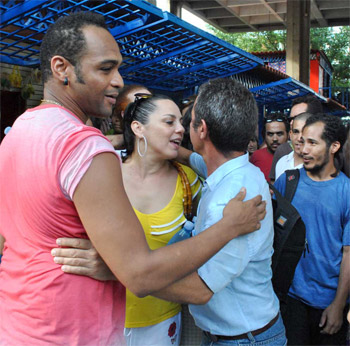 "Sé feliz" is a breath of encouragement in beat with the musical style known as "feeling." It is for all of those who at some point in their life have gone wrong – meaning everybody.
He doesn't make the mistake of simplifying life, like others do when they say that "life is a dream" or "life is just a game."  Not at all, for him life is one, and as everything is unified, it brings with it dialectical opposites: happiness and discontent, with these rising and falling like waves.
When you go through a bad spell, you tend to feel confused.  It's time to put aside doubts, which are the only things that bind us to our suffering.  Instead we need to give ourselves new hopes and dreams.  But we must continue to be accompanied by people who share that sincerity toward life and toward others.
They say the darkest hour of the night is just before the dawn. I'm not sure. I don't have a darkness meter, but at least it works as a metaphor.
There's another adage: "If you cry because the sun goes down, the tears will not let you see the stars."  So, be happy, because happiness is just around the corner, and sometimes we scare it away with so much bitterness.
Be happy, my friend, be happy dear Havana Times reader.  Listen to Descemer Bueno…then tell me about it.
—
(*) A Musical Bridge from Cuba: This is an effort to find new bridges that promote communication between peoples of the diverse regions of the planet.    I will be using simple narration in a series of articles to connect with those who are interested in the messages transmitted by Cuban songs, which due to their limited commercial potential and the difficulties posed by their translation, languish in a state of communicational stagnation – despite their being true jewels of Cuban culture.